The energy transition to disaster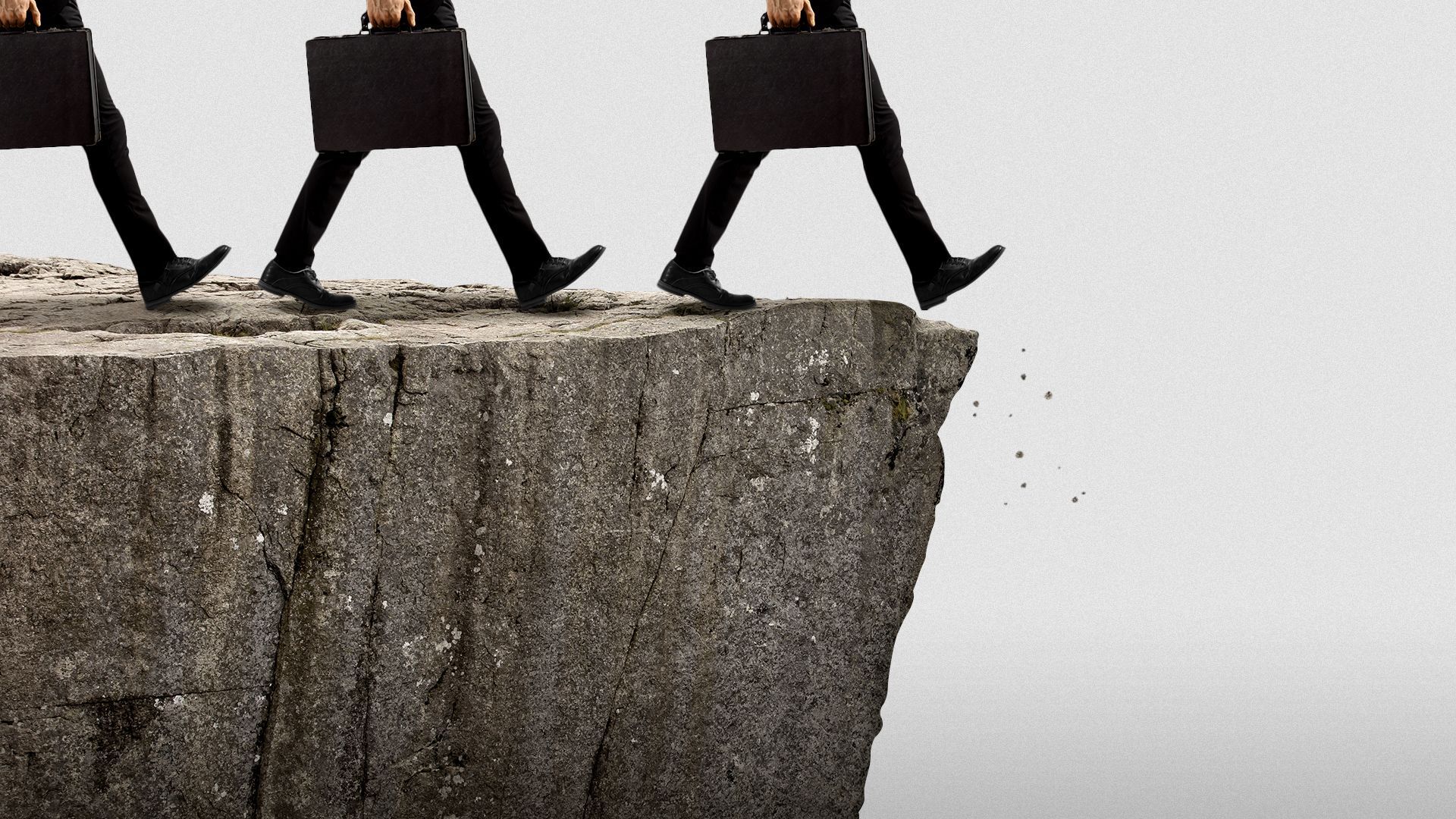 HOUSTON — The energy transition is the common thread running through nearly every panel discussion and presentation at the big CERAWeek by S&P Global industry confab this week — but executives don't agree on what it means.
To oil and gas CEOs, the energy transition means investing in cleaner technologies, but also producing more fossil fuels for decades to come. To the Biden administration, it means making those fossil fuels as clean as possible, while pushing for more renewables as fast as possible.
Why it matters: The climate science findings are not subtle about what the energy transition means: a rapid, sustained shift away from fossil fuels.
The big picture: An International Energy Agency report published in 2021 found that in order to meet the Paris Agreement's 1.5°C goal, no new oil and gas fields can be developed, other than what had been committed to already.
An analysis published late last year found the world only has nine years left at 2022 emissions levels before the 1.5°C (2.7°F) temperature target is reached.
Scientists warn that if warming exceeds this threshold, the odds of potentially disastrous consequences, such as setting off the runaway melting of a large portion of the West Antarctic Ice Sheet and loss of warm water coral reefs, would increase.
Driving the news: In one panel after another, CEOs of oil and gas companies have extolled the virtues of pursuing an energy transition in which high carbon fuels are substituted for lower-carbon energy sources.
Yes, but: When the math of each company's plans are added up, they are consistent with blowing through the remaining "carbon budget," which measures how much more we can emit before reaching or exceeding the Paris Agreement's global average surface temperature targets — 1.5°C and 2°C.
Zoom in: Oil and gas CEOs say they need to boost investments in traditional fuels, mainly oil and natural gas, in order to meet growing demand in developing markets and provide energy security to the industrialized world.
Many executives here have talked about expanding their fossil fuel output while also investing in cleaner energy technologies.
For example, Chevron CEO Mike Wirth touted his company's goals of expanding production in the Permian Basin and Kazakhstan.
Nawaf Al-Sabah, the deputy chairman and CEO of Kuwait Petroleum Corp., said his firm plans to raise output by 1 million barrels of oil equivalent per day by 2035, citing the relatively low carbon intensity of its oil supplies.
The intrigue: The emerging consensus at this year's conference is that in an increasingly carbon-constrained world, producing fossil fuels in ways that emit fewer, though not zero, greenhouse gases would be a wise business move.
Al-Sabah, for example, said his company intends to be in the oil and gas business for at least another 85 years, partly because it has a carbon advantage over many competitors.
The other side: To the Biden administration, represented here by Energy Secretary Jennifer Granholm and other senior officials, the energy transition means abating the carbon from fossil fuel sources that will be a piece of the energy puzzle for years to come, while dramatically expanding renewable technologies and deployment.
She pitched oil and gas companies on using their resources, from brainpower to machinery, to make advances in producing renewable energy.
Between the lines: Ernest Moniz, energy secretary during the Obama administration who now leads the Energy Futures Initiative, told Axios the oil and gas industry and policymakers are talking past one another on the energy transition.
An example he cited is the lack of candor regarding the role to be played by natural gas on a global scale, he said, given that it could help move developing countries away from dirtier coal-fired power plants.
"You know, natural gas is not here for five more years. It's here for 50 more years," Moniz said.
The bottom line: Ashvin Dayal, who works on development and climate issues for the Rockefeller Foundation, told Axios that some energy companies are pushing for continued fossil fuel production, particularly of natural gas, in order to help developing nations grow.
But "the real prize," Dayal said, would be to help developing countries leapfrog toward renewables.
Go deeper