Medicaid has a target on its back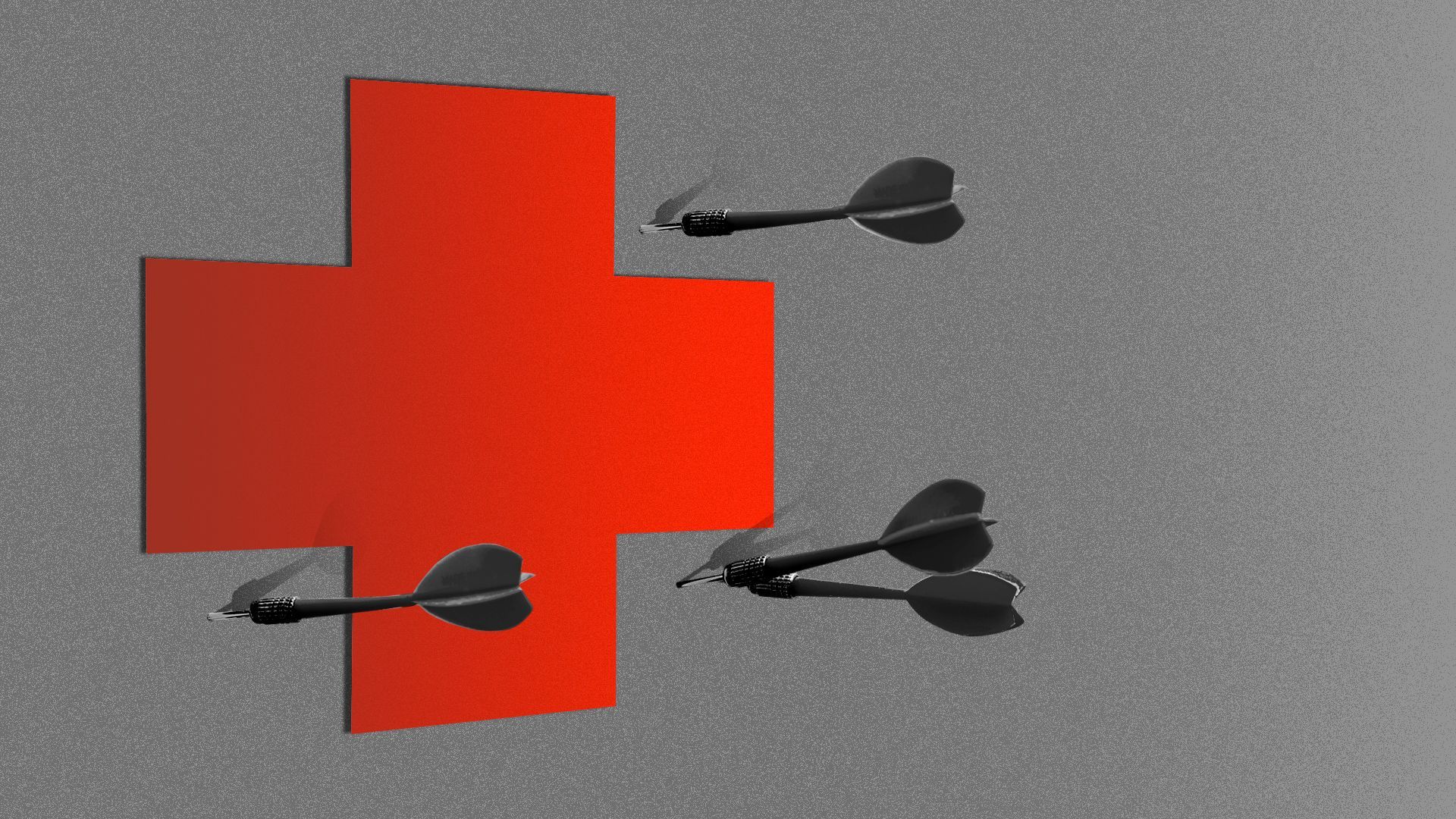 Republicans looking for ways to reduce federal spending have served notice they won't cut Medicare and Social Security. But that could mean big proposed cuts for Medicaid.
Why it matters: Over 80 million people were enrolled in Medicaid as of November, higher than the number signed up for Medicare, and the pandemic and successive relief packages have swelled program rolls to record highs.
Between the lines: Medicaid often does not get the attention that Medicare does, but if the House GOP wants to put forward a budget that balances in 10 years, the math would likely force major cuts to the safety net program.
"It's basic arithmetic that if you're going to balance the budget and not touch Medicare, Social Security and probably defense, you have to cut Medicaid substantially," said Larry Levitt, a health policy expert at the Kaiser Family Foundation.
Sen. John Thune (R-S.D.) acknowledged how the numbers stack up and said "there are a lot of ideas" around Medicaid changes. "My assumption is when they talk about Social Security and Medicare, that's kind of what they're excepting from this, and then I'm sure a lot of folks over there will probably want to except defense too, which doesn't leave a lot to work with," Thune told Axios.
Former President Trump has drawn a bright line against cutting Medicare and Social Security, but has not said the same about Medicaid. As president he supported GOP Obamacare repeal bills with major Medicaid cuts.
President Biden's budget, to be released Thursday, is set to seek a health care contrast with the GOP, and shy away from cuts for beneficiaries.
Driving the news: Some House GOP members told Axios that Medicaid changes could be on the table. Those could include work requirements or paring federal payments to states, in order to slow program growth.
Asked about conditioning Medicaid coverage on work and reporting requirements, House Energy and Commerce Chair Cathy McMorris Rodgers (R-Wash.) told Axios: "We're just beginning to have those conversations, but certainly members have talked to me about looking at work requirements for some of the able-bodied in Medicaid."
Rep. Don Bacon (R-Neb.), one of the more moderate Republicans in the House, said he would support work requirements depending on the details and if there were exceptions to it.
Advocates worry that Republican lawmakers could also bring back Medicaid per capita caps. The policy option, a key piece of the ACA repeal-and-replace debate, would limit how much federal Medicaid funding states can get per enrollee, slowing the growth of Medicaid spending.
While budget proposals are largely symbolic, Republicans do have some leverage to try to enact changes this year as part of negotiations over raising the debt ceiling.
Reality check: Harvard researchers studying Arkansas' brief implementation of Medicaid work requirements in 2018 found the policy led to rapid coverage loss without increases in employment.
Yes, but: There are also some prominent House Republicans who aren't interested in rolling Medicaid into the debt ceiling talks.
Rep. Buddy Carter (R-Ga.) said he thinks Medicaid is "off the table, as well" along with Medicare and Social Security.
Conservative Rep. Andrew Clyde (R-Ga.) said he didn't know yet whether Medicaid would be on the table and that House Freedom Caucus members were discussing the debt ceiling and still crafting their own budget.
The big picture: Any Medicaid cuts are sure to be controversial, and Democrats are already pivoting from protecting Medicare to going on the offensive for Medicaid.
"If MAGA Republicans try to take away people's health care by gutting Medicaid and the Affordable Care Act, I will stop them," Biden said in a speech hammering the GOP over potential health care cuts last week.
There's also an active advocacy community that's fought Medicaid cuts before and is ready to do it again.
"It is truly demoralizing, as an advocate and as a family member of somebody who relies on these services for his independence," said Nicole Jorwic, chief of advocacy and campaigns for Caring Across Generations. "But I'm also emboldened that the communities that will come together again to fight to protect [Medicaid]."
"Anything that would fundamentally change the structure of Medicaid ... is something that has to be opposed," Jorwic said.
A version of this story was published first on Axios Pro. Get news like this by subscribing. Use code POLICY100 which gives you $100 off.
Go deeper