Why studying English makes increasingly little sense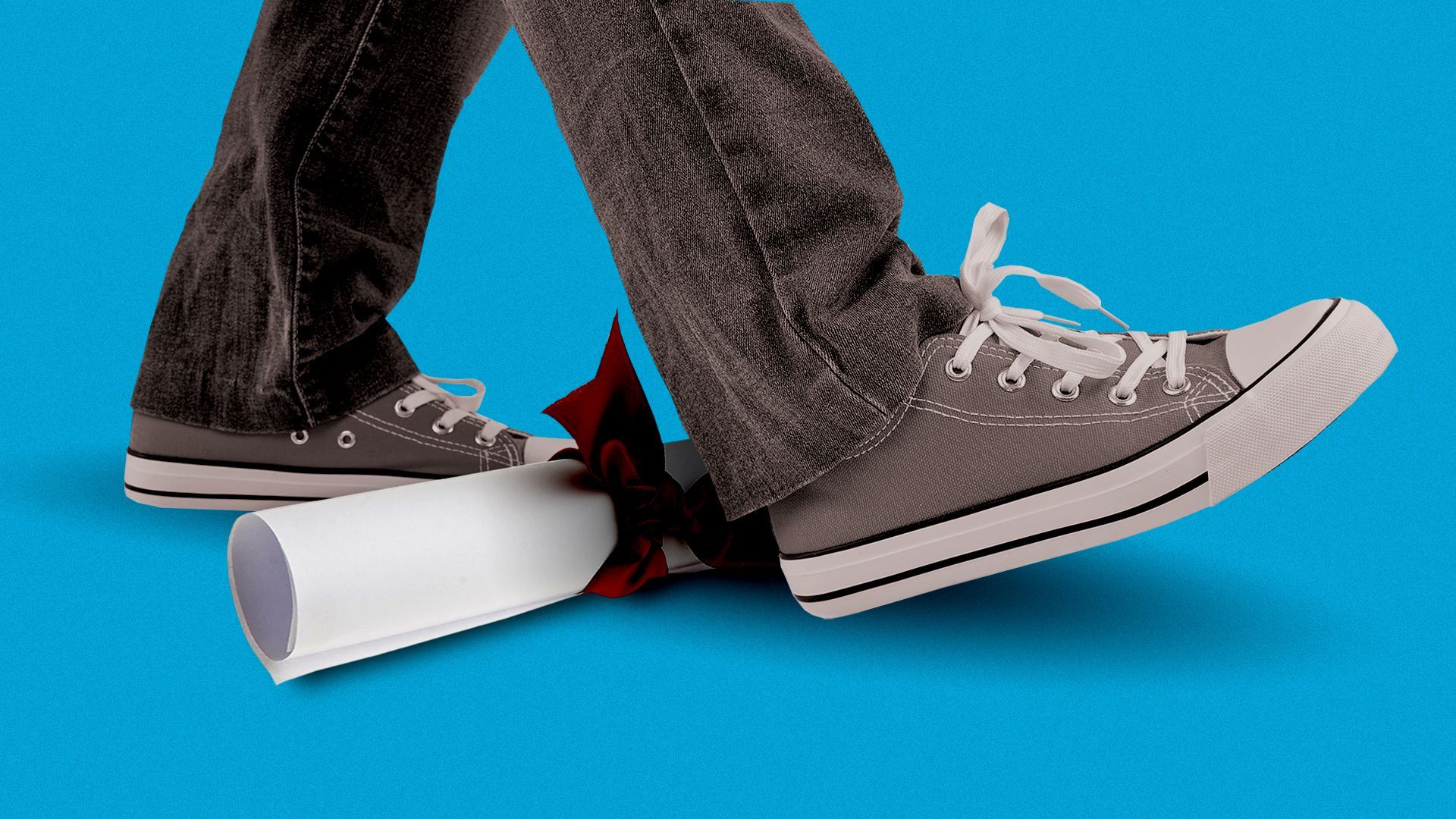 The four-year undergraduate liberal-arts degree is one of the last great bastions of inefficiency — even of dilettantism — left in America. For better or for worse, it is beginning to die, withering under the heel of the inescapable imperatives of capitalism.
Why it matters: The genteel ivory tower is unlikely to live much longer. Familiar capitalistic forces are shuttering some schools and reconfiguring many more, as students increasingly question the value of spending 4 years studying Philosophy and Art History.
Driving the news: You can't major in English at Marymount University any more — or history, or philosophy.
"These programs are all very low performing with low enrollment rates," spokesman Nick Munson told local TV station WUSA.
The big picture: Higher Ed Dive has found a staggering 87 colleges, nearly all focused on the liberal arts, that have either closed entirely or been merged into a bigger neighbor since 2016 — including nine just in Massachusetts.
"Cazenovia College has survived through many difficult and challenging times — the Great Depression, World War II, a major campus fire in 1959, and more, but the current financial challenges are more than the College can overcome," said one New York institution in December.
How it works: There are two main forces at work here.
First is rising prices, driven by the fact that it's hard to make productivity improvements in English Literature courses. That just makes it more expensive to go to college — in a world where the burden of having large student loans is now (thankfully) broadly understood.
The second is the rising opportunity cost of going to college. Employers no longer require a college degree for many jobs — which significantly increases the amount of money you can expect to make when otherwise you'd be earning nothing at college.
By the numbers: Between the rising cost of college and the rising opportunity cost of going to college, the extra money you need to be able to earn as a result of getting a degree, over and above the amount you'd earn without one, has to be larger than ever in order to financially justify such a major purchase.
That calculation is driving students overwhelmingly into STEM fields.
As one student told The New Yorker's Nathan Heller, "you don't go to Harvard for basket weaving."
My thought bubble: Over the many decades of an entire career, the skills I learned while studying Philosophy and Art History at Glasgow University came in very useful over and over again. They're terrible at getting you onto the bottom rung of the career ladder, but they're surprisingly useful once you're halfway up.
Still, I'm resigned to such studies reverting to what they always used to be — something that in practice is restricted to people who were already born into the elite. (About 6% of art history graduates are in the top 1% of earners, but that probably has more to do with their parents than it does with their choice of degree.)
The bottom line: Capitalism has caught up with the academy.
Go deeper