The "triple-dip" La Niña may give way to an El Niño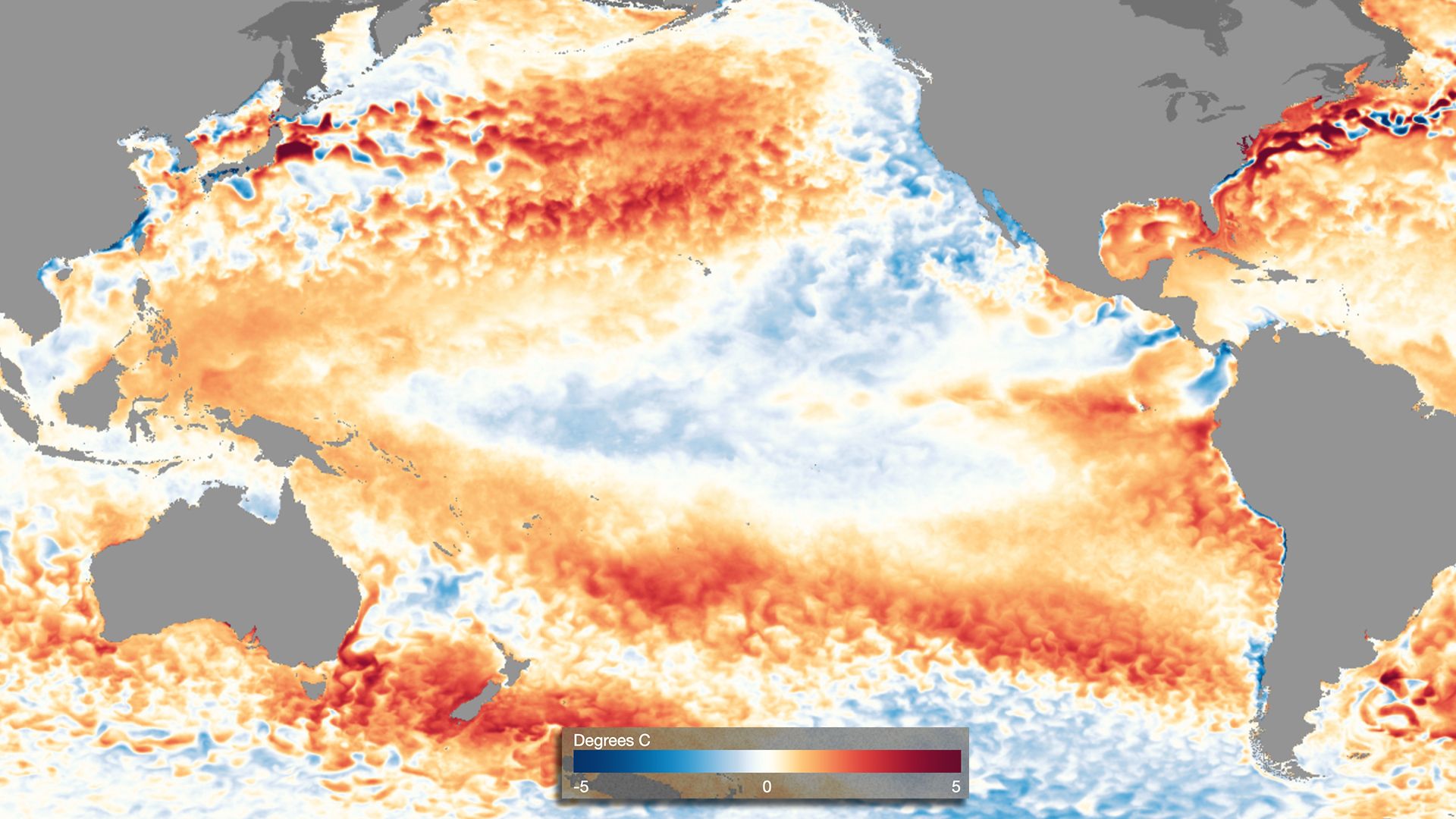 The first "triple-dip" La Niña event of the 21st century is waning, and the odds of an El Niño in the tropical Pacific Ocean are rising, the World Meteorological Organization (WMO) said Wednesday.
Why it matters: El Niño events release a tremendous amount of ocean heat into the atmosphere and would increase the odds for a new record warm year in 2024.
State of play: These events require a complex series of coordinated moves to take place between the waters of the equatorial tropical Pacific Ocean and the atmosphere, with each responding to the other as if in a complex dance number.
It can be difficult to predict the evolution of a switch from one side of the El Niño-Southern Oscillation (ENSO) to another. But forecasters are confident that the La Niña will soon be over after lasting through three straight winters in the Northern Hemisphere (hence the term "triple dip").
The chances of El Niño in WMO's outlook gradually rise from 15% during the April through June period, to 35% in May to July, and top out at 55% by June through August.
Zoom in: La Niña conditions are characterized by cooler than average ocean temperatures in the equatorial tropical Pacific Ocean, causing a series of weather pattern shifts globally.
For example, La Niña is blamed for setting in motion the failed rainy seasons and dire famine in the Horn of Africa, which is expected to worsen.
The big picture: Importantly for global warming, the cool phase of ENSO tends to put a temporary brake on the increase in global average surface temperatures, preventing a new record-setting warm year.
Yet each La Niña year has tended to be the warmest La Niña year on record, as human-emitted greenhouse gases influence the natural ENSO cycle.
The intrigue: If and when an El Niño arrives, there may be a slight delay in its effects on global average surface temperatures.
It is likely that the effects of the La Niña event will linger longer than usual, leading to continued dryness in the Horn of Africa and elevated risks of flooding in Australia and Southeast Asia.
Go deeper