Dems use video to justify U.S. response to school board protests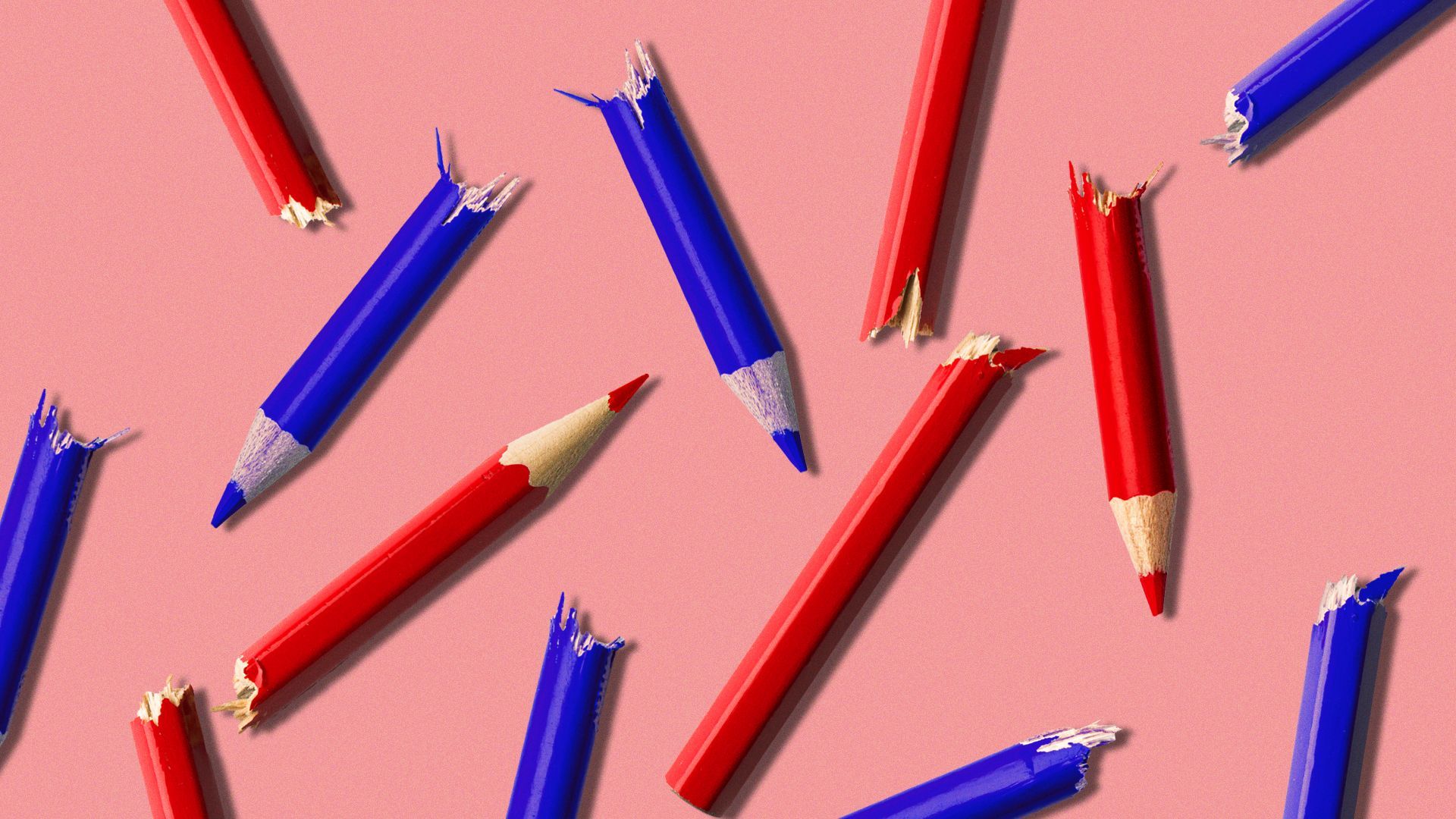 House Democrats are preparing a library of videos showing threats and assaults against school officials — and looking to a ruling by a Trump-appointed judge — to counter GOP claims that the Biden administration has treated school board protesters unfairly.
Why it matters: Republicans on the House Judiciary Committee have subpoenaed three top administration officials as part of a GOP probe into U.S. agencies' actions as protesters and parents, many organized by conservative groups, were disrupting school board meetings across the country in 2021.
The protests targeted a range of issues and school policies, including mask and vaccine mandates, sex education, LGBTQ issues and teaching about racism.
Reuters documented 220 instances of death threats and harassment against school board members. Such threats led school board associations to ask federal and state officials for help and protection.
Republicans have argued that the threats were overstated and that authorities' responses — which included at least one arrest — amounted to an effort to silence conservatives.
What we're watching: The subpoenas Judiciary sent to Attorney General Merrick Garland, FBI Director Chris Wray and Education Secretary Miguel Cardona demanded a response by March 1.
Now House Democrats, in support of the Biden administration, are preparing to make their case with visual evidence and an argument wrapped in legal precedent, people familiar with the matter tell Axios.
The Department of Homeland Security also is producing documents in response to previous oversight requests by House Judiciary Chair Jim Jordan (R-Ohio).
The details: Democrats will argue that the question of whether Garland and the Justice Department stifled parents' right to free speech has been decided in court — with a resounding "no."
In September 2022, Trump-appointed federal judge Dabney Friedrich dismissed a claim by a group of Virginia parents who claimed that the DOJ, in a memo responding to threats against school officials, created a response that illegally silenced parents.
At the center of the case was an Oct. 4, 2021, memo from Garland that cited "a disturbing spike in harassment, intimidation, and threats of violence against school administrators, board members, teachers, and (school) staff" across the nation.
Freidrich ruled that the memo simply announced a "series of measures" directing authorities to address increasing threats, and that parents have the right to "spirited debate about policy matters." He noted the memo "does not label anyone a domestic terrorist," as some parents — and their Republican sympathizers — have claimed.
The big picture: Ahead of the 2024 elections, Republicans are focusing on schools and education, often in an effort to appeal to voters on race and gender issues.
Many Democrats and education officials see the school board conflicts as symbolic of conservative efforts to bully educators and unnecessarily restrict what can be taught in schools.
What they're saying: Rep. John Garamendi (D-Calif.), told Axios: "We are very aware of the First Amendment and we're aware of the beauty and the necessity for the public to speak at public meetings, whether they are Congress or a school board."
"However, there's no place for violent threats against public officials, teachers, principals, so forth," said Garamendi, a member of Select Subcommittee on the Weaponization of the Federal Government, where Democrats are tasked with responding to GOP accusations about federal law enforcement agencies.
"We want to be careful not to get drawn into BS arguments, and at the same time, to be clear that Democrats are the party of family," Rep. Pramila Jayapal (D-Wash.), chair of the Congressional Progressive Caucus, told Axios.
The other side: Russell Dye, a spokesperson for Jordan, told Axios that the House Judiciary staff last week "spoke at length with DOJ about what precisely the committee is looking for, why we were interested in those documents, and our priorities going forward."
"We expect full compliance with our subpoenas," he said.
Go deeper