How Barnes & Noble CEO rescued the bookstore chain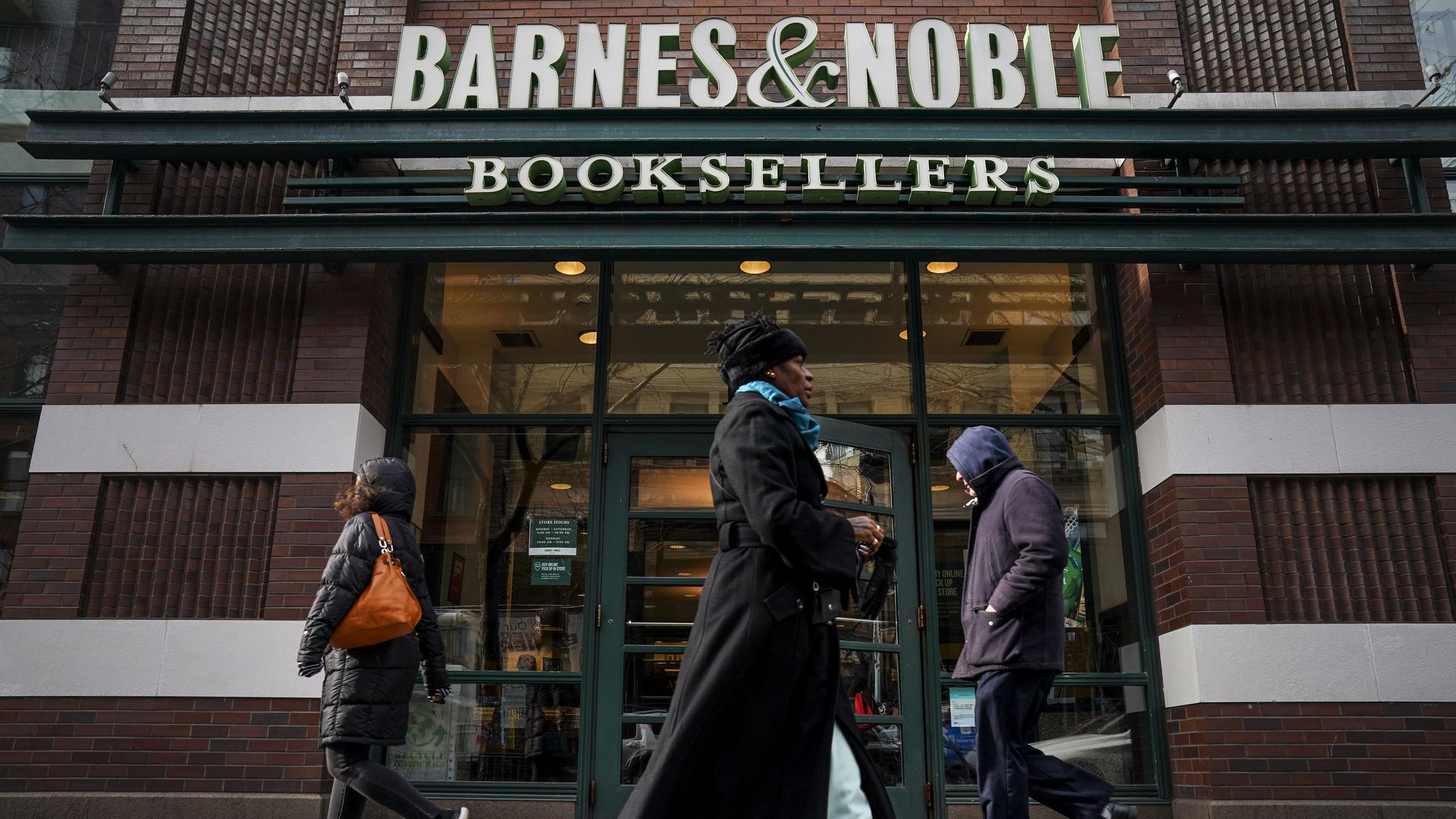 The trick to being a big-box bookseller is to not be a big-box bookseller.
Driving the news: So says Barnes & Noble CEO James Daunt, who's been credited with engineering a turnaround for the bookstore chain, in an interview with Axios.
Why it matters: When Daunt took over in 2019 after B&N's sale to Elliott Management, the company was at risk of meeting the same fate as its erstwhile rival, Borders, which liquidated in 2011.
The company was "not quite there but pretty darn close," says Daunt.
State of play: B&N, which has about 600 locations, plans to open 30 net new stores in its new fiscal year, marking the first time in recent memory that the company has gotten bigger, not smaller.
Daunt said the retailer is profitable after he cut corporate staff in half and empowered local managers to make more decisions about their stores, including the books they carry and the way their stores are laid out.
He also removed many of the products that B&N was selling that had no connection to books.
"It's ironic for somebody who runs chains, but I don't think chain bookselling works," Daunt says. "All I've done is bring the principles of independent bookselling to a chain and exploded the very notion of what a chain retailer really is."
The intrigue: At least two of those new stores will be located in former Amazon bookstores, all of which have shuttered.
Daunt praised Amazon's "extraordinarily efficient" business but said the company's bookstores were "essentially soulless" and "very unimaginative."
"They created a very bad bookstore," he said.
An Amazon spokesperson declined to comment.
What they're saying: "There can be little doubt that Barnes & Noble has been revived and that most of its recent success comes down to the approach of James Daunt," GlobalData retail analyst Neil Saunders tells Axios in an email.
"That has meant taking random products out of stores, focusing on making the shops places where people want to linger, and thinking carefully about what customers want."
Zoom in: When Daunt joined, B&N was still accepting payments from publishers in exchange for displaying and promoting certain books.
But about 70% of those copies ended up being returned, unsold, to publishers, costing B&N dearly: "That's a staggering statistic when you think about it," Daunt said.
So he put an end to it.
Today, Daunt says only about 9% of overall books carried in B&N stores are returned to publishers. He wants to get that figure down to about 5%.
"Returns are a central judgment by your customers as to whether you've put the right books in front of them," he says.
Be smart: Barnes & Noble has also benefited from an upsurge in book sales during the pandemic.
In 2022, book sales totaled 788.7 million units, according to NPD Bookscan. That was down 6.5% from 2021 but still up 11.8% from pre-pandemic 2019.
Daunt acknowledges that the company was "very fortunate" to benefit from the increase: "All the winds have suddenly swung in our favor."
Yes, but: The company also took steps during the pandemic to remake its business, including by using mandated temporary store closures to overhaul its use of floor space.
B&N identified talented leaders in local stores and gave them power over certain management aspects of several locations in their area.
"Some have done it really well, some less well, but generally I think we are doing it in a much, much more engaging way," he said.
Of note: Daunt, a veteran independent bookseller in the United Kingdom, had already executed a turnaround for U.K. bookstore chain Waterstones when he was tapped to lead B&N concurrently.
Asked whether he has tips for turning around other struggling retailers like, for example, Bed Bath & Beyond, he demurred.
"It doesn't work anywhere else," he said of his strategy. "Put me charge of any other retailer and it would be a catastrophe."
What to watch for: How Daunt addresses the company's cafe business and newsstand sales.
Both "are still suffering," he says.
The company also recently announced a redesign of its loyalty program designed to encourage repeat spenders.
The bottom line: "Shops succeed when people running them understand their customers," Saunders says.
"Daunt has spent his life in the book trade. He knows it inside out and back to front. That has made so much difference and has allowed Barnes & Noble to get back on track."
Go deeper