The pitch clock takes center stage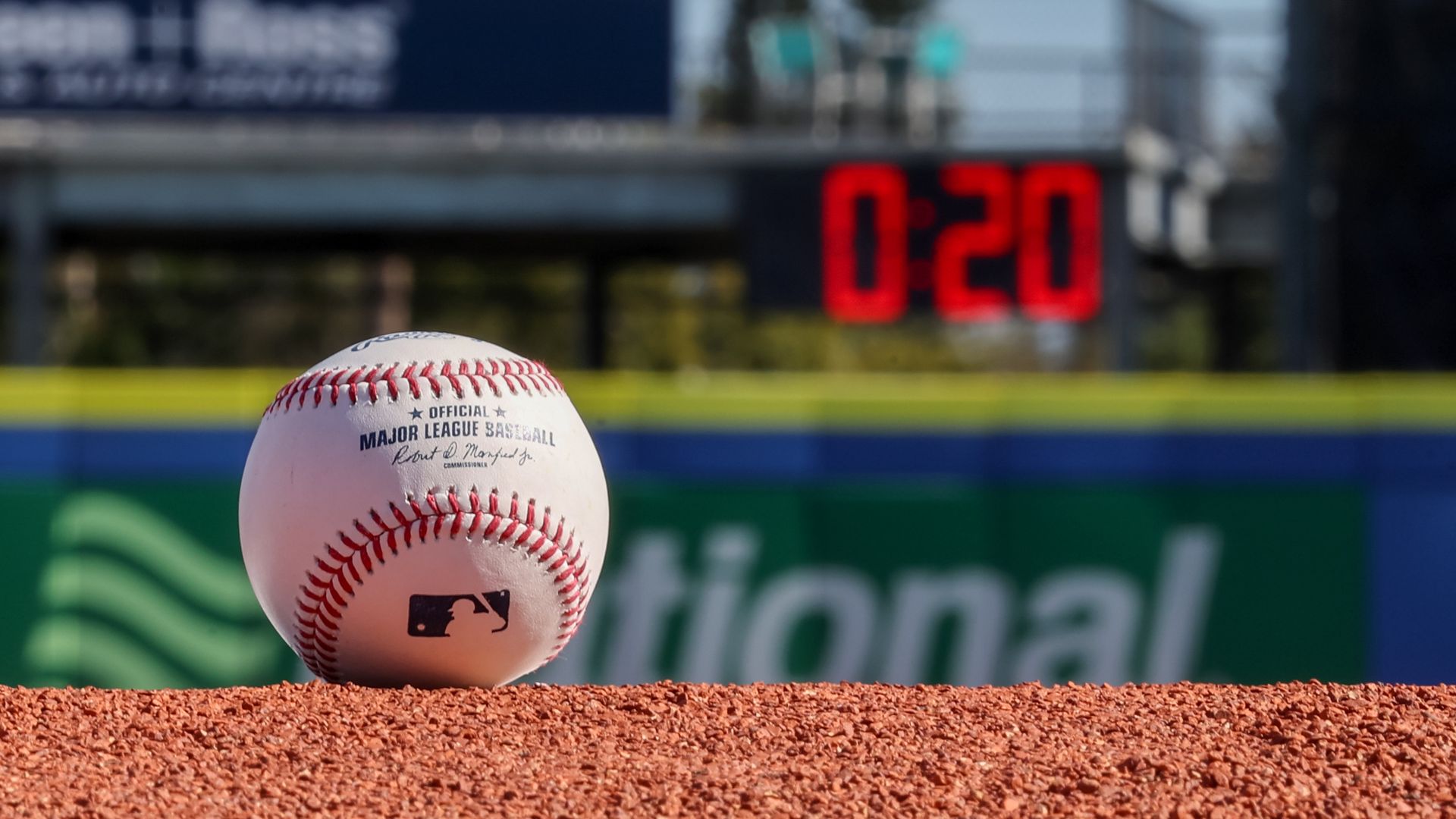 Major League Baseball's new era began over the weekend, as spring training games kicked off and teams got their first taste of the new rules debuting this season — most notably, the pitch clock.
Why it matters: Games zipped along at their fastest pace in decades, just as MLB intended, but one particular moment illustrated the learning curve that will be required for players to adjust to their new normal.
"This is spring training and a minuscule sample. But it's hard to [overstate] how drastically the pitch clock is going to change baseball."
—
ESPN's Jeff Passan
By the numbers: The average time of these first 35 spring training games was 2 hours, 38 minutes — 23 minutes faster than last year's average spring training game (3:01) and 25 minutes faster than last year's average regular-season nine-inning game (3:03).
The last time regular-season nine-inning games averaged under 2:40? 1985.
How it works: As a reminder, pitchers have 15 seconds to begin their throwing motion with the bases empty, and 20 seconds with runners on base. Violations earn an automatic ball.
The intrigue: It's not just pitchers who have to watch the clock: Batters are charged with an automatic strike if they're not ready to hit with at least eight seconds left on the clock, and it's that aspect of the rule that got the most attention over the weekend.
The Atlanta Braves and Boston Red Sox were tied, 6-6, with two outs and the bases loaded in the bottom of the ninth on Saturday as Braves second baseman Cal Conley faced a full count.
But as the drama was about to reach a crescendo, the home plate umpire called an automatic strike on Conley for failing to be ready in time. Strike three, game over.
What they're saying: "I don't think this [rule] was intended for a game to end like that," Braves manager Brian Snitker told The Athletic [$].
Looking ahead: There's no caveat to the rule for extenuating circumstances (e.g., a close game), so players will need to rapidly adjust to this new status quo in order to avoid — or at least limit — the chances of a game that actually matters being decided by a clock violation.
Editor's note: This story has been corrected to reflect that batters are charged with an automatic strike if they're not ready to hit with at least eight seconds left on the clock.
Go Deeper: Listen to the Axios Today podcast, where host Niala Boodhoo and Jeff Tracy explain how baseball looks different this Opening Day.
Go deeper