Jan. 6 rioter who assaulted officer and threatened AOC sentenced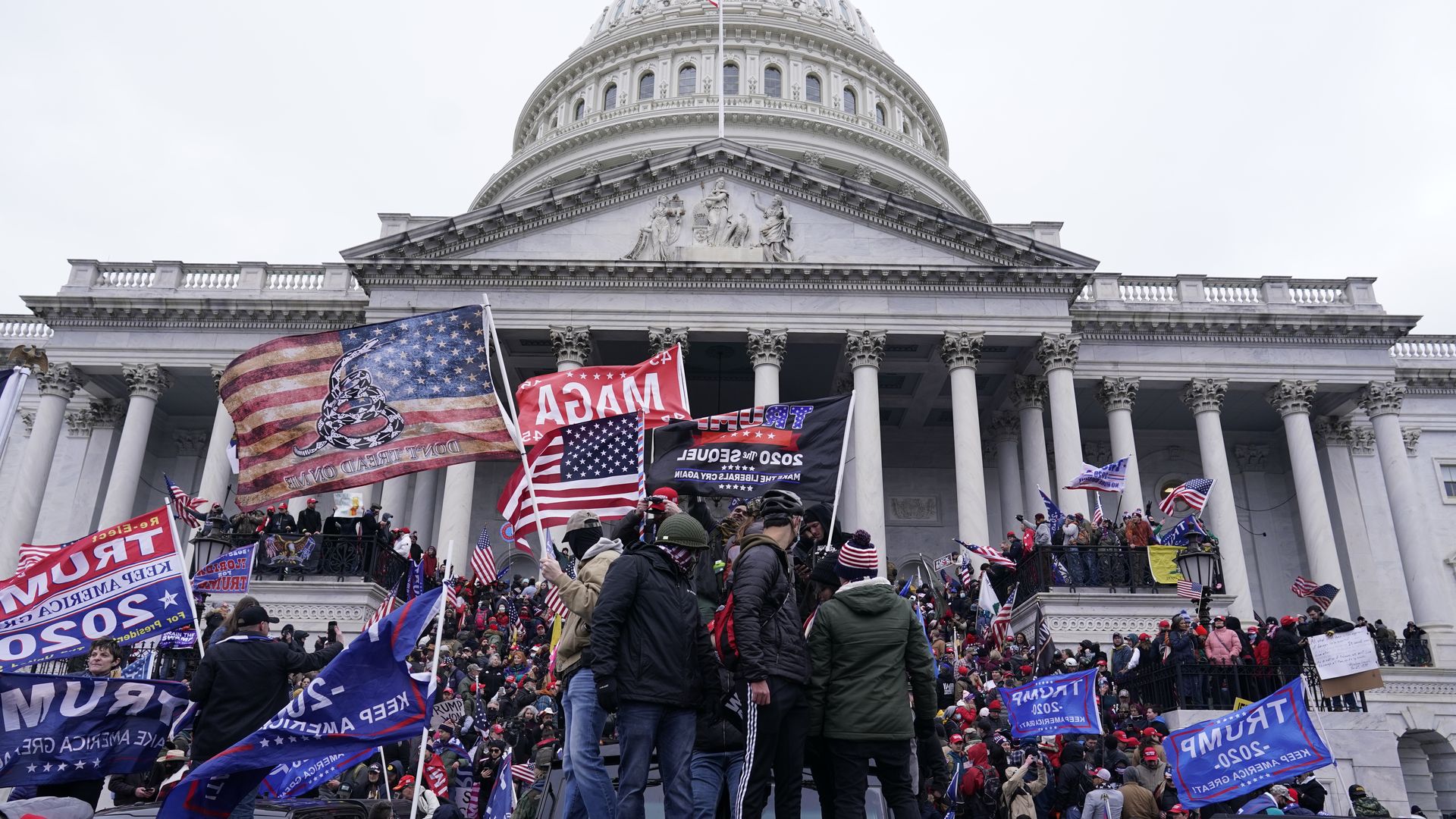 A Texas man who assaulted a police officer during the U.S. Capitol riot and posted death threats against Rep. Alexandria Ocasio-Cortez (D-N.Y.) after the insurrection was sentenced to 38 months in prison on Wednesday.
The big picture: Garret Miller, 36, of Richardson, Texas, was "at the forefront of every barrier overturned, police line overrun, and entryway breached within his proximity" and was twice detained outside the building, U.S. prosecutors said in a sentencing memorandum to the judge.
He was placed in handcuffs the second time but released after vowing to leave. Instead, he stayed and filmed himself "talking about a revolution," per the memo.
Miller assaulted a Metropolitan Police Department sergeant inside the Capitol complex "and engaged in a physical altercation with no fewer than six officers," according to the prosecutors.
Later that night, he posted in reply to a tweet by Ocasio-Cortez: "Assassinate AOC."
Of note: Prosecutors said he was wearing a Trump t-shirt with the words "I was there, Washington, D.C., January 6, 2021," during his arrest later that month and that he went on to threaten other public figures for months, including Senate Majority Leader Chuck Schumer (D-N.Y.).
Details: Miller pleaded guilty to 11 counts in connection to the riot, including entering or remaining in a restricted building or grounds, assaulting, resisting or impeding certain officers and interstate threat to injure or kidnap Ocasio-Cortez.
U.S. District Court Judge Carl Nichols ordered 36 months of supervised release in addition to the prison term, per a Department of Justice statement.
He has been detained since his January 2021 arrest, NBC reports.
What they're saying: Prosecutors said Miller participated in the insurrection "for one reason and one reason only: to stop Congress' certification of the 2020 presidential election," according to the sentencing memo.
"More importantly, Miller took to social media to threaten the life of a United States Congresswoman," they added.
Miller has expressed "deep remorse" for his actions and his attorney said in court submissions that despite the threats "there is no indication that he made any effort whatsoever to actually harm anybody," AP notes.
By the numbers: More than 985 people have been arrested in nearly all 50 states for crimes related to the Capitol breach, including 284 individuals charged with assaulting or impeding law enforcement, according to the DOJ.
Go deeper