"Massive" winter storm to impact entire Lower 48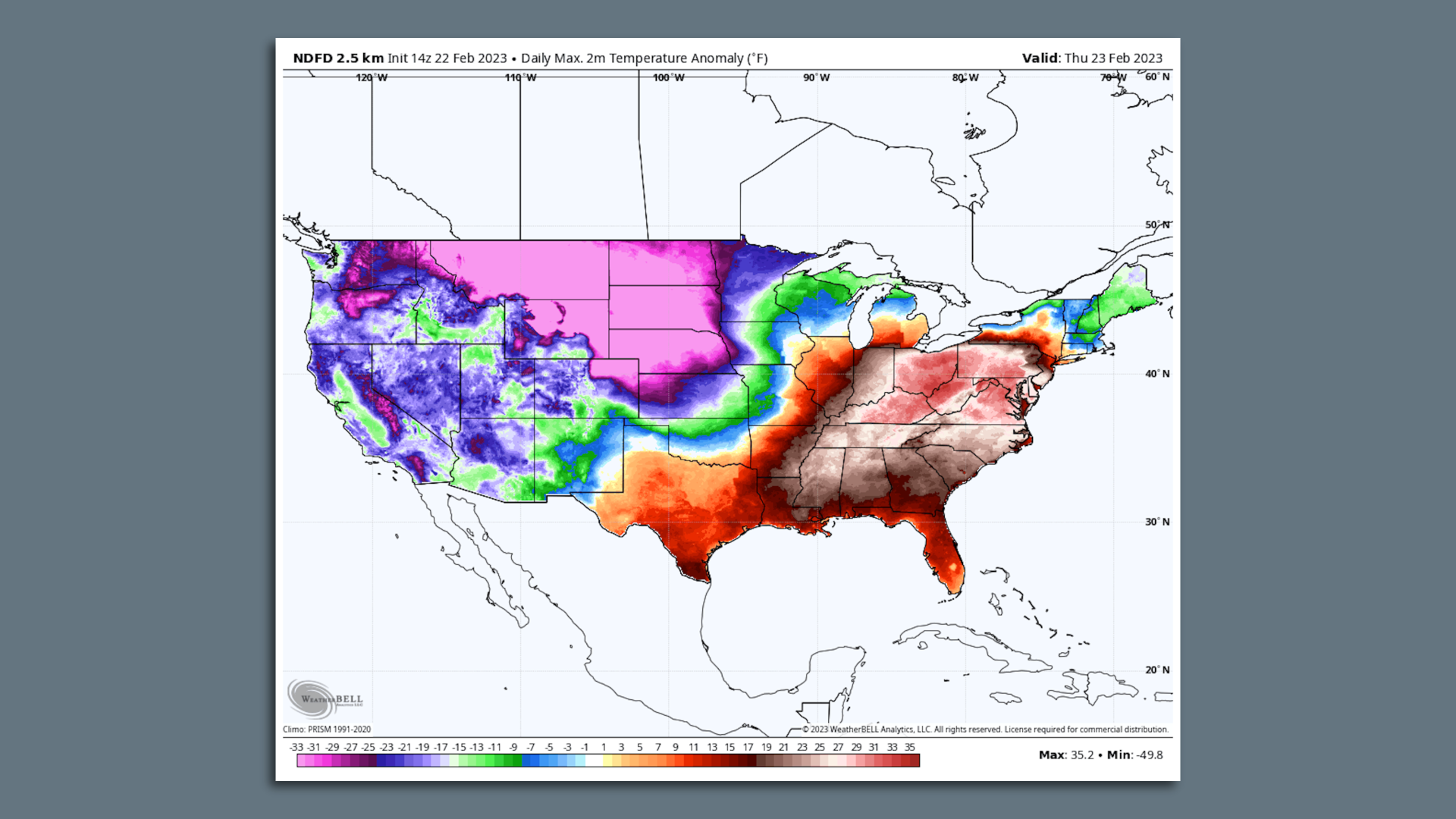 Follow the latest updates on the winter storm in the U.S
A sprawling, high-impact winter storm that will soon stretch from coast to coast has at least 75 million people in the U.S. under winter weather alerts on Thursday.
The big picture: The National Weather Service (NWS) describes the storm's reach as "massive" and warns it will affect every region of the Lower 48 states with winter weather, severe thunderstorms or extreme temperatures.
Threat level: Two distinct low-pressure areas will cross the country through the end of this week, bringing rain and snow to California, including a rare low-elevation snow event for some.
Heavy snow is falling in the Four Corners region and the Rocky Mountains.
Bitterly cold Arctic air was moving south from Canada, causing temperatures to plunge into negative numbers in Montana and eventually Wyoming as well.
Rare cold weather will eventually settle in for the long haul across California, including coastal areas.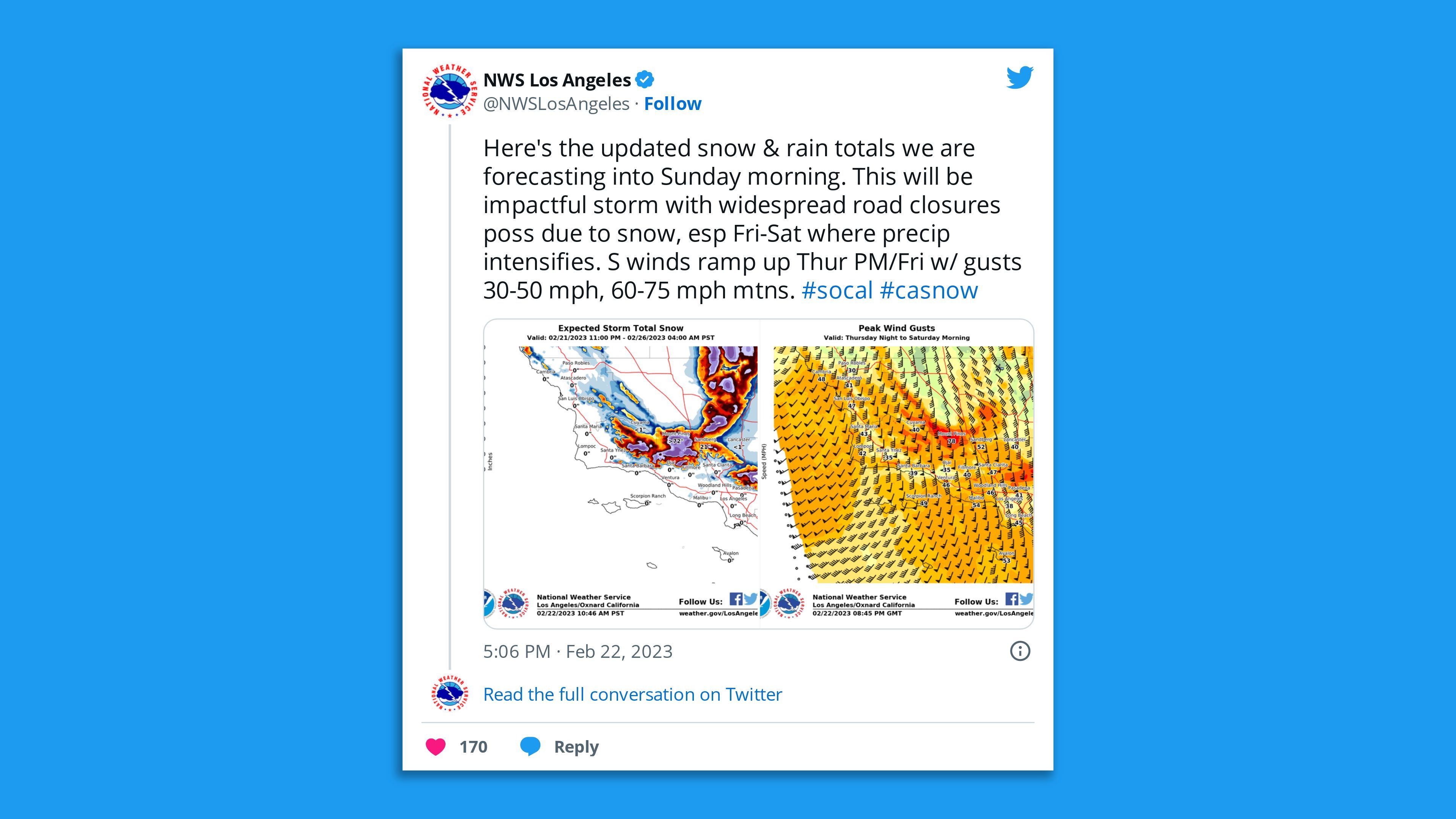 Blizzard warning for parts of L.A. County
Of note: In a rare event, the NWS forecast office in Los Angeles issued blizzard warnings for the higher elevations of Ventura, Los Angeles and Santa Barbara counties. (Little to no accumulating snow was expected below 1,500 feet in elevation.)
L.A.'s NWS forecast office said this is the first blizzard warning meteorologists there have issued since 1989.
Zoom in: The timeframe for the coastal rain and foothill to mountain snow in Southern California is Thursday night through Saturday.
"Low snow levels will mean that this could be the largest amount of 24-48 hour snowfall seen in decades (likely rivaling the 1989 storm) for our Ventura and Los Angeles County mountains," the NWS said in an online forecast discussion.
The NWS warns that higher elevations could see up to 7 feet of snow, which may lead to tree damage and structural failures to homes and businesses, along with an avalanche threat.
In Northern California, however, snow levels may come all the way down to sea level, with coastal communities like Eureka and Crescent City included in winter storm warnings.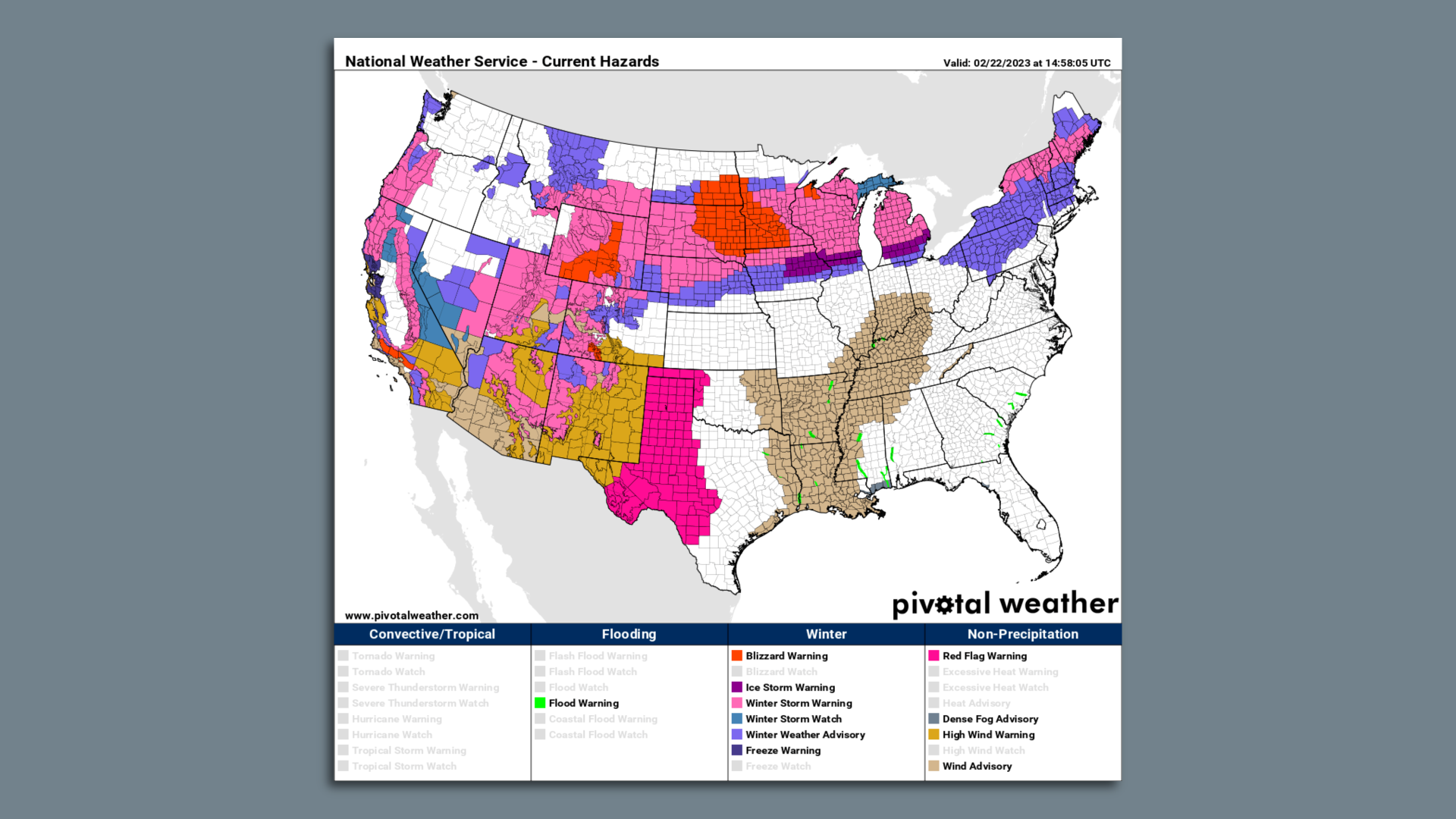 Zoom out: Farther east, blizzard warnings are in effect for parts of the Dakotas, Minnesota and Wisconsin due to the forecast combination of heavy snow and strong winds through Thursday.
The Twin Cities were forecast to see one of their biggest snowstorms on record, with travel becoming difficult to impossible Wednesday afternoon into Thursday.
The storm could exceed the December 2010 snowstorm that caused the roof of the Metrodome to collapse. During that storm, 17.1 inches fell, close to the amount currently forecast.
Travel snarls, schools shut, outages hit
State of play: Schools in Colorado, Wyoming and the Dakotas closed and Minnesota educators moved to online classes through Friday.
Air travel delays and cancellations mounted across the U.S., given the storm's scope and severity. Over 1,600 flights originating within, flying out of or flying to the U.S. were canceled Wednesday, per FlightAware.
The potential shutdown of Minneapolis-St. Paul International Airport during the heaviest snowfall there would further snarl flights, as it is a hub for Delta Airlines.
To the south of the snow, an ice storm developing from Iowa to the southern Great Lakes and eastward into interior southern New England was threatening to bring widespread power outages.
More than 631,000 people in Michigan and some 109,000 others in Illinois were without power early Friday, according to poweroutage.us.
The ice storm was set to affect Detroit and Buffalo.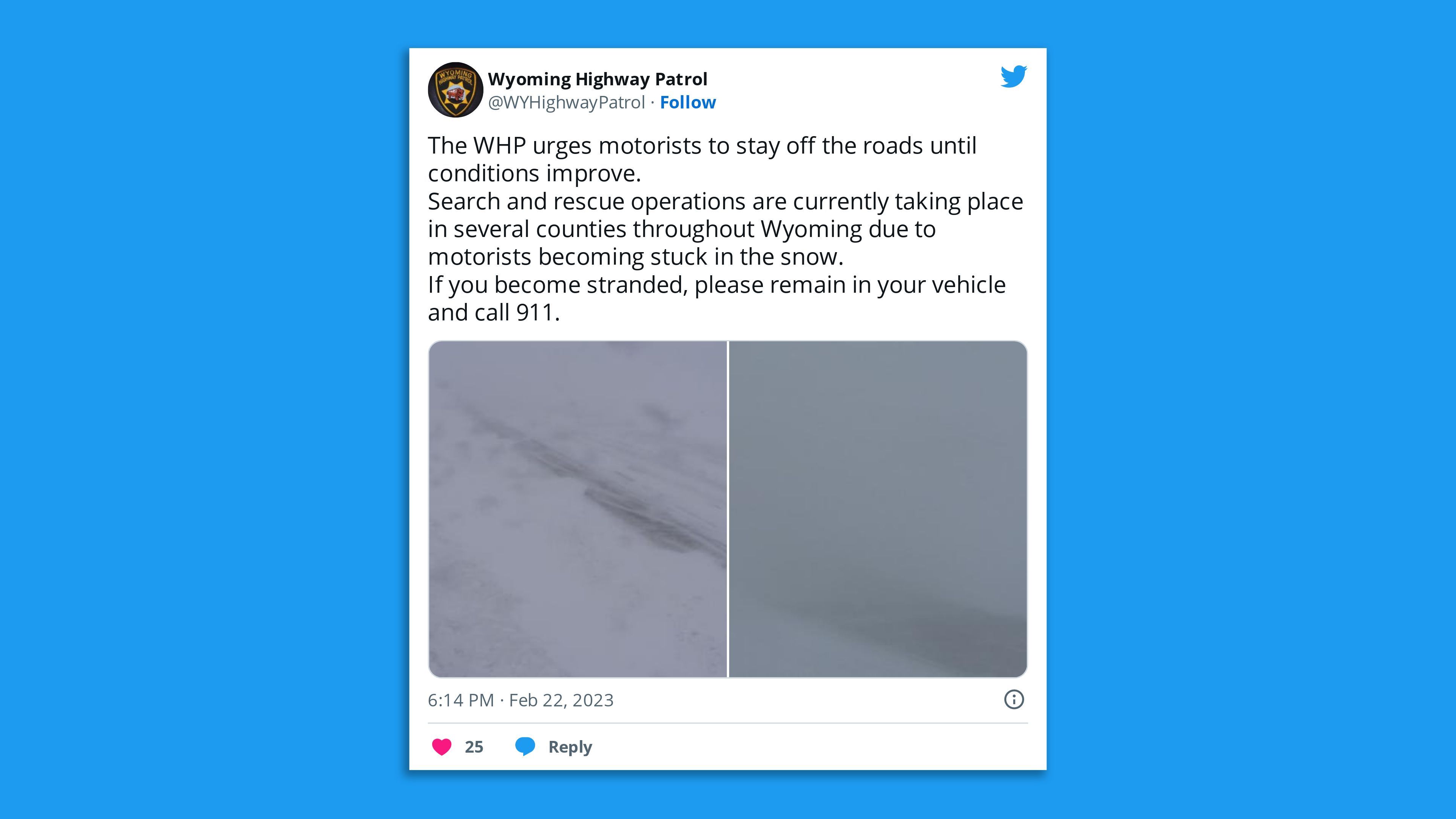 Record high temperatures to reach Mid-Atlantic, Ohio Valley
June-like air temperatures were taking over the Southeast Wednesday, with records likely to fall in Florida and along the Gulf Coast.
The warmth will surge into the Mid-Atlantic Thursday, likely shattering longstanding milestones.
Temperatures in Washington, D.C., and Baltimore were likely to approach 80°F, about 40°F above average for this time of year, and more reminiscent of June than February.
It comes in the midst of one of the warmest and least snowy meteorological winter seasons on record from D.C. to Boston.
Editor's note: This article has been updated with the latest details on the storm, travel disruptions, school closures and power outages.
Go deeper