Arizona AG releases 2020 "audit" findings that predecessor withheld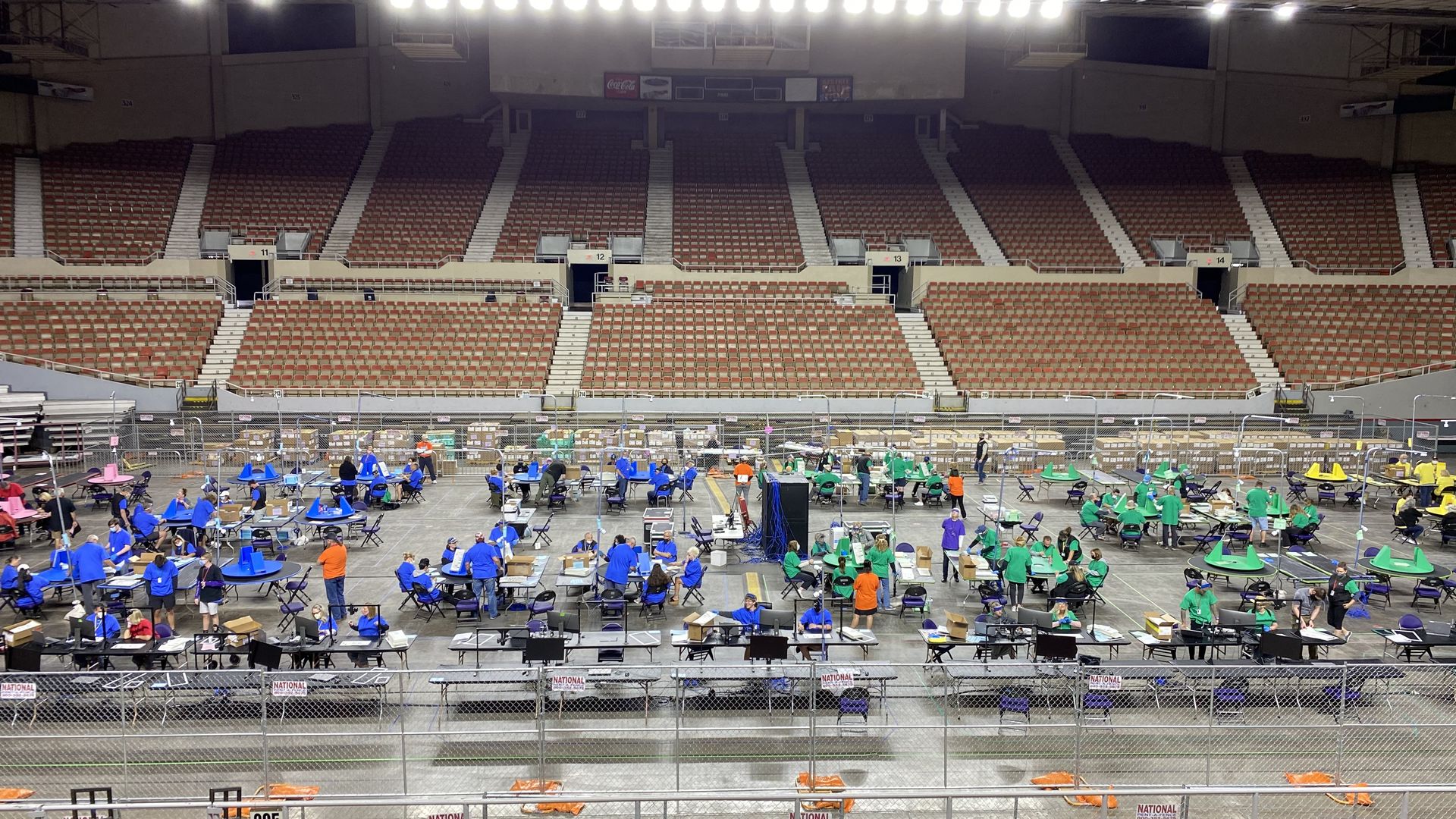 Investigators with Arizona's attorney general's office concluded that nearly all findings of a largely discredited audit of the 2020 election in Maricopa County commissioned by the state Senate were unfounded; but former Republican AG Mark Brnovich withheld the information and left office without releasing it.
Driving the news: Now, his successor has revealed the details, the Washington Post first reported.
The documents aren't an exhaustive record of Brnovich's investigation, but provide insight into the probe that had previously been kept secret.
Democratic AG Kris Mayes on Wednesday released several reports and summaries drafted under her GOP predecessor outlining the investigation's findings into the "audit," as the Senate's review was often dubbed.
Led by Florida-based cybersecurity company Cyber Ninjas, the audit made allegations of improprieties and wrongdoing in September 2021.
Maricopa County refuted those findings, and Cyber Ninjas has been unwilling to respond to the criticism.
Why it matters: The records show Brnovich could have quashed allegations that undermined trust in the election process.
The audit became a cause célèbre for election deniers and its findings, though widely debunked, fueled conspiracy theories that the 2020 election had been stolen from former President Trump.
The big picture: Cyber Ninjas and others who made claims about the election provided "no evidence of election fraud, manipulation or the election process, or any instances of organized/coordinated fraud," a September memo from Brnovich's Special Investigations Section stated.
"The information that was provided was speculative in many instances and when investigated by our agents and support staff, was found to be inaccurate," per the summary.
Zoom in: The AG's findings included:
Ex-Cyber Ninjas CEO Doug Logan used "unreliable public databases" to allege that dead people or otherwise eligible voters had cast ballots, or that people had voted twice, nearly all of which were debunked.
Cyber Ninjas falsely claimed that ballot tabulation machines were connected to the internet.
They also inaccurately alleged Maricopa County improperly deleted data.
Details: An "interim report" Brnovich released last April — while seeking the GOP U.S. Senate nomination — alleging numerous irregularities and potential criminal violations by Maricopa County election officials contradicted his investigators' findings.
Brnovich told Senate President Karen Fann, who initiated the audit, there were serious deficiencies in the county's process for verifying signatures used to certify identities of voters who cast early ballots.
Yes, but: Comments from investigators that were in a previously unreleased version of Brnovich's letter to Fann show investigators didn't believe he had enough information to reach some of his conclusions.
In other instances, investigators flatly contradicted his allegations that signature verification training for election workers was inadequate or the county didn't provide the AG's office with certain records in a timely manner.
What they're saying: Maricopa County Board of Supervisors chair Clint Hickman, a Republican, said in a press statement he was "disgusted" that Brnovich and his leadership team concealed information showing the election was conducted fairly and that he falsely accused the county of wrongdoing in his interim report.
Supervisor Bill Gates, a Republican who served as chair during the audit, told Axios Phoenix the county repeatedly asked Brnovich's administration to release the results of the investigation, but was rebuffed.
Democratic Secretary of State Adrian Fontes, who was the Maricopa County recorder during the 2020 election, said election workers who received threats due to the unfounded fraud allegations deserve an apology.
The people of Arizona had a right to know this information before the 2022 election and county officials deserved to know they'd been cleared of wrongdoing, Mayes told the Post.
The other side: Brnovich refused to respond to Axios Phoenix about why he didn't release the investigation's findings or why he contradicted his investigators in the interim report.
Fann wouldn't comment on the AG's findings, standing by allegations in Brnovich's interim report and repeating debunked claims that the county illegally deleted data.
Of note: The AG's Office found a small number of criminal violations, not all of which stemmed from the Cyber Ninja's audit, including several cases of double-voting.
Some occurred outside of Maricopa County.
A previously unreleased interim summary from March 2022 also found county election officials didn't follow some chain-of-custody procedures mandated by the state.
Go deeper