Kentucky Supreme Court refuses to block state abortion bans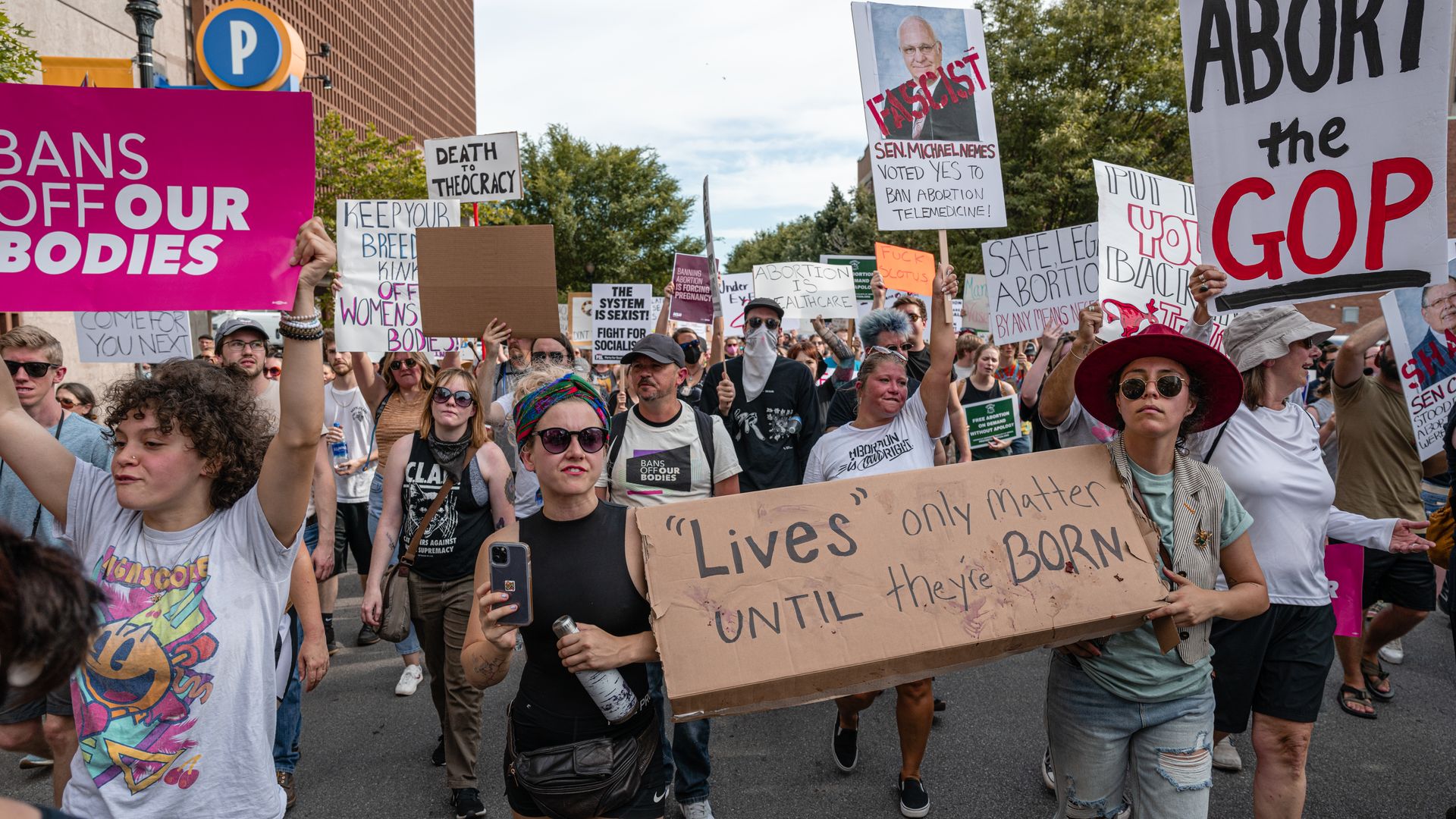 The Kentucky Supreme Court on Thursday rejected a request from abortion providers to block the state's trigger law and six-week ban.
Why it matters: The decision comes months after voters rejected a ballot measure that was considered a major win for abortion rights in the red state.
Catch up fast: This is the second time that Kentucky's highest court has denied a request to block the bans.
The court ruled to keep the bans in place back in August. However, it agreed to hear arguments on the case in November, following the outcome of the midterm elections in Kentucky.
Abortion providers argued in their initial lawsuit that abortion rights were protected under the state's constitution, and that the bans violated the provision granting Kentuckians the "right of seeking and pursuing their safety and happiness."
Details: The court said in its opinion that the abortion providers lacked standing to challenge the laws on behalf of their patients and sent back the case to a lower court for further consideration of constitutional issues related to the state's trigger law.
The justices left the door open to further consider the constitutionality of abortion bans in Kentucky, saying that the opinion "does not in any way determine whether the Kentucky Constitution protects or does not protect the right to receive an abortion.

The opinion, they wrote, should not be used to prevent someone from filing suit in the future.

Dissents accused the court's majority of ignoring arguments made by abortion provides that the bans were causing "irreparable harm" to patients in the state.
What they're saying: "Once again, the Kentucky Supreme Court failed to protect the health and safety of nearly a million people in the state by refusing to reinstate the lower court order blocking the law," said a joint statement from Planned Parenthood and the American Civil Liberties Union, who filed the lawsuit on behalf of abortion providers in the state.
"Even after Kentuckians overwhelmingly voted against an anti-abortion ballot measure, abortion remains banned in the state."
The other side: The Kentucky Attorney General, Daniel Cameron, said in a statement that the court's decision represented a "significant victory" for the state.
"We are very pleased that Kentucky's high court has allowed these laws to remain in effect while the case proceeds in circuit court," Cameron added.
State of play: Kentucky's trigger law — which took effect shortly after the Supreme Court overturned Roe v. Wade — makes abortions illegal in the state unless necessary to save a pregnant person's life or to "prevent the serious, permanent impairment of a life-sustaining organ" of the patient."
The six-week ban prohibits abortion once an embryo's cardiac activity has been detected. Exceptions for abortions past that point exist only if there is a "medical emergency."
Go deeper