Finish line: Fighting unwinnable wars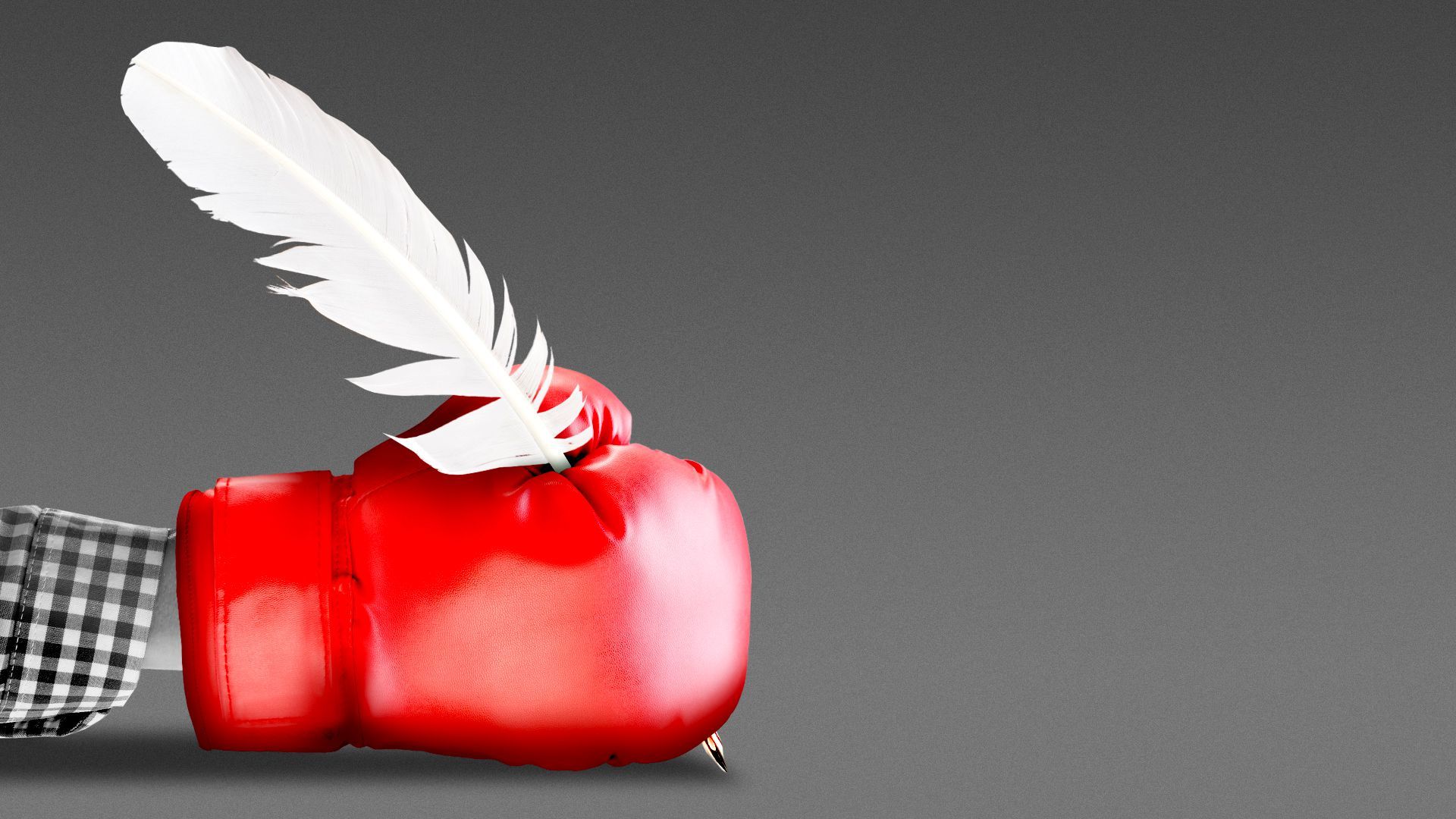 Warning: This column contains profane language capturing actual events.
Roger Ailes — then the godfather of Fox News, and one of the most powerful people in media — hated Politico, the company I co-created in 2006, from the get-go, Jim VandeHei writes.
Ailes, who died in 2017, blacklisted Politico journalists from Fox News after Fred Ryan, our publisher, leveraged his role as head of the Ronald Reagan Presidential Library to land two presidential debates for Politico.
The library picked CNN and MSNBC as partners over Fox. Ailes was livid.
Plus Ben Smith, then a Politico blogger, wrote a story Ailes hated. So Fox News would routinely (and inaccurately) refer to Politico as "left-wing."
Why it matters: When we launched Politico, we recognized Ailes' deliberate effort to stoke an us-vs.-everyone culture to do the impossible — create a new dominant cable-news empire.
In the end, Ailes taught me: Some wars are unwinnable. Some people are unchangeable.
The blacklisting hurt us. We were a new publication hellbent on appealing to conservatives and liberals alike. Fox was, and remains, dominant in its space.
We had countless meetings and episodic back-channeling — even a lunch in the Fox executive dining room — to try to defuse things. Nothing worked.
In 2013, Ailes wanted to talk and was furious again — this time over an item by our media reporter, Dylan Byers.
Peace offerings weren't working. I decided on the fly that aggressors only respond to blunt force. So I let it fly.
Knowing this would be a hoot, two colleagues — Danielle Jones and Kim Kingsley — popped into my office to witness the showdown.
When Ailes came on the line, he was fuming about Byers' writeup of a book about President Obama by Jonathan Alter that portrayed Ailes as paranoid.
Ailes yelled at me about Alter "writing in his underwear," and how he would "not take any shit from Dylan," based on detailed notes I took for a diary of my time at Politico.
Ailes screamed: "I did not think he was an intellectual because that's what all you left-wing nuts think."
My response, again thinking blunt force might work: "Roger, go f--- yourself."
Roger: "Wait! What? You just told Roger Ailes to go f--- himself."
"Stick it in your damn ear!" he shouted. "You just said that so you could tell people you told Roger Ailes to go f--- himself."
No, I replied. I wanted him to stop calling us liberal.
Ailes got creepy, warning of a coming war against us. Dylan, he warned, "will either fall off the limb or have the limb sawed off." I said that was a threat. He said it was not.
He screamed something about me thinking he was a wimp, and dared us to come to Fox and call him a wimp.
He hung up.
The big picture: For 24 hours I thought I was right. A top Ailes adviser called and suggested a truce would be possible now — maybe via an in-person lunch.
Then ... crickets. We never talked again, and remained blacklisted until Ailes was forced out of Fox years later.
The moral of the story: Some fights simply can't be won — but make for fun stories later.
Go deeper