Crypto winter comes for bitcoin ATM operator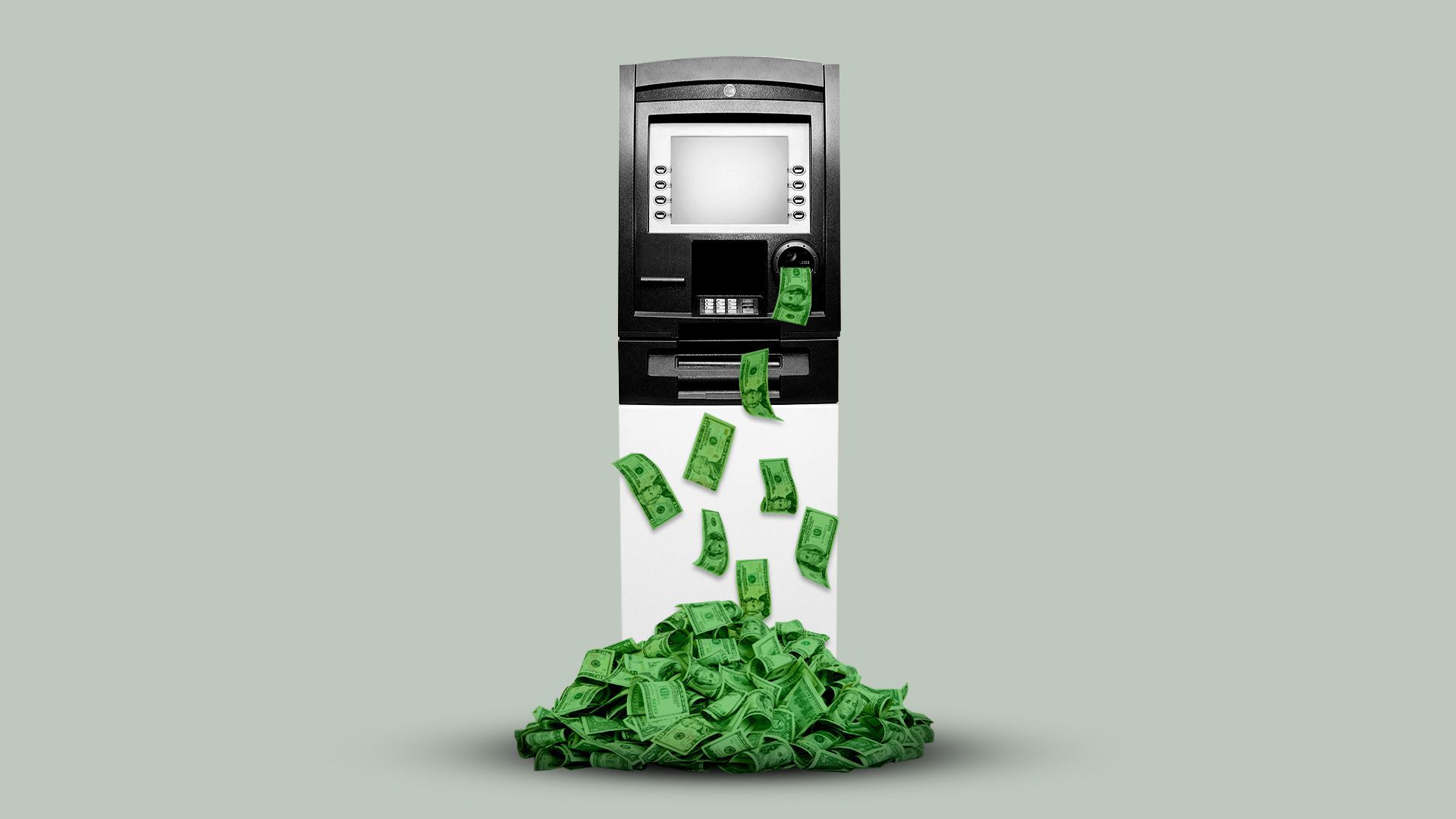 The ATM is among the more ubiquitous gateways to crypto, found at truck stops and bars around the world, but that status hasn't saved them from the broader system's maladies, Crystal writes.
Driving the news: Top-5 bitcoin ATM operator Coin Cloud filed for Chapter 11 bankruptcy in Nevada on Tuesday, just steps behind its lender, Genesis Global.
Why it matters: The number of access points for the crypto curious could shrink with the disappearance of each odd little kiosk.
Context: Unlike regular ATM machines connected to bank accounts, these kiosks take cash and then transfer bitcoin to a digital wallet. Some also allow the customer to sell their bitcoin.
There were around 63,000 of them in the U.S. as of September 2022, according to howmanybitcoinatms.com, a site run by academic researchers and volunteers interested in measuring bitcoin adoption.
That's roughly 1 for every 8 cash ATMs, enough that you've probably come across one.
State of play: Crypto winter, however — already having taken a toll on lending platforms, exchanges and miners — has come for ATM operators too.
While they enjoyed fat profit margins when things were going well — they command exorbitant fees, sometimes as much as 20% per transaction — the toll of rapid expansion has caught up with them.
From September 2020 to September 2022, the number of machines in the U.S. more than tripled. And the costs of financing that growth is now tripping up the overleveraged amid the market downturn.
Some financial regulators outside of the U.S. have also shut them down.
The latest: Coin Cloud, with a 7.9% share of the U.S. bitcoin ATM market and some 5,000 machines, looks like the crypto ecosystem's latest casualty.
It has $108.5 million in unsecured debt owed to Genesis Global Capital and $7.8 million in secured debt to Genesis Global Holdco.
It also has expenses from a series of other unfortunate events including alleged employee fraud, faulty hardware, glitchy software, and a hack.
The firm cut its headcount in the second half of last year by 55%.
It's now seeking new financing or will sell its assets.
Elsewhere: Bitcoin Depot, the third-largest operator, is poised to list on a U.S. stock exchange if it can clinch its SPAC deal, which would come with a cash injection it could arguably use.
Kiosk transaction revenue, which drives the majority of its sales, rose 120% in 2021 from the prior year to about $549 million, primarily driven by the higher number of kiosks in service, according to financial statements.
At the same time its cost of revenue jumped 130%, the effect of expansion.
As of Sept. 30, 2022, it had roughly $3.5 million in working capital.
Zoom in: Bitcoin ATM operators do not custody customer assets.
"This allows the customer to have full control over their own bitcoin, which is a major benefit of our kiosk network," Bitcoin Depot CEO Brandon Mintz tells Axios.
Between the lines: It can't trap its customers' bitcoin in the machine as other crypto platforms have.
Flashback: The world's first bitcoin ATM, outfitted with a palm scanner, was installed in a coffee shop in Vancouver, British Columbia, in October 2013.
Robocoin, the same folks behind that one, placed one at a rooftop bar in Austin, Texas, in February 2014.
Go deeper