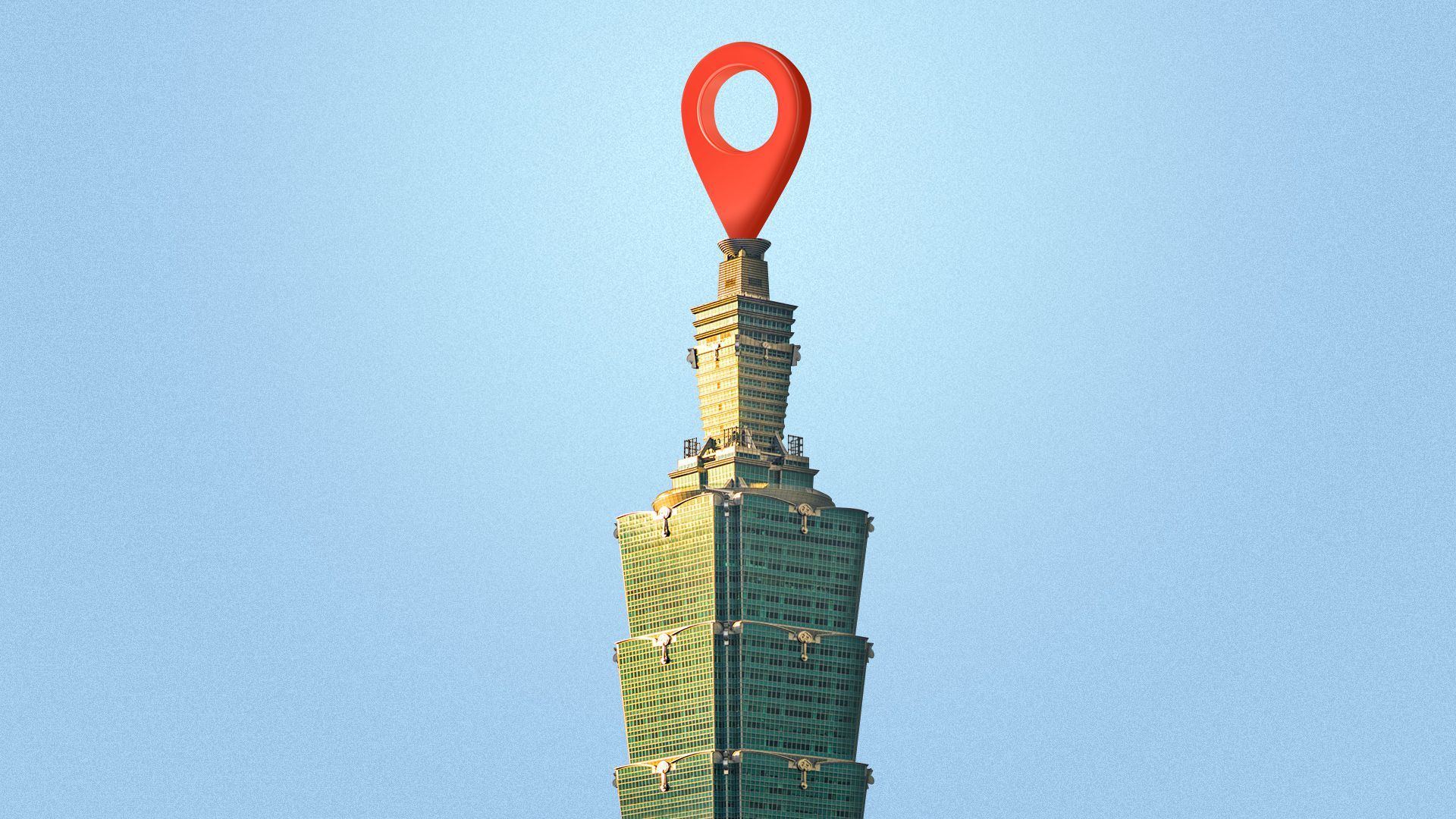 A steady stream of foreign delegations from around the world have been arriving in Taipei since the pandemic, demonstrating the increasing importance democratic governments place on the future of Taiwan.
Why it matters: Democratic stakeholders increasingly see Taiwan as playing a key role in the global struggle between democracy and authoritarianism.
Russia's invasion of Ukraine, growing recognition of the security threat China poses to Europe, and Taiwan's successful pandemic policies have led some countries to reconsider the self-imposed constraints in their formulations of a "One China" policy.
"Taiwan is being positioned as a place with lessons to offer, not just an underprivileged party that needs to be saved by whoever is visiting," Marcin Jerzewski, who runs the Taiwan office of the Prague-based European Values Center for Security Policy, told Axios.
What's happening: Taipei welcomed large numbers of foreign delegations before pandemic restrictions closed the borders, but the delegations coming now are often higher level, more frequently initiated by the visiting side, and often aimed at learning from Taiwan's experience.
"There is a big qualitative change," Jerzewski said.
The European Parliament's subcommittee on foreign interference in democratic processes, for example, initiated a fact-finding visit to Taiwan in fall 2021, the EP's first official visit to the island.
There are more exchanges involving the executive branches from different countries, which have traditionally been more sensitive. Some of these interactions have been virtual, such as Polish Health Minister Łukasz Szumowski's 2020 phone call with Taiwanese counterpart Chen Shih-chong to discuss pandemic responses, and Czech President-elect Petr Pavel's January phone call with Taiwanese President Tsai Ing-wen.
There are also more invitations from foreign governments for Taiwanese officials to visit, said Alan Hao Yang, executive director of the Taiwan-Asia Exchange Foundation.
The foundation organizes dozens of foreign visits to Taiwan each year as part of President Tsai Ing-wen's New Southbound Policy, which aims to diversify Taiwan's trade and diplomatic relations with countries in Asia, in part as a counterbalance to Beijing.
Yang highlighted delegations to Taipei from Indonesia and India, as well as multiple invitations from officials in Japan.
Between the lines: Many countries improving their ties with Taiwan are also expanding their outreach to other countries in the region, including Singapore and Australia — making closer ties to Taiwan part of a larger Indo-Pacific strategy of diversifying engagement beyond just China.
What they're saying: Sen. Todd Young (R-Ind.) visited Taiwan last month, the latest in a string of U.S. congressional trips to the island since former House Speaker Nancy Pelosi's controversial visit last summer.
"I wanted to send a message that at the start of a new Congress where we are divided on many issues, Republicans and Democrats in Congress are largely united in standing with Taiwan and deterring the Chinese Communist Party from invading," Young told Axios in a statement.
"After visiting, I am even more convinced of the need for deeper engagement and cooperation between our two countries moving forward."
Go deeper