Medellín and the power of public transportation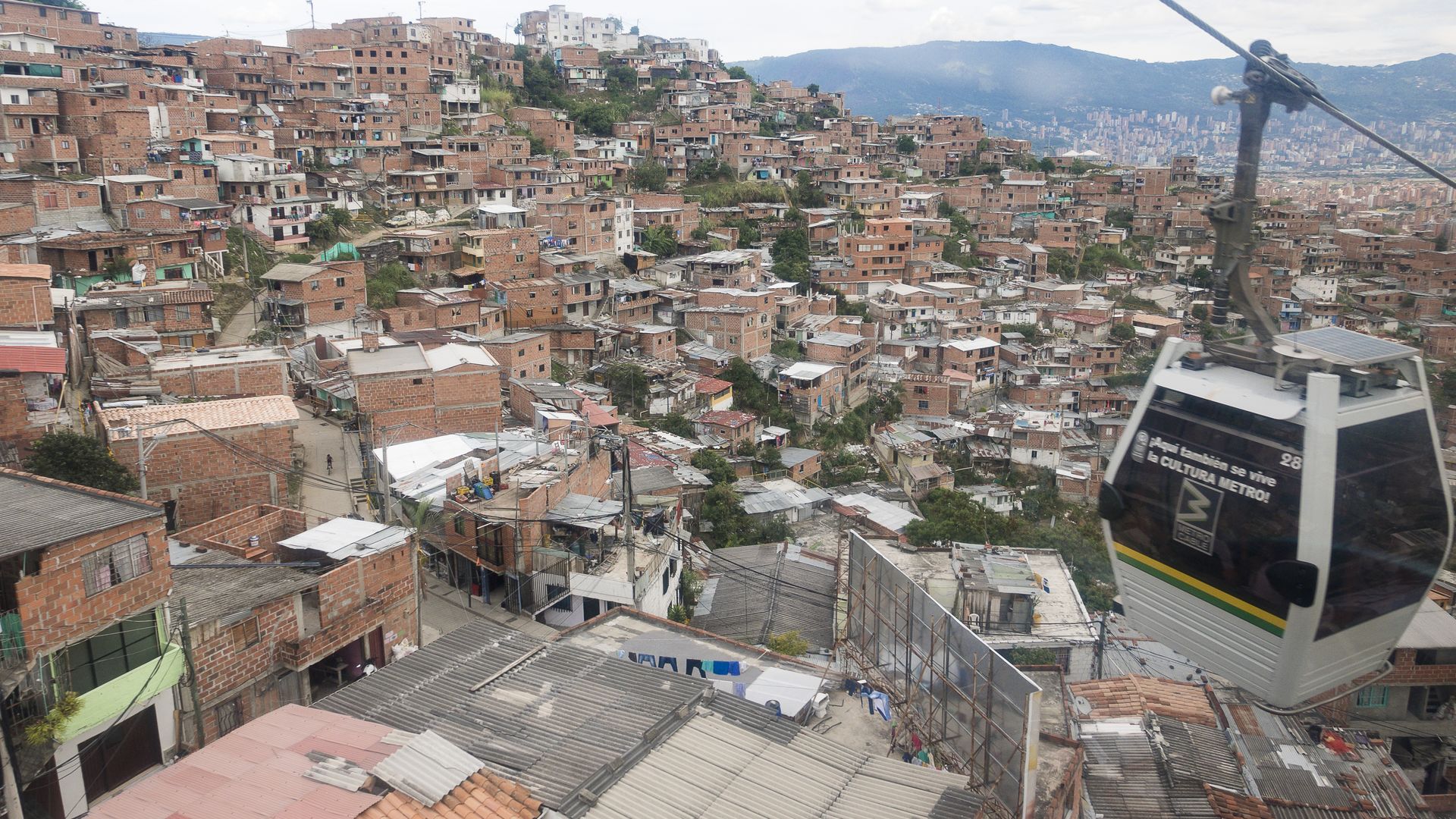 They look like the fancy aerial cable cars that shuttle tourists to Instagram-worthy mountaintops in the Alps. But they're actually part of Medellín, Colombia's mass transit system, moving tens of thousands of people a day to and from some of the poorest neighborhoods of the city.
Why it matters: Mobility is the engine that powered Medellín's economic and social transformation from the most dangerous city on the globe in the 1990s, to the world's "most innovative city" in 2013. That's according to Jorge Pérez-Jaramillo, urbanist, author, and a lead planner for Medellín from 2012 to 2015.
It seems so logical now: Buses or trains aren't well suited for steep, mountainous terrain in a region as densely populated as Medellín. Un-intrusive aerial cable cars fit right in and are a low-emissions solution to boot.
Yet, Medellín was the first city to build cable cars to serve its poorest communities, rather than the wealthy or tourists. Now, others are emulating it.
Medellín's cable cars connect to the city's network of trains (the metro opened in 1995), trams, buses and free public bikes.
The backstory: The city's mobility plan was designed in part to help break down barriers between extraordinarily segregated rich and poor neighborhoods, Carlos Moreno, professor at Panthéon-Sorbonne University in Paris, tells Axios.
By the '90s, makeshift, informal housing steadily expanded up the steep hillsides, amid one of the world's largest movements of internally displaced people — a result of the upheaval of the violent Pablo Escobar era.
The MetroCable system opened in 2004 and slashed a two-hour, often physically grueling trip between the mountain barrios and downtown Medellín to just 30 minutes. The economic benefits of this are obvious; here are two examples:
Pérez-Jaramillo says a young man told him recently that "the reason I can go to university is because we have cable cars." Without them, he wouldn't be able to afford the time and cost of getting there every week.
A woman who sells empanadas near Medellín's soccer stadium told him she can now transport triple the product to her stand.
The impact: Medellín made for a natural experiment that academics, urbanists and economists rushed to study. Research showed that homicide rates and perceived violence declined for the entire city — but they fell significantly more in the neighborhoods with MetroCables.
Overall, life expectancy, education levels and food access significantly improved, particularly for the poorest communities.
Poverty rates dropped from 37% of the city's population in 2002, to 14% in 2018, other researchers noted.
Zoom out: The direct impact on accessibility and commute times is only part of the story; it's all about social inclusion, the feeling you're part of the city. That you have options outside of the gangs and crime that offered the most visible opportunities in a once-isolated community.
To that end, the transit lines were accompanied by new education facilities and expansive public cultural spaces like library parks nearby.
It was a conscious choice to invest in social inclusion strategies, rather than putting those funds toward building housing or heavy policing, says Soledad Garcia-Ferrari, an urban studies professor at the University of Edinburgh who has researched the city of Medellín.
Go deeper: In fact, experts have attributed Medellín's progress, in part, to early moves by city leaders to bring people impacted by the decisions into the planning process.
One example: A community project in which the residents simply demanded a new walking and biking path. The new path, co-designed by residents and city planners, now connects formerly disconnected neighborhoods along the mountainside, write the report's authors.
"It was more than symbolic," they write. The project included stabilizing the steep mountainside slopes to prevent landslides, and hundreds of acres of gardens to grow food for both the community and for sale at markets.
Overall, "the participatory planning tools were as important as the actual infrastructure tools that were used," Garcia-Ferrari says.
That's the biggest lesson for other cities that want to duplicate Medellín's transit success, including La Paz, Bolivia, and Caracas, Venezuela.
On the flip side: Rio de Janeiro, Brazil, opened cable cars to some of its distant favelas in 2011, ahead of hosting the 2014 FIFA World Cup and 2015 Olympics — but without buy-in from residents. The system closed in 2016.
What's next: "It's important to reflect on successes — but also on the challenges that remain," Garcia-Ferrari says. "Medellín still shows a high level of inequality."
Go deeper