States eye compacts, scope of practice laws to fill holes in health workforce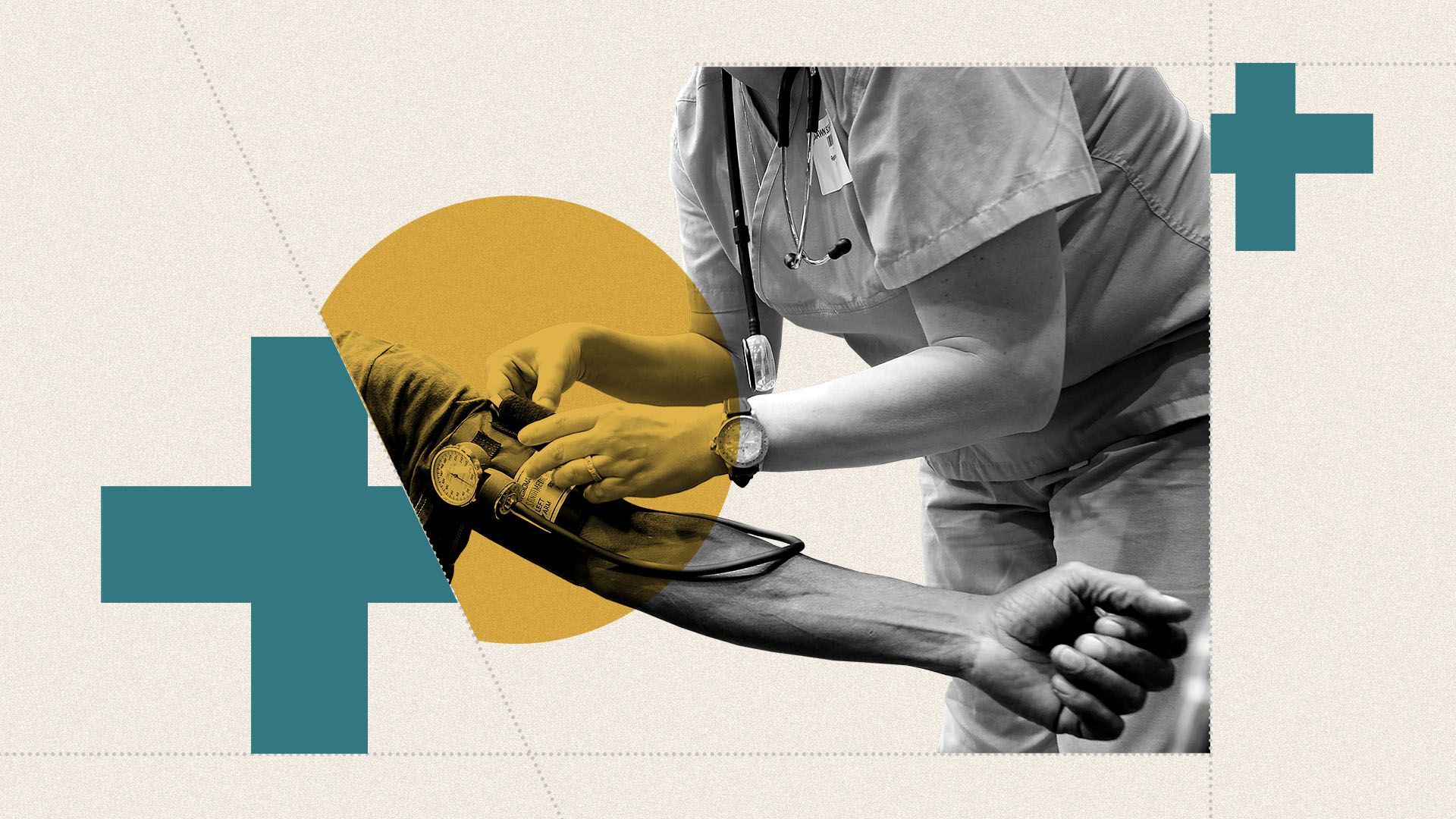 More states are working out differences over what medical services non-doctors can provide in order to ease stubborn workforce shortages plaguing health systems.
Why it matters: The pandemic prompted states to waive certain licensure requirements which allowed providers to more easily practice in other states or to expand the services they were allowed to provide to patients, including via telehealth.
But making those temporary fixes permanent, and potentially giving health workers more autonomy over patient care, could conflict with the patchwork of state "scope of practice" laws.
Driving the news: The most immediate focus is on the shortage of nurses, driven by some projections showing that the U.S. will have a nationwide deficit of more than 900,000 RNs by the decade's end.
New York Gov. Kathy Hochul last month endorsed making her state part of the Interstate Medical Licensure Compact and the Nurse Licensure Compact, which would allow physicians and nurses licensed in other states to practice in New York, although the New York State Nursing Association does not support joining the compact.
A similar move may be on the way in Nevada after the state nurses association backed joining a compact after changes were made requiring background checks.
Meanwhile, California this year is beginning a phased-in approach that will eventually relieve nurse practitioners of needing a physician's sign-off to practice in the state, CalMatters reports.
Zoom in: The Nurse Licensure Compact allows a nurse licensed in a participating state to have the same privileges in any of 37 others. Pennsylvania, Ohio, Vermont, Guam and the Virgin Islands joined the compact during the pandemic, including via telemedicine.
During a pandemic or natural disaster, those nurses can relocate to another participating state and practice without the need for an emergency declaration or other state approval.
"States want to attract health care professionals to their state whether or not it's on a temporary basis or not, and the compact would enable a state to call on a recruit for that position more seamlessly," Nicole Livanos, the director of government affairs at National Council of State Boards of Nursing, told Axios.
Nursing unions in some states oppose the compact. And some state lawmakers have expressed concerns that the arrangements may make it harder to root out bad actors and can undermine a state's ability to set higher standards for certain health workers.
There also are concerns about a single entity overseeing the licensure of any one profession in many states.
But the compact model is catching on to address other health care workforce challenges, evidenced by a 17-state compact allowing mental health counselors to practice in other participating states without the need for multiple licenses.
The intrigue: As the nation emerges from the pandemic, about half of the states allow nurse practitioners to practice without a physician's oversight, something NPs are advocating for in states that require contracts or supervision.
In states that have changed their state laws, NPs can help fill gaps in primary care and ease wait times, April Kapu, president of the American Association of Nurse Practitioners, told Axios.
New York and Kansas changed their state laws in 2022 to allow NPs to diagnose, order tests and treatment for patients under the supervision of the states' nursing boards, not a contracted physician.
The other side: But such moves have enflamed turf wars with doctors' groups, who complain about a lack of standardization among graduate nursing programs across the country.
In Louisiana, a group of doctors fought legislation that would have expanded the practice authority of NPs in the state in 2021 and 2022.
"A well-trained nurse practitioner can be so valuable in the clinical setting, but that being said, the patient needs physician-led care and the physician needs to be there," Jamie Do Kuo, an emergency medicine physician in Louisiana and member of Physicians for Patient Protection, told Axios.
For Kuo, the variation among NPs she's worked with who train in different programs gives her pause. She added the real staffing shortage Congress needs to address is the physician shortage.
"The federal government has not approved an increase in the number of residency positions in the past 20 years although our population is growing," Kuo said.
To address the staffing shortages, she added, "we need to invest in primary care."
Go deeper