Axios Finish Line: David Rogers exemplifies the "quiet greatness" formula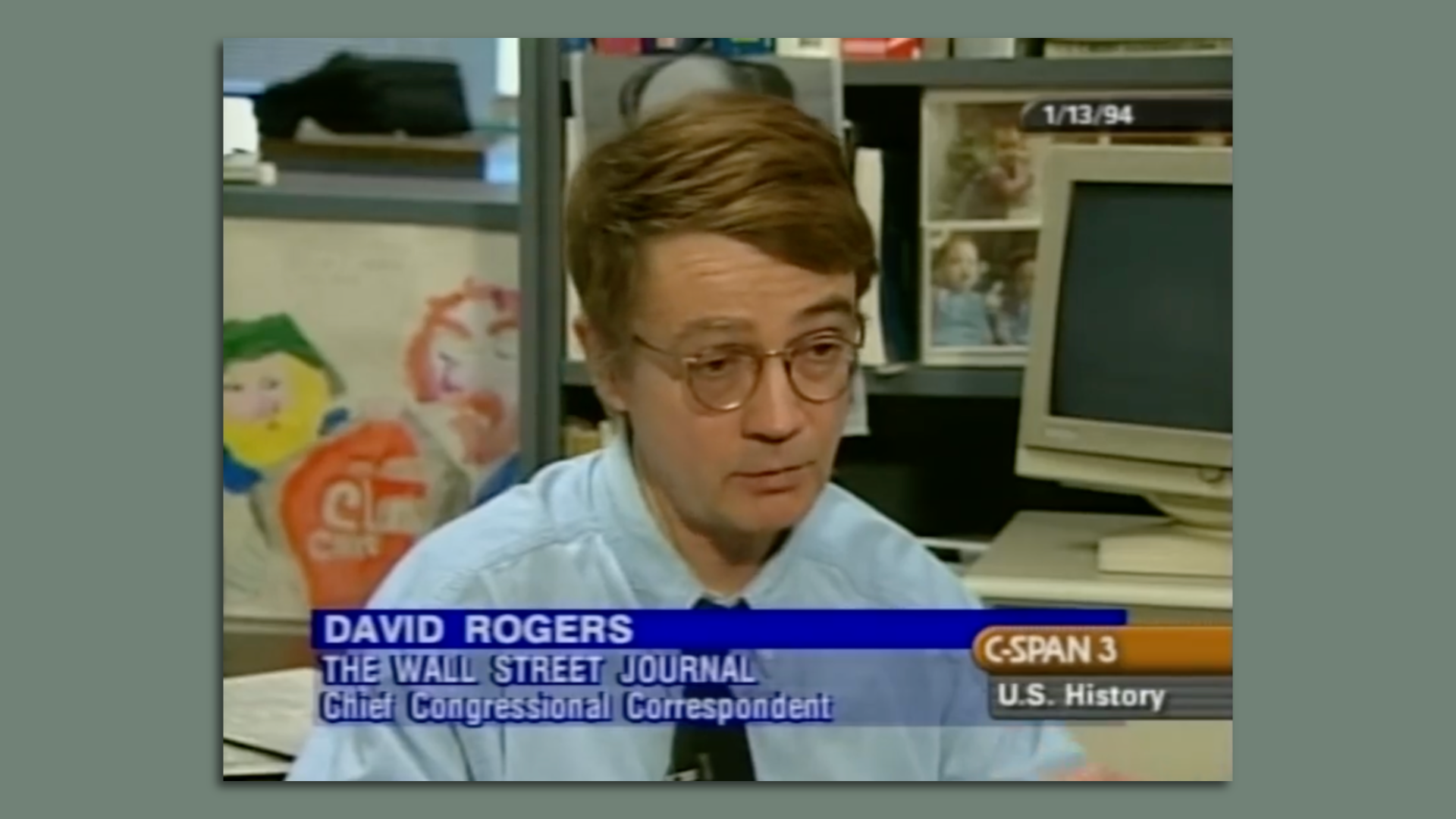 David Rogers — a gruff, exacting, idiosyncratic former congressional reporter for The Wall Street Journal — is the best journalist I've come across.
David, now retired, was my mentor — and sometimes tormentor — in the 2000s, when I was a rising congressional and White House reporter. 
Why it matters: David taught me a master class, by actions more than words, about what it takes to be the very best at your craft. 
Not good. Not content. But better than anyone else who does what you do. To me, this is what every person should aspire to. Why settle for fine? There's no market for mediocrity. 
First, the backstory: To this day, I'm convinced I got my big break in journalism because of David, unwittingly so. I was a congressional reporter in my late '20s, and The Journal rarely hired young reporters for their Hill gigs back then. 
But Alan Murray, the Washington bureau chief, was intrigued by a string of scoops I landed at Roll Call, a small Capitol Hill newspaper.
Murray and Rogers rubbed each other the wrong way. So when Murray heard Rogers was pushing another candidate, I'm certain that put me over the top. 
David redefined for me what it takes to be truly great:
Uncommon work ethic. Every great athlete, writer, teacher or leader works harder than others. There are no shortcuts or part-time paths to extreme betterment. David was notorious for being the person to open the reporters' gallery in the Capitol early each morning — and last to leave. I made it my mission to be waiting there when he arrived, and leave after he left. He eventually wore me down. Work ethic is a powerful weapon.
Diligence. David's special gift is understanding the arcane congressional budgeting and appropriations process better than lawmakers and many staff. Top leaders would routinely call him when arcane rules or historical precedent popped up. He spent decades reading, studying, asking questions. Digging deeply is a powerful weapon. 
Domain expertise. Most lawmakers feared David and ducked his questions because they knew he could run circles around them.  He wasn't cocky about it — just calm and certain that he saw and knew with total precision the full field.  Domain expertise is a powerful weapon. 
Love of the game. David's hard exterior masks a poet's soul. His writing is lyrical. He would labor over every sentence, summon obscure historical figures or scenes, and fight editors down to the word, as if they were chipping at his being by trimming a preposition. But he poured so much reporting and thought into every sentence that every word did matter — to him. Caring profoundly is a powerful weapon. 
Honor. David was a combat infantry medic in Vietnam, which shaped his character, beliefs and journalism. It was the seminal experience of his life. David felt he owed it to those he served with to scrutinize government and how it operates. He also knew that people are policy. He spent an enormous amount of time trying to understand the people — lawmakers and staff — and what they were really like. Service and honor are powerful weapons. 
The big picture: You never saw David on TV or lighting up Twitter with hot takes. He was too busy doing the hard work in the trenches that it takes to be great — and setting a standard every reporter, every professional, should aspire to even if we will never attain it.
This article originally appeared in Axios Finish Line, our nightly newsletter on life, leadership and wellness. Sign up here.
Go deeper