The coldest air in the Northern Hemisphere is invading New England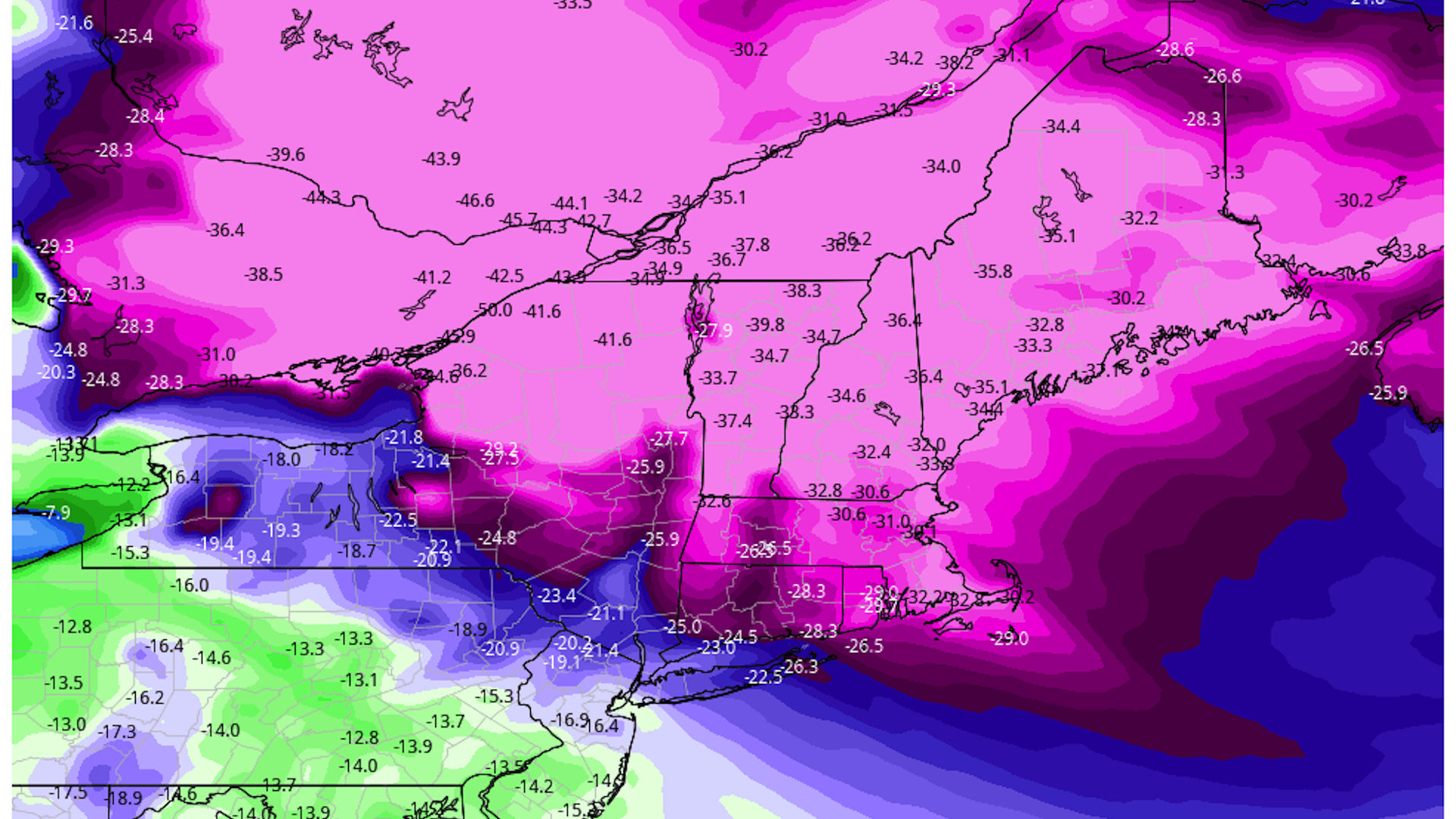 A potent cold snap descending on New England Friday morning that's expected to last into early Sunday threatens to bring wind chills approaching record low levels.
Threat level: With wind chills forecast to reach -10°F in New York City, -33°F in Boston, and as low as -60°F in northern Maine on Saturday morning, the cold could be deadly for anyone caught outside for extended periods.
The big picture: The air mass across northern New England Friday night through the weekend will be the coldest in the Northern Hemisphere, with the possible exception of a portion of Siberia.
Wind chill warnings are in effect for parts of New York, Vermont, New Hampshire, Maine, Massachusetts, Connecticut and Rhode Island.
As of 2:14pm, a wind chill of minus-50°F had already been observed at Frenchville Airport in northern Maine. By around 8pm, it had hit -60°F, per the National Weather Service.
The frigid winds blowing across the relatively mild waters of Lake Champlain has led to "steam devils" swirling above the lake.
This is the coldest air to affect the region in decades.
The latest: The NWS office in Caribou, Maine, said it has received reports of "Quakes" in the area, which it said were "Frostquakes" or "Cryoseisms."
"Just like Earthquakes, [they] generate tremors, thundering sensations," the NWS said in a tweet Friday evening. "These are caused by sudden cracks in frozen soil or underground water when [it's] very cold."
Zoom in: The NWS warns that in such cold conditions, frostbite can occur on exposed skin in 10 minutes or less.
Strong winds are accompanying the Arctic front, particularly in southern New England, where gusts up to 50 mph are anticipated into Friday afternoon and Friday night. At the same time, temperatures will be dropping all day, down into the single digits in Boston by evening, and below zero in northern New England.
Any power outages could knock out heat during frigid conditions. According to the NWS forecast office in Boston, temperatures there are likely to be comparable to a cold snap in February of 2016, when the city hit -9°F. But areas to the north will be far colder.
In northern New England, winds may also howl out of the Northwest into Saturday, particularly in northern Maine.
Threat level: Boston Public Schools were closed Friday due to the cold, and authorities across New England have opened warming shelters for residents. The city has also declared a cold emergency.
The cold outbreak comes courtesy of a lobe of the tropospheric polar vortex, which is distinct from the polar vortex that is present at higher altitudes in the stratosphere.
This region of extreme cold will rotate south from Hudson Bay, accompanied by a powerful cold front with snow squalls and strong winds beginning late Thursday night and Friday morning.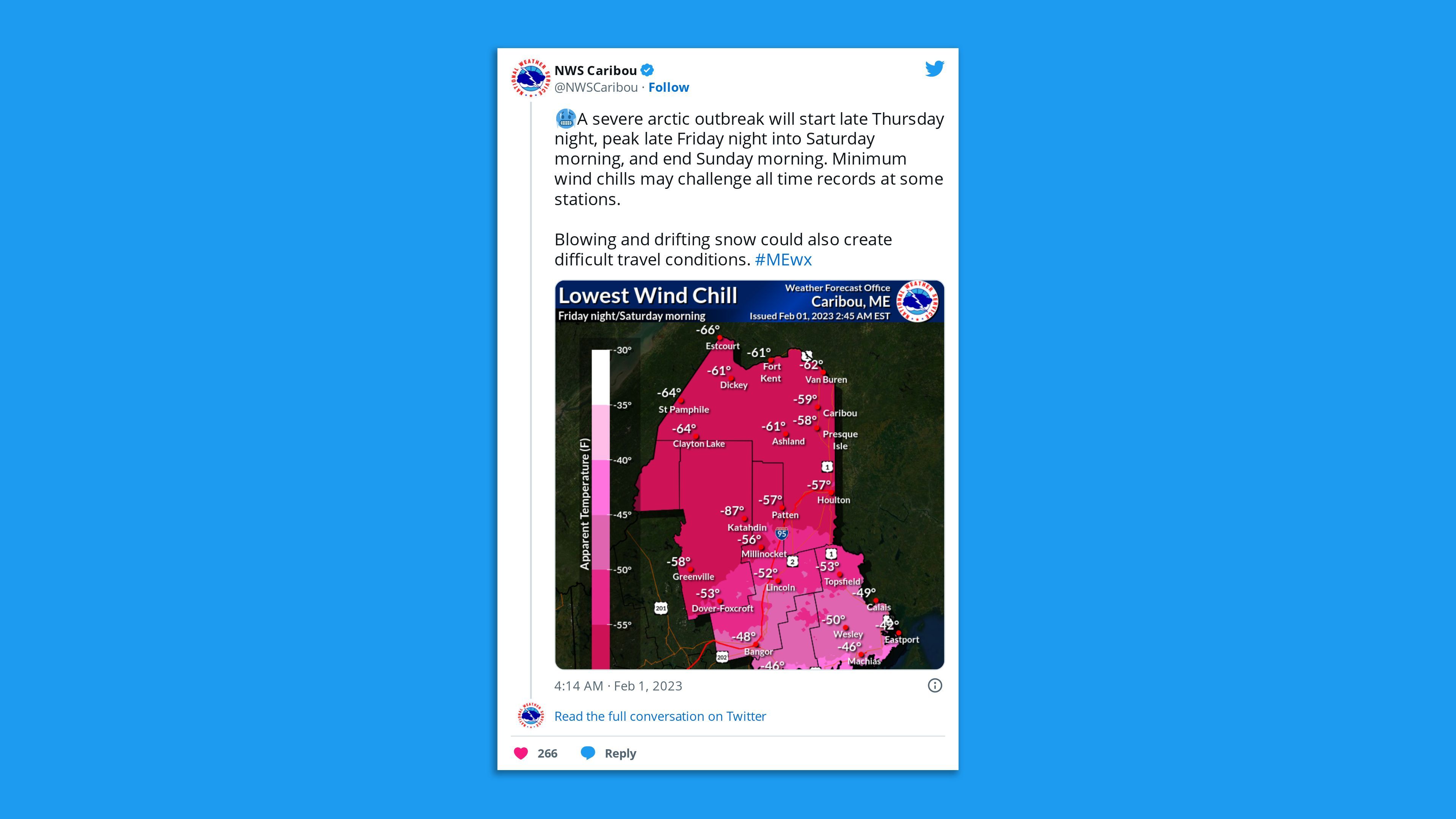 New York City will miss the core of the cold but will still see low temperatures dip to 9°F on Saturday, with a high struggling to rise into the mid-20s. Wind chills will be below zero, however.
Philadelphia and Washington, D.C. will also see unusually cold conditions Friday and Saturday.
Blizzard warnings have been issued in northern Maine due to blowing snow on Friday and Saturday, as winds gusting to 40 miles per hour create what are known as "ground blizzard" conditions.
The NWS reports that unofficial records of the coldest air temperatures aloft, as measured by weather balloons, could be broken.
"Most stations are forecast to see their lowest wind chills in decades or, in some cases, the lowest ever recorded," the NWS office in Caribou stated Thursday.
Of note: Mount Washington in New Hampshire hit a wind chill of -107°F on Friday evening — its coldest on record and likely the coldest on record for any station in the U.S.
Forecasters had sought to discourage wintertime adventurers from attempting to hike in these conditions, warning of the "exponential" risk of hypothermia and frostbite.
What's next: Fortunately, the frigid air intrusion into New England will be short-lived as temperatures are forecast to moderate by Monday.
Editor's note: This article has been updated with additional details throughout.
Go deeper