Tesla reports record profit and defends price cuts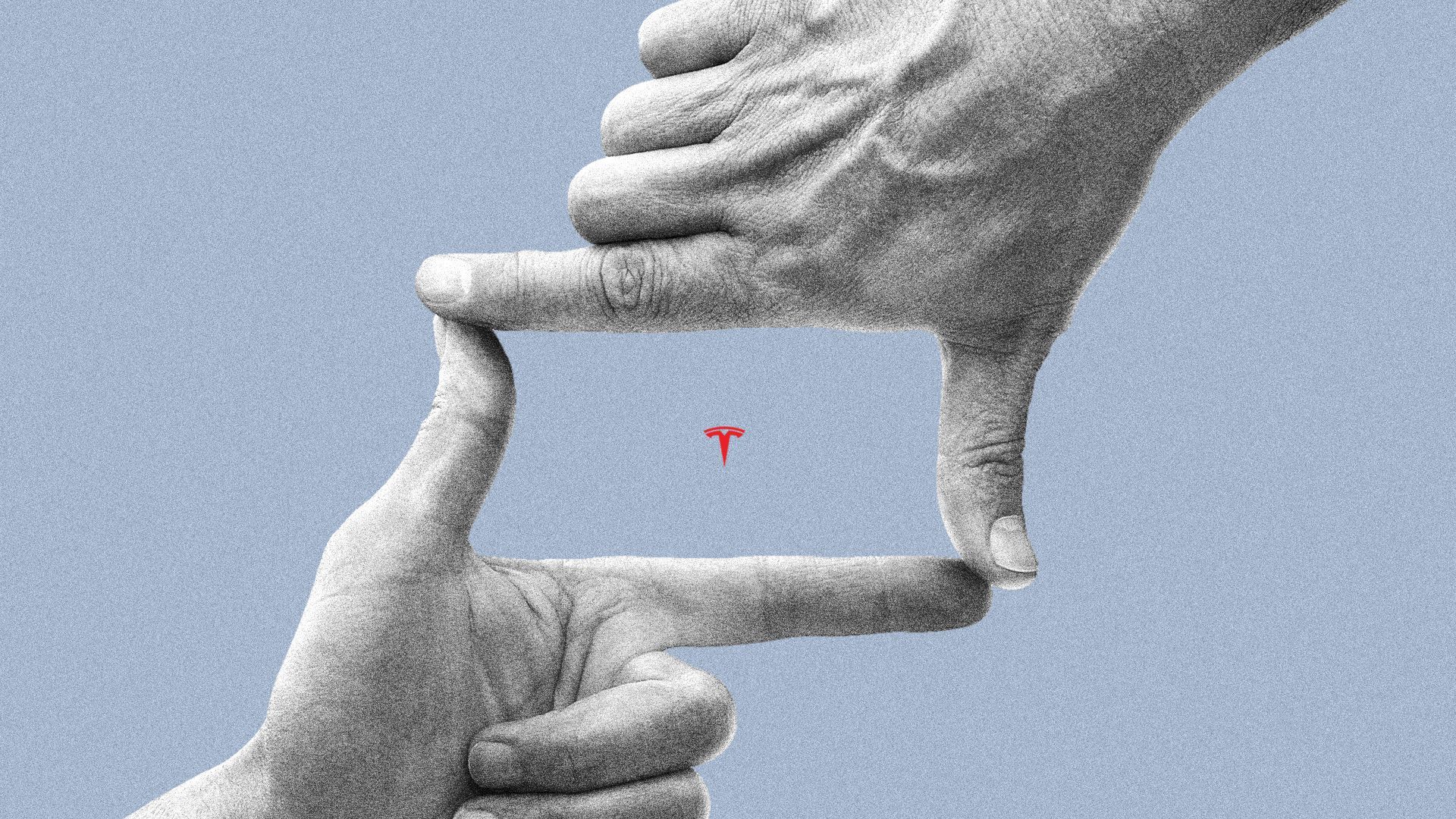 Tesla on Wednesday reported record profit and revenue for the fourth quarter but acknowledged that it must make cheaper vehicles to become a bigger automaker.
Details: The company reported net income of $3.69 billion and revenue of $24.3 billion in the fourth quarter, up 59% and 37%, respectively, from a year earlier.
Both reflect its best quarterly marks ever despite a continued slowdown in the critical Chinese market.
The company sold 405,278 vehicles in the fourth quarter, up 31% from a year earlier.
Why it matters: Tesla is under pressure to regain momentum after signs of a sales slowdown and a stock-price plunge amid a broader industry pullback, as well as CEO Elon Musk's controversial management of Twitter.
Tesla's stock lost about two-thirds of its value in 2022.
What they're saying: Tesla acknowledged Wednesday in an earnings presentation that its prices are "on a downward trajectory," but said it's "necessary to become a multi-million vehicle producer."
The company pledged "relentless cost control and cost innovation" to preserve profit margins.
The big picture: What investors are most interested in is whether its recent round of across-the-board price cuts will pay off.
"All eyes are going to be on what does that do in terms of helping sales and what does it do to profit margins," Autotrader analyst Michelle Krebs tells Axios.
Context: Two weeks ago, Tesla cut prices of its U.S. vehicles by a weighted average of $10,000, according to Evercore ISI. Those cuts are not reflected in the fourth quarter earnings report.
Morgan Stanley estimated Wednesday that Tesla prices would average in the range of $45,000 to $48,000 in 2023.
"In our view, the price cuts are indeed in response to slowing incremental demand relative to incremental supply," Morgan Stanley analyst Adam Jonas said in a research note ahead of the earnings report.
Zoom out: Part of Tesla's problem is that it hasn't introduced a new consumer vehicle in years despite increased competition from the likes of General Motors, Ford, Volkswagen, Hyundai, Rivian, Lucid and others.
"They have an aging product line — a very limited product line — and a promised pickup truck that we haven't seen yet," Krebs said.
Tesla says the long-ago-introduced-but-not-yet-produced Cybertruck is on track to begin production "later this year" in Texas — and it says it will provide "additional details" about "our next generation vehicle platform" on March 1.
Worth noting: Tesla is confident enough in its future growth to announce plans on Wednesday to invest more than $3.6 billion to add a new semi-truck assembly plant and a battery cell factory alongside its existing "gigafactory" near Reno, Nevada.
💭 Our thought bubble: As competition heats up, Tesla is beginning to look more and more like a traditional car company that must do things like lower prices or increase incentives when demand slows.
Go deeper