Microsoft and Qcells team up in major U.S. solar push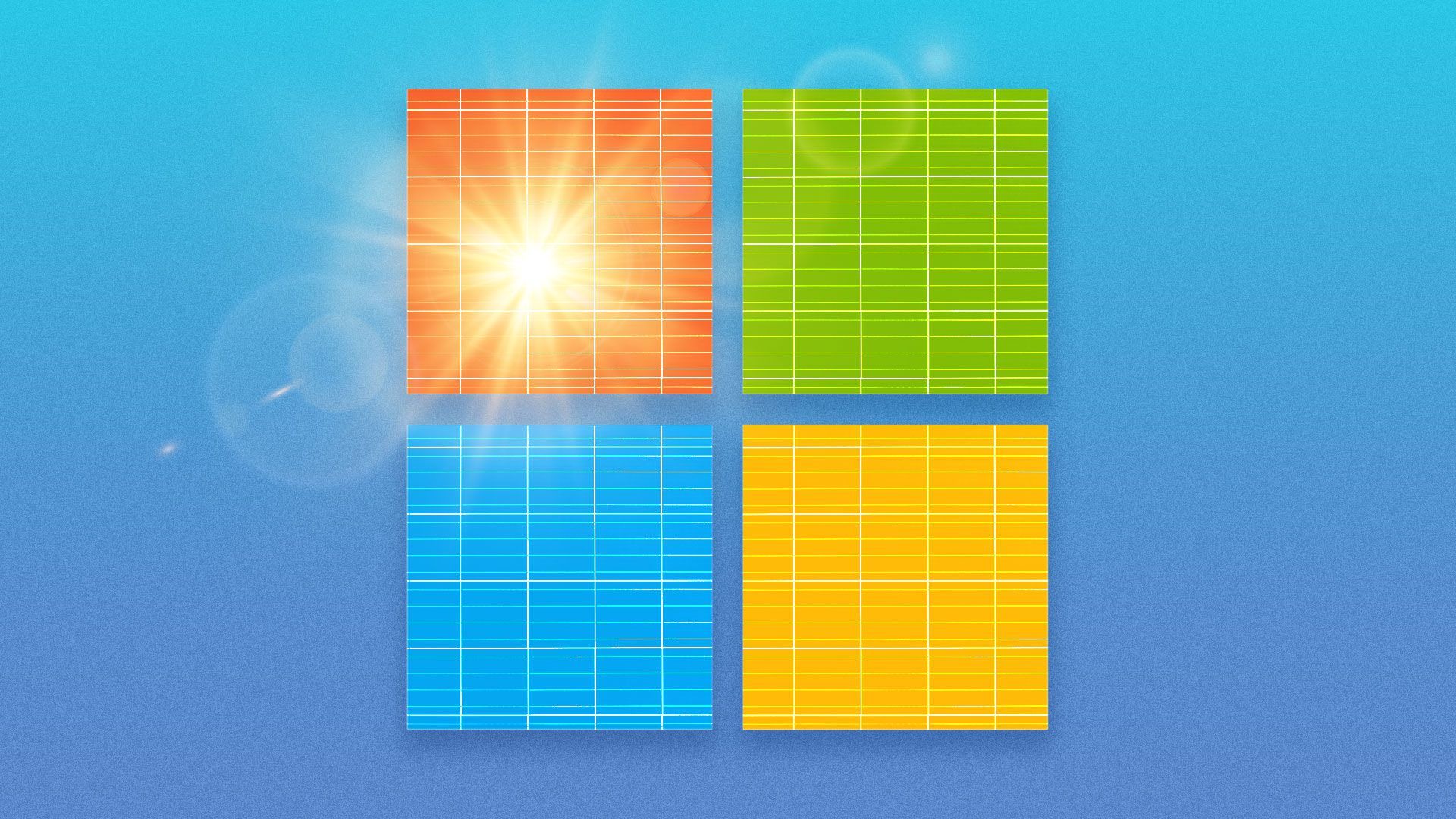 Microsoft has a new business partnership with solar heavyweight Qcells as the tech giant boosts renewables procurement and Qcells expands U.S. manufacturing.
Driving the news: Qcells, which makes panels and other equipment, will work with Microsoft to develop utility-scale solar projects in the U.S.
They'll also provide equipment, engineering and construction services to projects Microsoft is backing with other developers via power purchase agreements, which are contracts that help finance new generation.
Why it matters: It's a lot of business. It envisions Qcells — an arm of Korean industrial giant Hanwha — initially providing 2.5 gigawatts worth of panels and related services, with room to grow.
That's "equivalent to powering over 400,000 homes," they said.
The big picture: It's the "first time a company that procures energy is working directly with a solar supplier to adopt clean energy on such an important scale," the announcement states.
Brian Janous, Microsoft's GM of energy and renewables, tells Axios the company's cumulative renewables procurement to date is around 13.5 GW.
The initial Qcells agreement is equivalent to around half the renewable gigawatts Microsoft procured from all sources worldwide last year, he said.
The intrigue: The deal is part of a tactical evolution.
"We started to think it really makes sense for us to go further upstream, and work more closely and collaboratively with suppliers of solar panels... because it helps give us some control and certainty and it does the same thing for our suppliers as well," Janous said.
Catch up fast: Two weeks ago, Qcells announced a $2.5 billion investment in Georgia, along with further plans to domestically source silicone materials.
After growth announced this year and in 2022, it will have over 8GW of production capacity in Georgia in 2024, up from 1.7GW in 2018.
Microsoft, already a top corporate renewables buyer, has a goal of matching 100% of its aggregate energy usage with renewables by 2025 and becoming carbon-negative by 2030.
What they're saying: Qcells VP Jihyun Kim called the deal part of helping the U.S. become "energy independent."
As they develop an integrated U.S. supply chain, "we definitely want to have partners, strategic and long term, for us to be able to continue growing our presence here," he said.
Go deeper