Severe storms threaten Gulf Coast after tornadoes hit Houston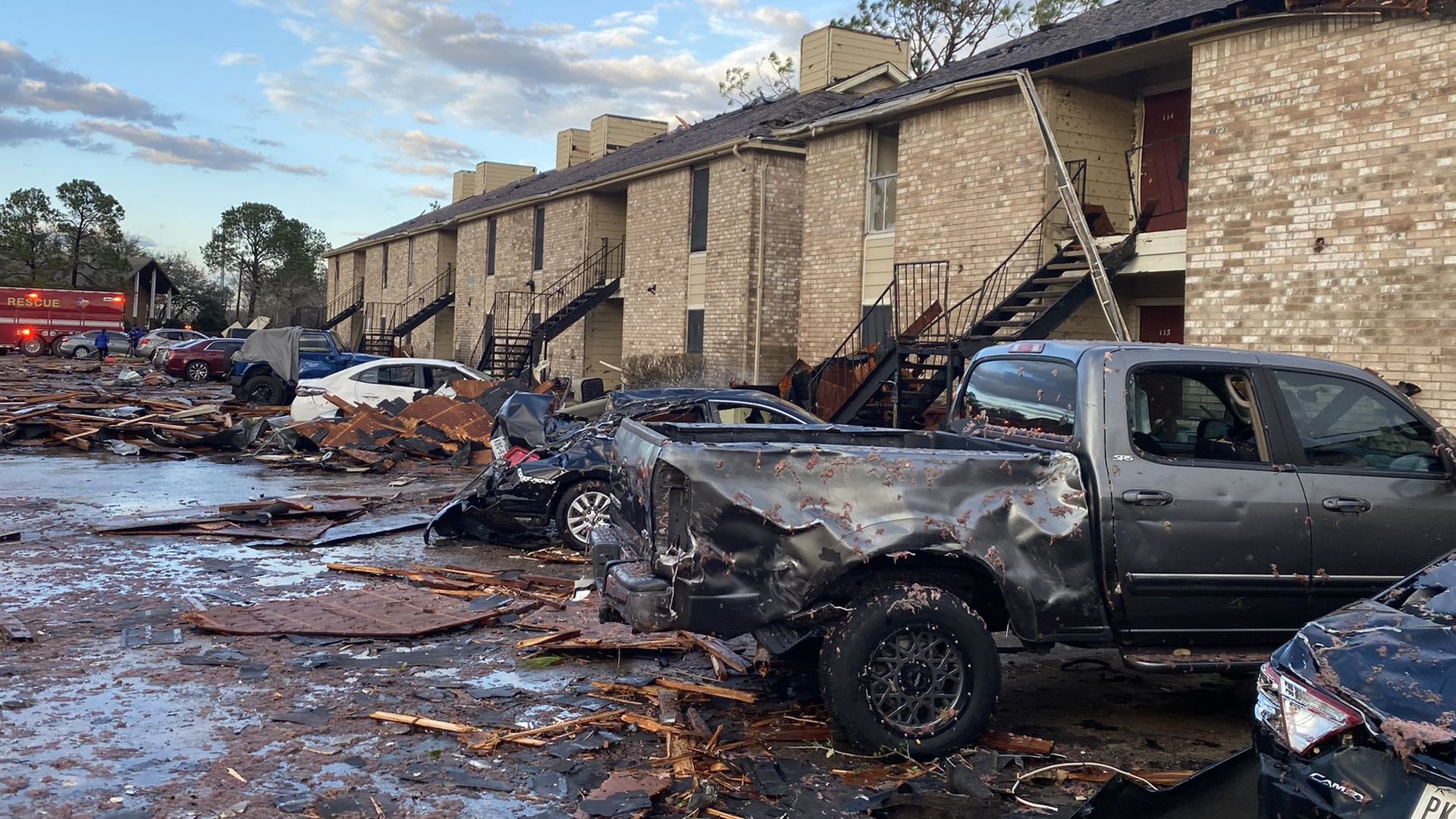 A "multi-hazard storm system" that triggered multiple reports of damage from tornadoes and flooding in and near Houston on Tuesday is threatening to unleash further damage across the Gulf Coast.
The latest: Tornado risks remained as more than 15 million people in Gulf Coast areas including Houston, New Orleans and parts of Alabama were under threat from the storm, which was sweeping through Mississippi coastal communities as it pushed northeastward overnight.
By the numbers: Outages were affecting nearly 52,000 customers in Arkansas and more than 17, 200 others in Louisiana early Wednesday, according to utility tracker poweroutage.us. And nearly 57,300 customers were still without power in eastern Texas.
Of note: At least one tornado emergency — a very rare and limited warning — was issued for southeastern Harris County, Texas, according to the National Weather Service.
Tornado damage was reported in Pasadena, where power lines were knocked out and radar indicated debris from one twister near the city reached about 8,000 feet in the air.
Threat level: Areas most at risk overnight included New Orleans, Baton Rouge, Mobile, Ala., and extreme northwestern Florida. The Storm Prediction Center placed these areas in an "Enhanced Risk" zone, which is a level 3 out of 5 on its severe storm risk scale.
Winter weather was expected to hit West and North Texas on Tuesday, too.
Louisiana's Office of Homeland Security and Emergency Preparedness said the state faced "another severe weather threat this week" and residents should remain alert.
State of play: Photos of the damage shared on social media showed crushed power lines, damaged homes, flooding and trashed roads, as tornado warnings were issued in Texas and across the South.
The hard-hit areas included many of the region's petrochemical plants, some of which had to be quickly shut down due to the severe weather.
Zoom in: The National Weather Service Storm Prediction Center recorded at least four tornado reports in Texas by Tuesday afternoon, as the Atascocita Fire Department said there was "a tornado related structure collapse" at a nursing home in the state's Deer Park.
Ground stops were issued for both Hobby and Bush International airports as the storms moved through Texas and flights weren't allowed to land there, the Houston Chronicle reports.
A senior assisted living facility in Deer Park was destroyed after a storm tore through the area, per the New York Times. While no one was injured, some 59 residents were displaced.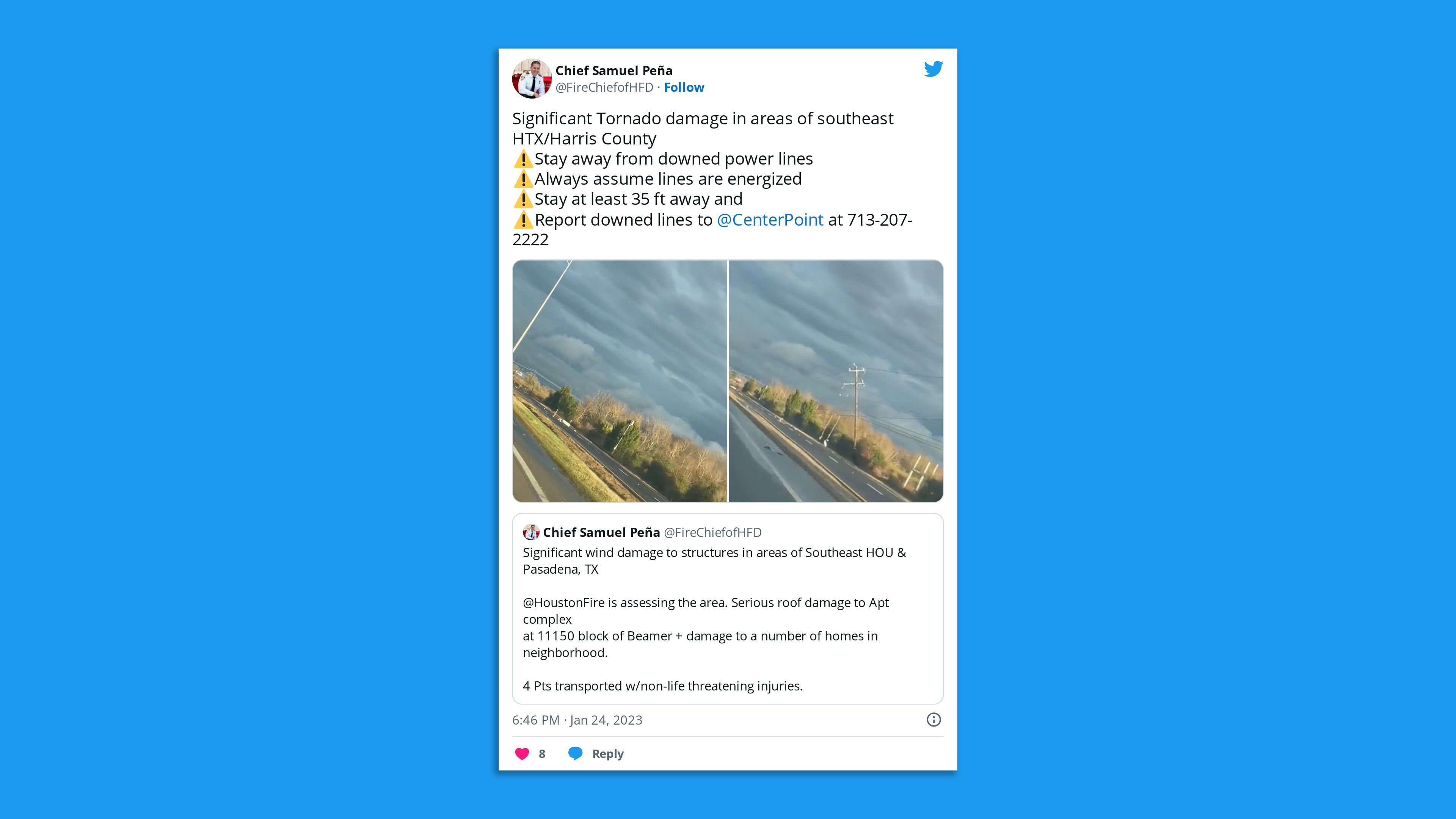 What's next: The intensifying storm was expected to "have widespread impacts over the next few days across large areas to the east of the Mississippi River," per a National Weather Service forecast discussion early Wednesday.
It was set to push through the Ohio Valley and Lower Lakes on Wednesday and into the Northeast by early Thursday.
"This storm will be multi faceted and have significant impacts across a large portion of the nation from the Gulf coast into the Northeast," the NWS said.
Editor's note: This article has been updated with additional details throughout.
Go deeper