Ukraine war upended energy markets forever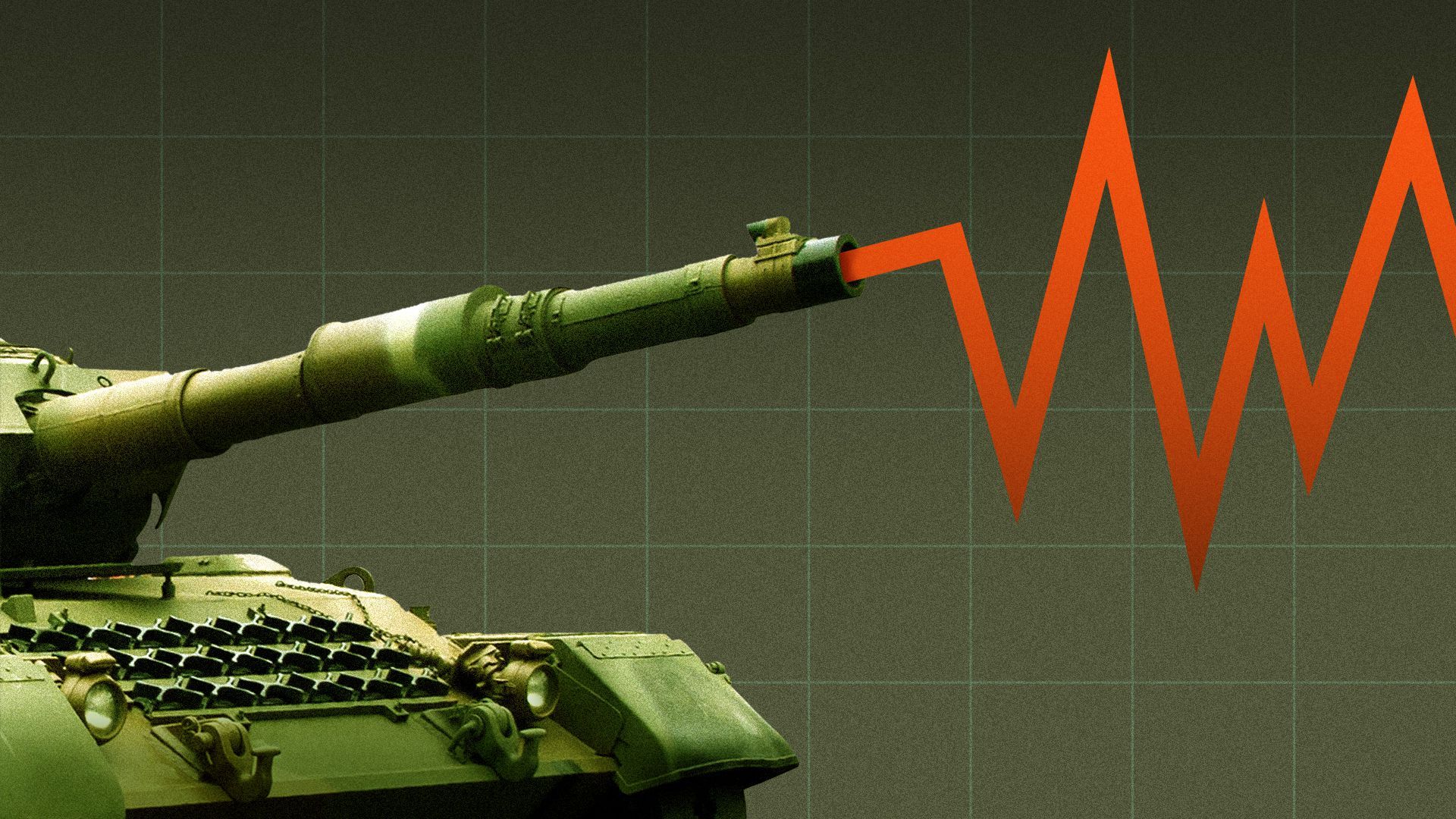 Nearly a year after Russia's invasion, the Ukraine crisis has permanently reshaped the global energy system and brought severe economic pain.
Why it matters: The worst-case scenarios haven't come to pass, thanks to a mix of EU policies, Russian President Vladimir Putin's miscalculations and pure luck. But the impact is apparent on every facet of the market, from natural gas to oil to low-carbon energy.
Driving the news: Europe's heavy dependence on Russian gas, which once provided 40% of EU supplies, has been rapidly severed. Now it only accounts for about 14.4% of EU supplies, per S&P Global Commodity Insights.
"Russia's days as an energy superpower are ebbing away," prominent energy historian and analyst Dan Yergin said.
How it works: European gas prices soared to record levels, but have since fallen back to below pre-war levels. That's partly thanks to more supplies from the U.S. and elsewhere, but it's also because of planning.
European nations have made moves to sever ties with Russian coal, oil and gas and diversify their supplies, conserve energy and fill gas storage facilities.
That effort has also prompted EU officials to accelerate and scale up efforts to deploy low-carbon tech like renewables and heat pumps. (There was also some short-term switching to carbon-intensive coal, thanks to the gas price increases and supply crunch.)
Luck was also a factor, with unusually mild weather that has cut heating demand.
"Widespread shortages, which were once legitimately feared, have not materialized," writes Financial Times energy editor David Sheppard in a column titled "Vladimir Putin is losing the energy war."
What they're saying: Analysts say Putin misjudged his ability to wield Russia's massive gas and oil exports to Europe as a geopolitical weapon.
A Center for Strategic and International Studies (CSIS) report notes that Putin, in cutting gas shipments, was "hoping economic pain would break European and transatlantic resolve to support Ukraine."
Yergin tells Axios that Putin's "point of maximum leverage is past" now that Europe has diversified supplies and filled storage levels.
"He thought that Europe's dependence on Russian energy would be so great that the Europeans would, at the end of the day, deplore what happened [in Ukraine] but stand aside," he said in an interview.
Yes, but: The crisis brought severe economic pain to Europe, hammering consumers and energy-hungry industries, and beyond. For instance, CSIS notes that European fertilizer production, which requires large amounts of natural gas, has fallen 70%.
More broadly, it has helped push up energy prices everywhere, hurting economies worldwide due to higher industrial and agricultural input costs, boosting food prices that especially hurt poor nations.
Between the lines: When it comes to oil, Europe's recently imposed prohibitions on seaborne Russian crude and the G7-led "price cap" meant to curb Putin's revenues are leading to increased Russian barrels flowing to China and India.
On gas, "Europe's shift from Russian gas to other supplies has dramatically and permanently changed global gas trade and energy markets," CSIS writes.
The reordering of the global energy trade is ultimately coming at Russia's expense, even as the war has spurred commodity price increases that battered economies worldwide over the last year.
The International Energy Agency, in a report last fall, significantly cut its projections of Russian gas and oil exports this decade because not all of the exports that used to go to Europe will find a new home.
Also, while oil prices remain elevated, the initial price surge caused by the war has retreated. Brent crude briefly jumped to over $130 per barrel in early March when the scope of the conflict and response were less understood.
The intrigue: Europe's turn away from Putin has increased the geopolitical importance of U.S. exports of liquefied natural gas, which is helping to fill Europe's loss of Russian supplies. "Energy security in Europe — and globally — now rests on U.S. natural gas exports," CSIS notes.
What's next: IEA's latest oil market analysis this month calls Russia one of two "wildcards" that will "dominate" the global oil market in 2023.
The other is China, where COVID restrictions — or the lack of them — affect energy markets because they're the largest oil importer in the world.
Go deeper