How pickup trucks became so imposing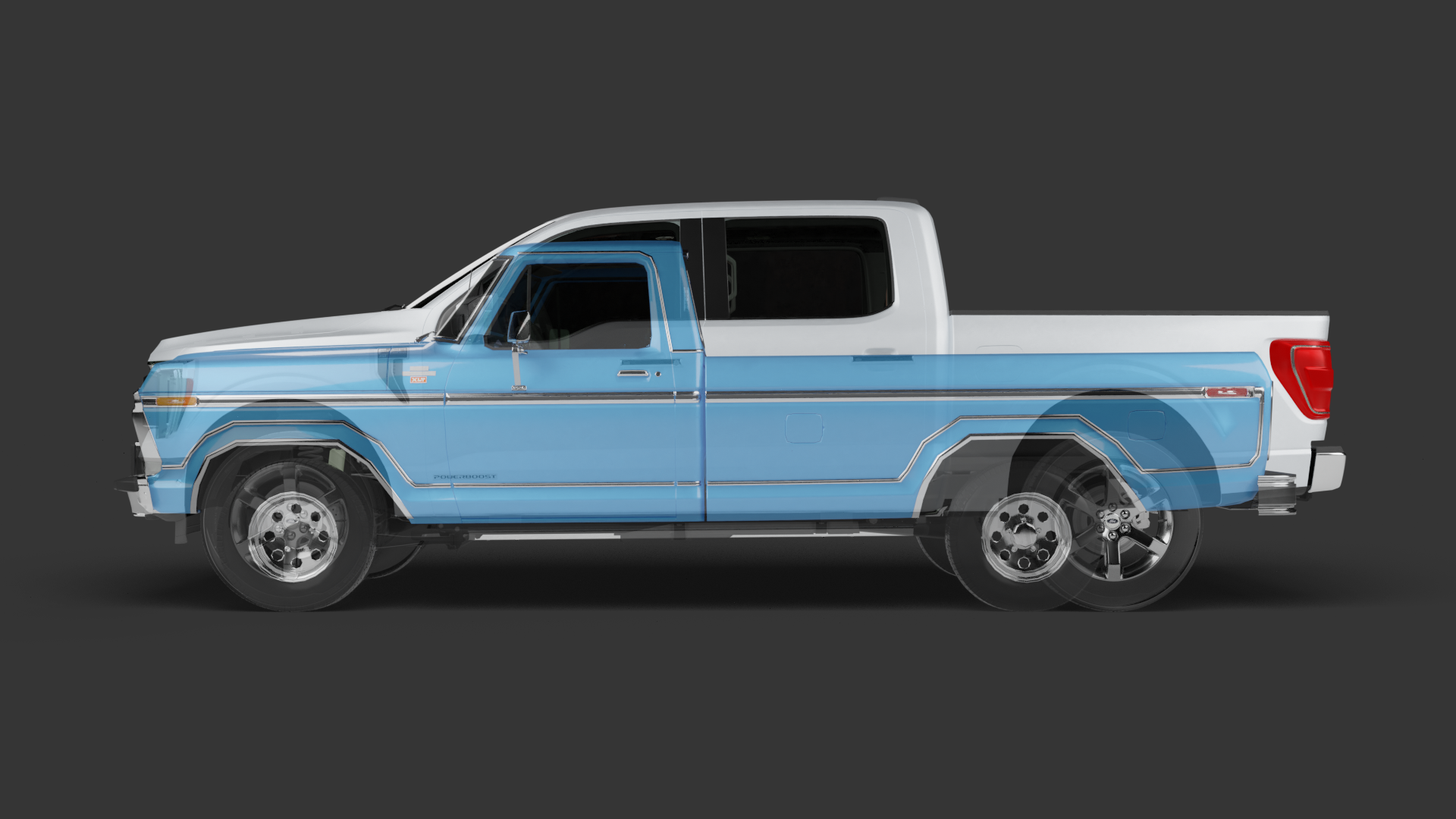 Sales of huge pickups are sustaining carmakers, bringing in record profits — yet pedestrian and road safety advocates say today's massive trucks are a hazard, given their size, weight, and driver blind spots.
Driving the news: America has a unique love affair with pickup trucks — the Ford F-150 has been the best-selling vehicle in the U.S. for more than 40 years. But during that time, pickups have become bigger, bulkier, and more high-tech.
In the 1980s, about half of pickup trucks were categorized as small or midsize. But by the 2010s, small pickups had nearly vanished as Americans increasingly bought into the big truck lifestyle.
As pickups transitioned from workhorses to lifestyle vehicles, their design shifted accordingly: Cabs expanded to accommodate more passengers, while beds shrank.
The first generation of F-150s was 36% cab and 64% bed by length. By 2021, the ratio flipped, with 63% cab and 37% bed.
Between the lines: Survey data from vehicle research firm Strategic Vision shows a third of today's pickup owners rarely or never use their truck for hauling, while two-thirds rarely or never use it for towing.
Instead, experts say, much of the big pickup mania is being driven by consumers' self-image.
"Today, personality and imagery are playing an even more important role in how consumers choose which truck is right for them," Strategic Vision researcher Alexander Edwards told Axios.
The firm surveys owners each year about the character traits they associate with their vehicle. Two words set F-150 owners apart: "powerful" and "rugged."
Yes, but: One result of supersized trucks: greater risks to pedestrians and other drivers.
Drivers of today's trucks sit much higher, creating a blind spot where small children or wheelchair users are hidden from view.
Moreover, pickups' weight increased by 32% between 1990 and 2021, meaning they strike pedestrians with more force.
Plus, the tall front of a truck strikes pedestrians in the torso or head — home to vital organs — whereas the lower hoods of cars typically strike pedestrians in the legs.
Pickups also tend to be more dangerous in collisions between differently sized vehicles — car drivers are 2.5 times more likely to die when colliding with a pickup as compared to another car, per a 2019 study.
The other side: Ford says "safety is a top priority," and points to safety-related technologies such as pedestrian detection sensors, automatic emergency braking, 360-degree cameras, and more, some of which now come standard.
Other pickup manufacturers have added similar features.
The 2022 F-150 earned a "top safety pick" rating from the Insurance Institute for Highway Safety, and earned "good" or "superior" ratings in various crash tests, including those with other vehicles, and with child and adult pedestrians.
What's next: While they've probably maxed out in terms of size, pickup trucks are still evolving to keep up with Americans' changing lifestyles.
And now that they're going electric, many offer capabilities and bonus features that aren't available from gasoline or diesel trucks, like better torque and faster acceleration, and the ability to power a worksite, campsite, or tailgate party without burning gasoline.
Methodology: Data on U.S. truck sales comes from the Bureau of Transportation Statistics. All survey data, including truck usage and imagery data, is from the Strategic Vision New Vehicle Experience Study. Data on collision death rates and curb weights are from Monfort and Nolan (2019). Trends in aggressivity and driver risk for cars, SUVs, and pickups: Vehicle incompatibility from 1989 to 2016. Traffic Injury Prevention. 3D models were licensed from Ford through TurboSquid.
Go deeper