Fan revolt rocks Dungeons & Dragons scene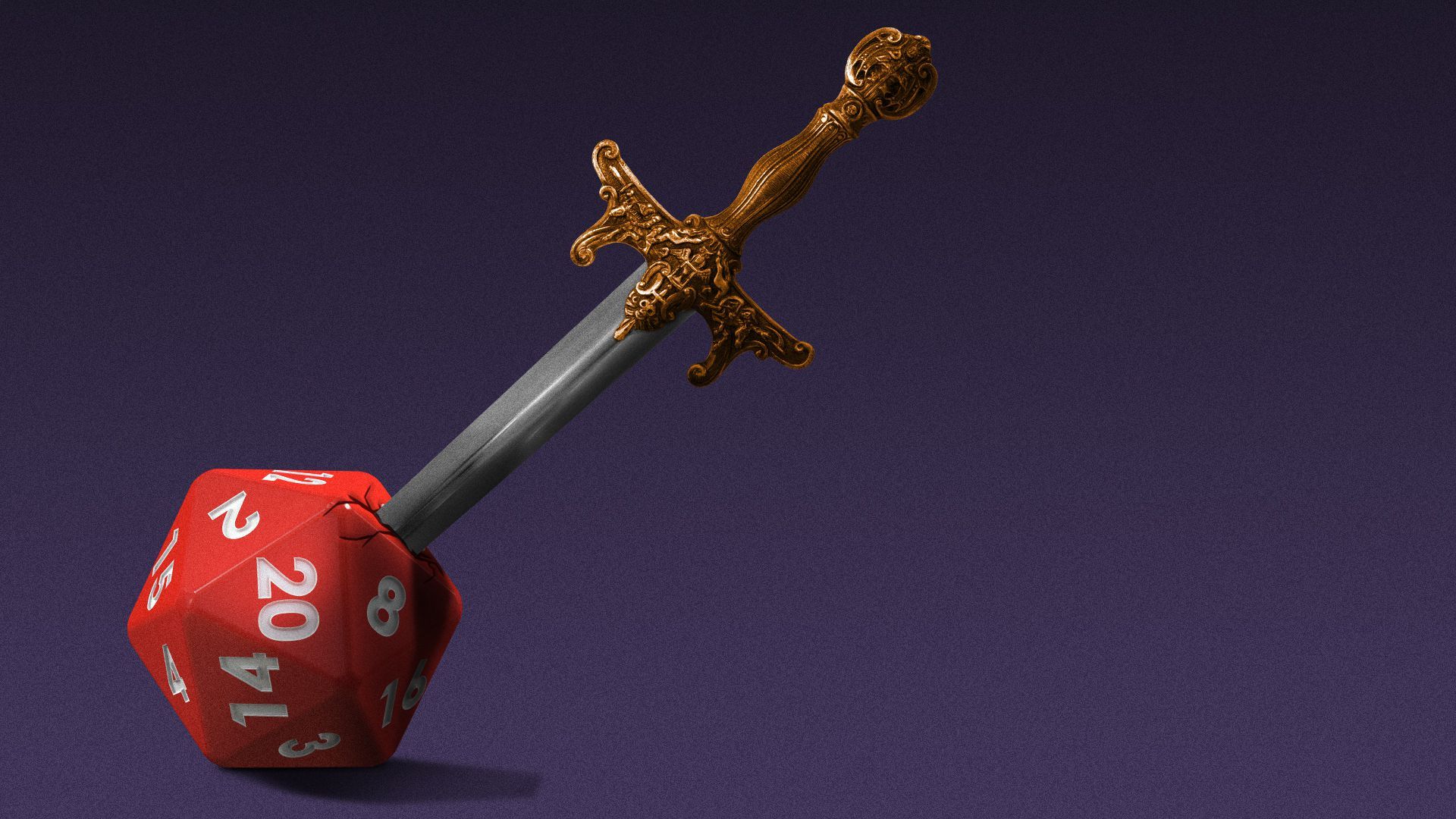 A two-week revolt by Dungeons & Dragons fans has sent the company behind the venerable tabletop role-playing game scrambling to make amends.
Driving the news: Facing infuriated fans, Hasbro-owned Wizards of the Coast says it will refrain from implementing some of the recently leaked, upcoming changes to a license that allows fans and game makers to use elements of D&D in their own spinoff games.
The dispute has shaken up the world of tabletop gaming, causing fans to question their loyalties to D&D, a nearly 49-year-old franchise, while rivals gather strength.
Catch-up quick: The D&D community erupted five days into 2023 after news outlet Gizmodo published leaked details about Open Game License (OGL) 1.1, a significant revision to the license that Wizards of the Coast has overseen since 2000 to govern the usage of some parts of D&D.
Under the original license, content creators — from fans to small businesses that make their own popular tabletop games — have been able to freely use some of the dice-rolling, stat-counting mechanics and legacy character elements of Dungeons & Dragons.
The leaked 1.1 would have constricted the deal with registration requirements, a royalty structure for top earners and language about possible revocation or changes to rights in the future. Its more limited scope appeared to only cover physical games to the exclusion of popular virtual tabletop experiences.
Furious reaction: A fandom used to D&D's more open system flipped out, filling social media with calls for players to cancel their paid subscriptions to Wizards' online portal D&D Beyond. (The company says Beyond has over 12 million registered users.).
"It's genuinely heartbreaking," Troy Knowlton, a longtime D&D player from Boston who has amassed thousands of hours of playtime, tells Axios. He says he has canceled his Beyond subscription.
He viewed the moves as an affront to third-party tabletop role-playing game creators, who he said "shepherd new players into the game and invigorate the veterans by establishing new content."
"While unsurprising in this late-stage capitalist realm we reside in, it shows a complete negligence of the creatives who have helped D&D become the monolith of [tabletop role-playing games] it now is."
Limited communication: Wizards of the Coast has responded slowly to the uproar, initially taking eight days to say the leak was only a proposal meant to generate feedback and that the final copy wouldn't include a royalty system. It initially characterized the whole episode as a win/win because it generated constructive feedback.
Several days later, with fans still upset, D&D executive producer Kyle Brink posted a follow-up, promising that no old content would lose its license.
"Our language and requirements in the draft OGL were disruptive to creators," he wrote.
In a follow-up a day later, he announced that D&D's core mechanics would soon be entered into a Creative Commons license, and some early game content would now be controlled by its fan content policy. He added that a new 1.2 OGL would be workshopped publicly with feedback from the community.
In his notes, Brink said a major goal of the license revision was to bar the creation of offensive content using elements of D&D.
What they're saying: "We are sorry," Brink wrote in an online notice to fans late last week. "We got it wrong."
The intrigue: Some influential creators are ready to move on. Paizo, a company that released popular content like Pathfinder under the older OGL, recently said it would not create work through the new license and instead announced the formation of an Open RPG Creative License.
What's next: The feedback process for Wizards' 1.2 OGL runs into February and possibly beyond, "until we get it right," Brink said.
Some fans like Knowlton see improvements in the Wizards' latest comments but are wary, saying the company lost their trust.
Sign up for the Axios Gaming newsletter here.
Go deeper