Hertz to help cities go electric, starting in Denver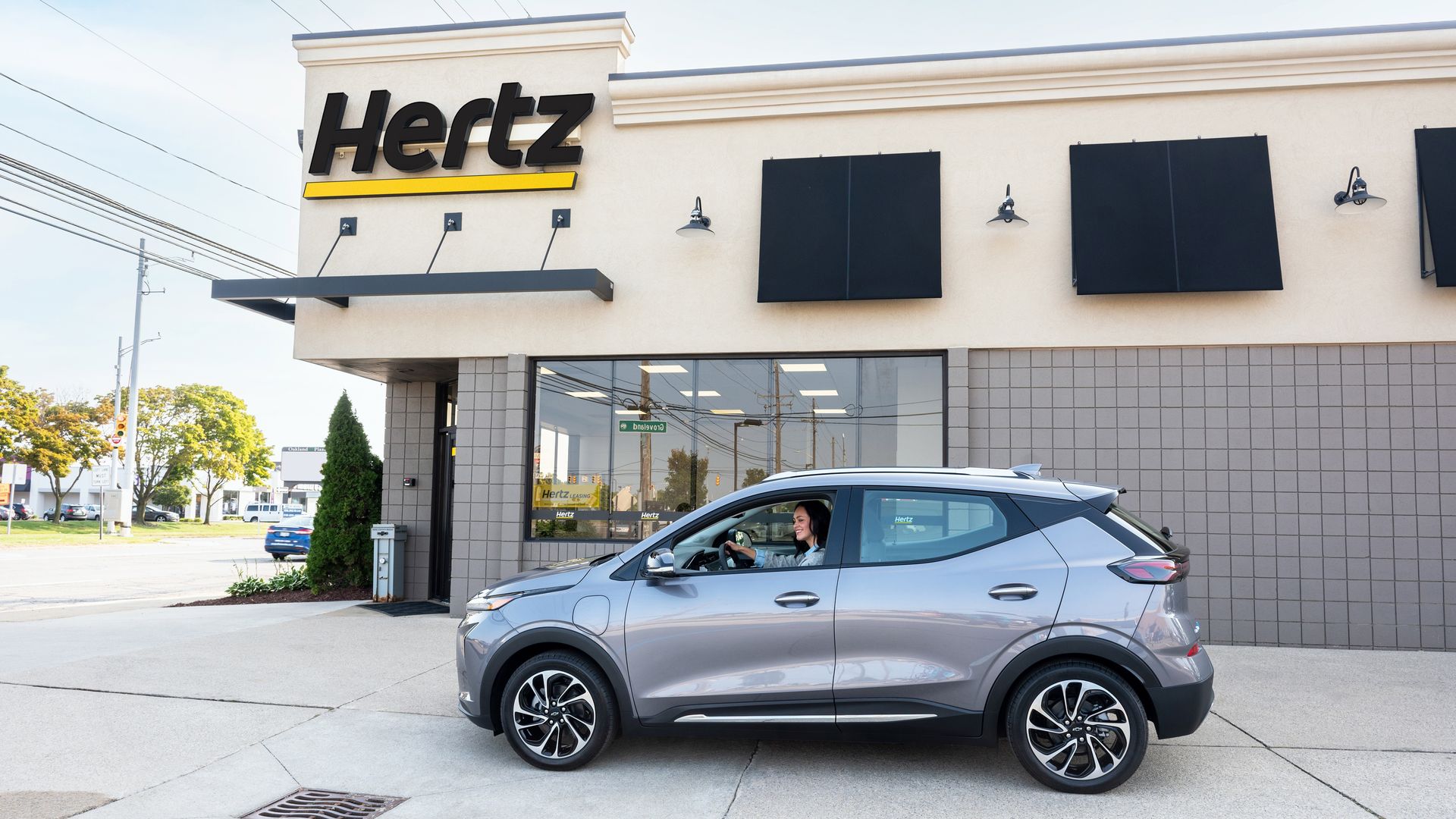 Hertz aims to speed the adoption of electric vehicles (EVs) one city at a time, starting with Denver, where the car rental giant is launching a public-private partnership to add more neighborhood chargers and prepare workers for future jobs.
Why it matters: Renting an electric car gives potential EV buyers a no-risk way to try before they buy. But it can be a daunting choice — especially for first-time EV renters in unfamiliar areas who don't know where to charge.
Driving the news: Under the initiative announced Thursday, Hertz will work with cities to tackle such worries and try to spread the benefits of electrification, like cleaner air and lower long-term costs, to disadvantaged communities.
Details: Hertz will bring up to 5,200 electric cars to its Denver rental fleet, which currently includes around 8,100 vehicles.
The cars will be available for rent by Hertz customers as well as by Uber drivers under a previously announced partnership.
To support those customers, Hertz and its partner BP Pulse, an EV-charging network owned by oil giant BP, will install "dozens" of public EV chargers at Denver International Airport and elsewhere around the city.
Hertz will also provide curriculum and training to the city's technical high school and will offer summer job opportunities through Denver's Youth Employment Program.
The big picture: A key part of the initiative is to make sure EVs and chargers are accessible to everyone.
EVs are prohibitively expensive for many, and as Axios has reported, chargers are easier to find nationwide in wealthier neighborhoods.
The Uber partnership will make the expansion of charging infrastructure more equitable in places like Denver, Hertz CEO Stephen Scherr tells Axios.
How it works: Hertz will share with city planners anonymized data about its cars to ensure new chargers are installed in the places they're needed most, Scherr said.
"We know where those EVs are going, and where they dwell overnight. That matters because if a city is going to build out its charging infrastructure, that capital needs to be spent in the right way."
Uber drivers often rent their car for weeks at a time, and take it home at night to neighborhoods that might not ordinarily attract investments in public charging, he explained.
"A byproduct of our rental of EVs to Uber drivers is a more equitable distribution of charging infrastructure that's in the city's interest."
What they're saying: "Our goal is to reduce Denver's carbon emissions 80% by 2050, and expanding the use and availability of electric vehicles will play a major role in helping us achieve that goal," Denver Mayor Michael B. Hancock said in a statement.
"This partnership with Hertz will provide invaluable data about where we need charging infrastructure the most, as well as provide new opportunities with this new technology to create good-paying jobs for our current and future workforce."
The bottom line: Scherr says the partnership is also good for Hertz, which aims to make 25% of its 500,000-vehicle U.S. fleet electric by 2024.
"The greater the proliferation of charging stations, the better it is for our business."
Hertz has committed to buy 100,000 electric cars from Tesla, 175,000 from GM, and 65,000 from Polestar.
Go deeper