Hospital obstetrics on chopping block as facilities pare costs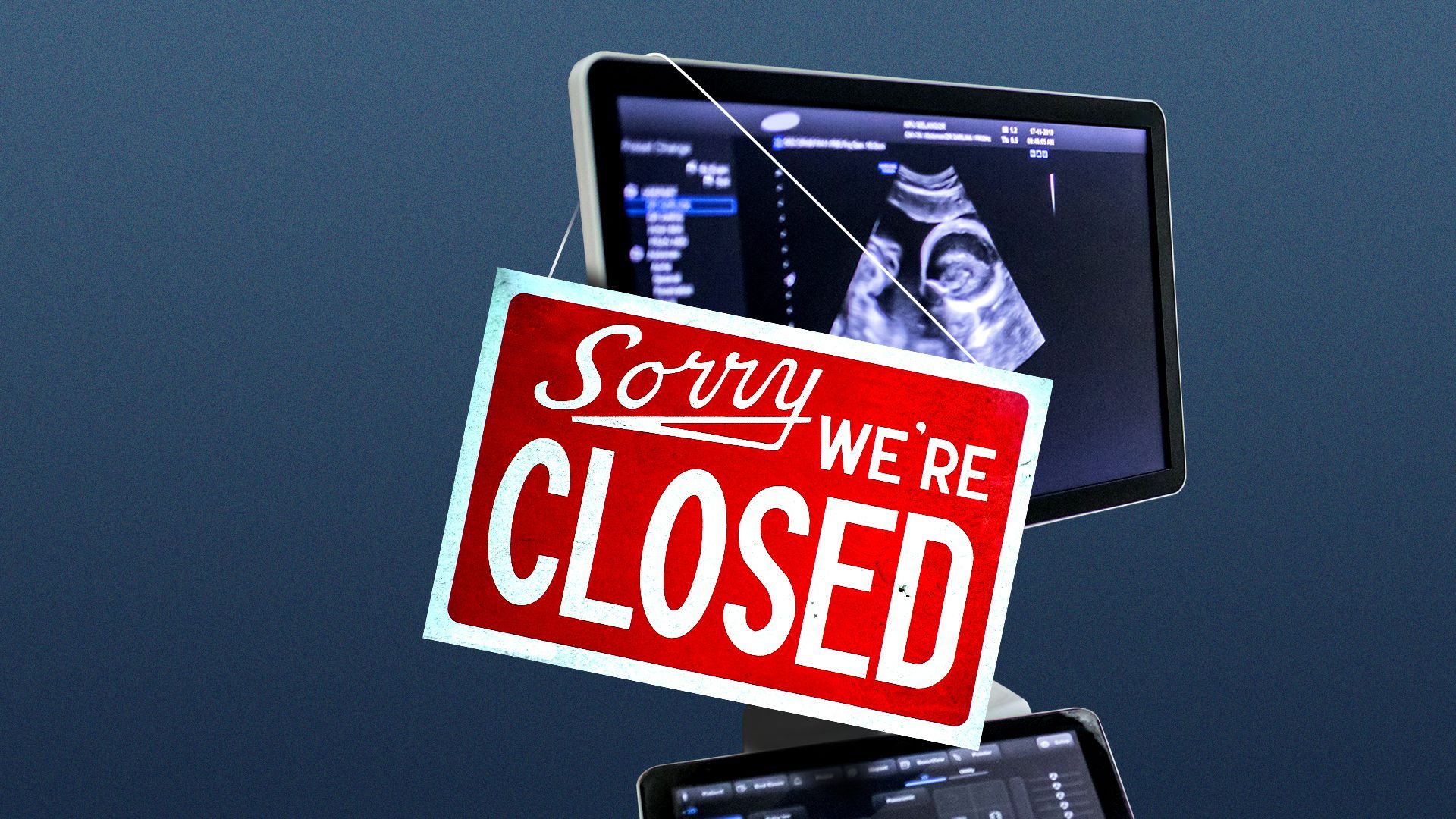 Hospitals trying to shed unprofitable business lines are increasingly scaling back or halting maternity services, adding new stresses to the reproductive care landscape.
Why it matters: Obstetric unit closures predate the pandemic but are drawing more concern with pregnancy-related deaths on the rise and an increased need for obstetrics care as more states restrict abortion.
Driving the news: Hospital administrators say the closures are driven by low Medicaid reimbursement rates, staffing shortages and, in some cases, declining birth rates in areas the hospitals serve. Medicaid pays for about 40% of U.S. births.
Memorial Hospital in Carthage, Illinois, closed its obstetrics unit in December because it couldn't hire five full-time nurses and had to rely on travel nurses, said Ada Bair, the CEO there.
"We were faced this year for the first time with absolutely no applicants, not even a new graduate, who wants to do obstetrics," Bair told Axios.
Johnson Memorial Hospital, a 92-bed facility in northern Connecticut, halted labor and delivery services in 2021 due to pandemic-related staffing woes that haven't been resolved, a spokeswoman told Axios. The hospital is now asking the state to approve making the discontinuation permanent.
In Connecticut and Florida, hospitals in urban areas shuttered or consolidated obstetrics services over the last two years, with one proposed closure of the birthing unit in Sharon, Connecticut, prompting a public outcry and a state administrative hearing.
Another critical access hospital in Illinois, Lincoln Memorial, closed its OB-GYN unit due to fewer patients, while Greenwood Leflore Hospital in the Mississippi Delta closed its labor and delivery unit while grappling with staffing and financial problems.
Zoom in: Rural hospitals saw the biggest dropoff of such services from 2014 to 2018, and COVID-19 actually slowed the pace of cutbacks because of a surge of pandemic relief funding.
That lifeline is all used up at this point, however, forcing some facilities to slash costs and close units.
From 2004 to 2014, 9% of rural counties lost their obstetrics services, per a Health Affairs analysis, with an additional 45% of rural counties having no obstetrics services during the study period.
Rural patients also tend to be poorer, which means those hospitals rely more on Medicaid payments that administrators say don't cover the cost of birthing services and care. The Government Accountability Office cited the matter in a 2022 report as a top concern for stakeholders.
Yes, but: Not all hospitals are cutting their delivery units. Some offer luxury birthing suites with soaking tubs, large beds and other amenities that usually come with a high price tag and cater to patients with private coverage or those willing to pay out-of-pocket.
Providers and advocacy groups have sounded alarms about "maternal care deserts" in states with strict abortion restrictions, a problem that's manifested itself in longer drive times to facilities that still have OB-GYN services, less access to pre- and post-natal care and poorer birth outcomes in many regions.
"You can't have it all the ways: you can't make abortion illegal, not have access to maternity care and also by the way, restrict and make it harder for people to access contraception," Anne Banfield, an obstetrician and American College of Obstetrics and Gynecology member, told Axios. "But we're going to do all three of those things and expect to have a good outcome? Logic has no place here."
Closure of rural obstetrics units is associated with higher rates of preterm births and out-of-hospital births, a 2018 JAMA analysis found.
Women living in rural areas typically have to travel about 30 minutes or 24 miles to the nearest obstetrics unit, Peiyin Hung, a professor and researcher at the University of South Carolina, told Axios.
The closure of a rural OB-GYN unit doubles the distance a pregnant person must travel for care, anywhere from 30 to 60 miles, Hung added.
Rural OB unit closures have a disproportionate impact on Black women living in rural areas, Hung's research has found, adding another disparity for a group that already has disproportionate rates of maternal mortality.
In some areas, traveling nurse midwives have tried to fill care gaps, focusing on low-risk pregnancies and referring patients with health issues to physician specialists elsewhere, CNN reported.
What we're watching: The trend could continue this year as hospitals continue to consolidate and the the ones in weakest financial shape pare costs.
There are low odds of raising Medicaid reimbursements or expanding Medicaid in the 10 states that haven't done, meaning more cost-cutting and less patient choice.
"There's no one policy that can really solve this," Hung said.
Go deeper