Tornadoes rip through South as deadly storms kill at least 9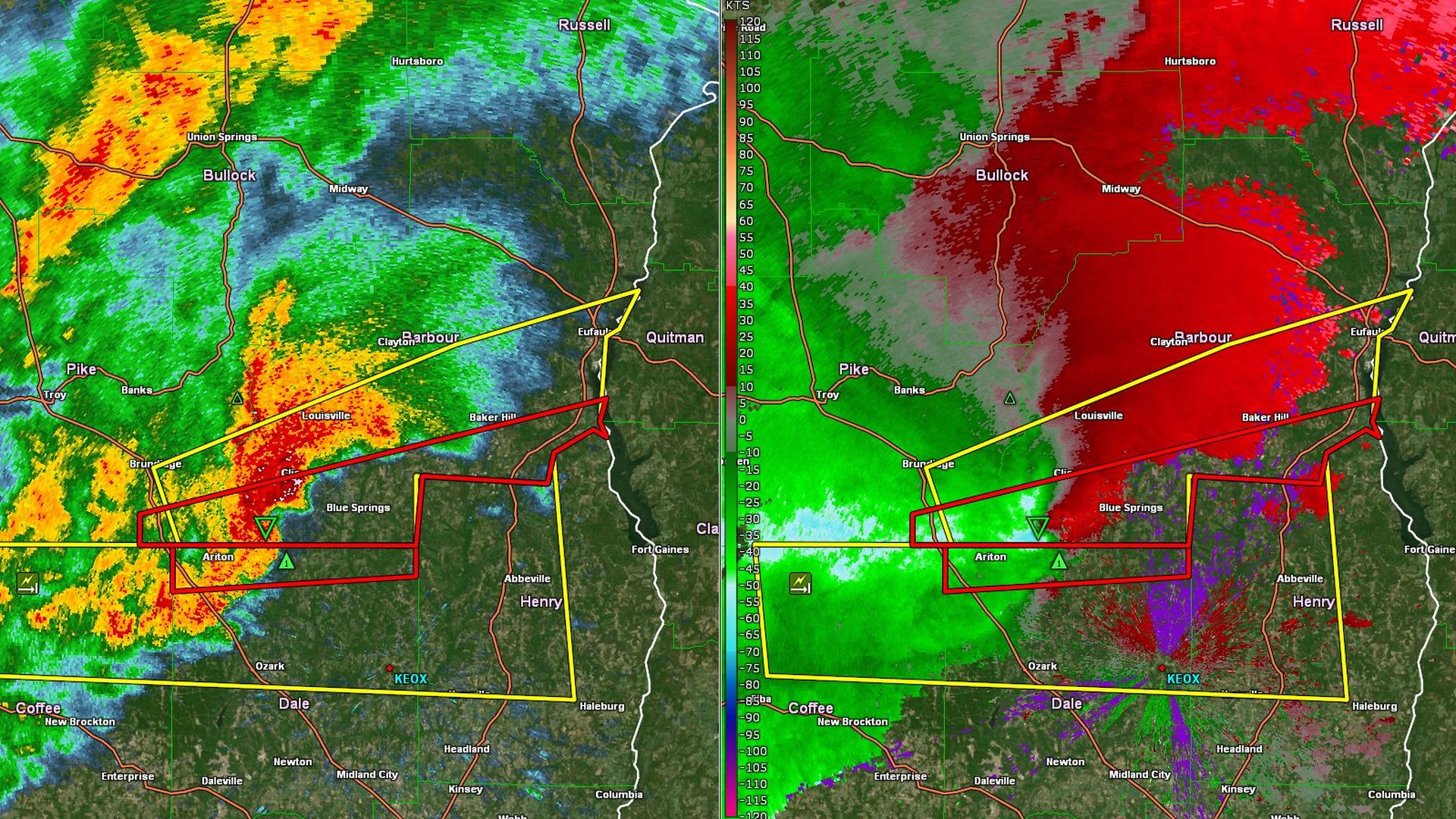 A major storm system sweeping across the South on Thursday killed at least nine people (seven in Alabama, two in Georgia) as it unleashed a series of tornadoes, causing significant damage and leaving a trail of destruction behind.
The latest: The National Weather Service said Friday that damage resulting from a tornado rated "at least" EF3 — with winds between 136 and 165 mph — has been confirmed in Autauga County, Ala., where most of the deaths were reported.
An EF2 tornado with an estimated peak wind speed of 125 mph was confirmed in Winston County, Ala. EF2-level damage was also confirmed in Selma and Greensboro.
At least 45 possible tornadoes were reported across several Southern states, according to the NWS.
The severe weather has led to massive power outages, too. As of 12:15pm ET Friday, over 21,000 customers in Georgia and about 16,000 in Alabama were without power, according to utility tracker PowerOutage.us.
The big picture: Seven deaths were reported in Alabama after searchers in Autauga County found another body Friday morning after reporting six deaths Thursday evening, AP reports. County coroner Buster Barber told CNN authorities were "still searching for bodies."
Two deaths were reported so far in Georgia. Butts County Coroner Lacey Prue said a tree fell on a vehicle during a severe storm in Jackson, Georgia, and killed a passenger inside, per AP.
The local sheriff's office told Atlanta News First the passenger was a 6-year-old girl. The other death happened when a worker was killed responding the storm, per AP.
Up to 50 residences in the county were damaged or destroyed as a result of the tornado, per AP.
This region was in an "Enhanced" risk area for severe weather Thursday, or level 3 out of 5 on the Storm Prediction Center's risk scale.
By the numbers: Over 45 tornadoes had been reported, according to the National Weather Service's (NWS) Storm Prediction Center. More than 30 million people were at risk of thunderstorm winds.
Debris detected by radars was launched about 20,000 feet into the air.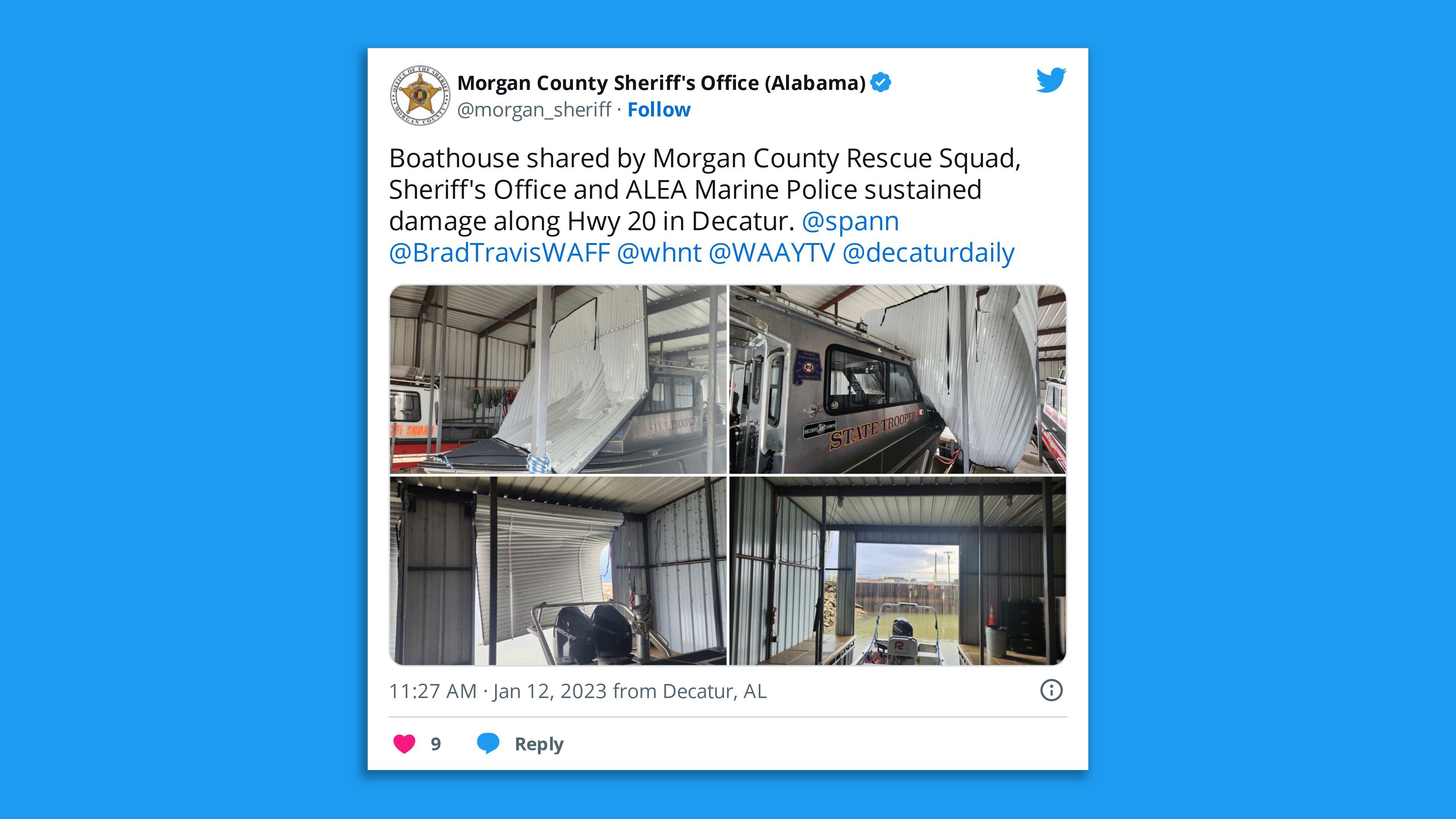 Of note: Alabama Gov. Kay Ivey (R) declared a state of emergency for six counties on Thursday: Autauga, Chambers, Coosa, Dallas, Elmore and Tallapoosa.
Georgia Gov. Brian Kemp declared a state of emergency in response to the storms and tornadoes and tweeted that he had "ordered all relevant agencies to respond with an all-hands-on-deck approach to the affected communities."
State of play: Some of the worst damage occurred in Selma, where a large and violent tornado tore down power lines and trees, flipped over cars and demolished entire buildings, local officials said at a news conference Thursday evening.
"So far we've had no fatalities locally; we've had some injuries, but no fatalities," Selma Mayor James Perkins said.
Perkins told WFSA that at least one person was believed to have been trapped in a building while possibly one other person was missing.
The city, a cornerstone of the civil rights movement, was enforcing a curfew Thursday night from dawn to dusk.
What they're saying: "I am sad to have learned that six Alabamians were lost to the storms that ravaged across our state," Ivey tweeted Thursday night. "My prayers are with their loved ones and communities. We are far too familiar with devastating weather, but our people are resilient."
Kemp responded to the child's death by tweeting, "Our entire family is heartbroken over this tragedy. As we continue to monitor state response to these storms, we are praying for this family as they mourn this terrible loss."
Editor's note: This story has been updated with new details throughout.
Go deeper