The push for more in-home care options may come with risks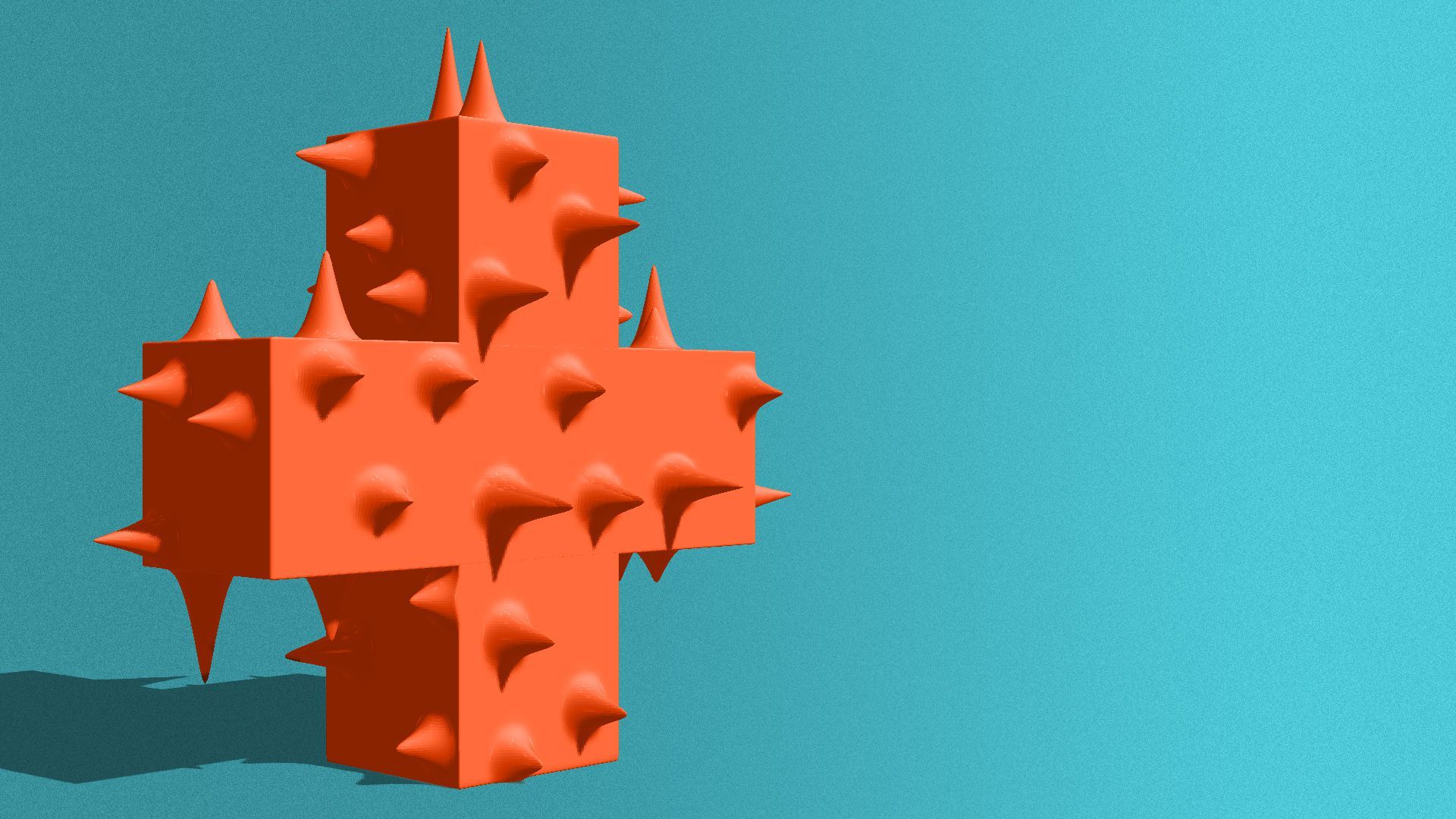 The pandemic-fueled boom in home care could be replicating one of the most worrisome hazards in institutional settings: bloodstream infections from central lines.
Driving the news: Home infusion therapy — whether for cancer drugs, antibiotics or other treatments — is becoming a preferred option for more patients.
But central line-associated bloodstream infections, known as CLASBIs, which cause thousands of deaths each year and are closely monitored in hospitals, aren't getting the same surveillance in the home, according to findings in the American Journal of Infection Control.
It's more evidence of how hard it can be to balance convenience and safety as more health care services shift to the home, increasing the threat of medical errors, adverse events and infection risk.
In worst-case scenarios, patients may have to be transferred to intensive care, complicating or delaying the course of original treatment.
What they're saying: "In hospitals, we have highly trained nurses that have ongoing continuing education on a very regular on how to prevent [central line infections] in their patients," said Sara Keller, associate professor in the division of infectious diseases at Johns Hopkins University and a co-author of the study.
"In the home, it's the patients, or sometimes a family member, sometimes a friend, or sometimes a neighbor that is basically doing the same work," she said.
That doesn't mean infection rates are higher outside the hospital, Keller said. "The best available data shows infections occur at a lower rate than in the hospital. But, because there are more and more people in home care, it is something we need to pay attention to," Keller said.
Zoom in: The survey of home infusion therapy nurses found little evidence that people with formal training are tracking these infections.
"I looked online just to understand what I could about CLABSIs, you know, did my own self-education," one nurse said, per the study.
"Well, you know, really there wasn't any formal education. It was just kind of, you know, learn by fire," another said.
The big picture: Home care of all stripes — including hospital-at-home — is expanding with the increased availability of remote patient monitoring and value-based care payment models. At its best, it can relieve overstressed health systems and better serve an aging population.
Home infusion therapy is becoming a particularly big business, with the National Home Infusion Association estimating roughly 3 million patients in the U.S. received treatment in 2019, a 300% jump from 2008.
Demand surged amid the pandemic as patients sought to avoid institutional settings, and the global market is projected to be worth $49.5 billion by 2027, up more than double the $22.9 billion in revenue logged in 2020, according to a report from Research Dive.
But despite promises of increased independence and savings, more research is needed to confirm benefits and safety considerations, per a study published in Transfusion Medicine Reviews in July.
Be smart: CLASBIs, sometimes referred to as hospital-acquired infections, are a key quality and safety metric in health care settings, because they're both preventable and potentially deadly. Medicare penalizes facilities that log too many incidents.
It's hard to say precisely how many of these infections are occurring in home care and other alternative settings because of the lack of data, Keller said.
"We actually looked at this in our own hospital a couple of years ago and saw we were actually having more patients coming in from the outside with CLABSIs than patients who'd gotten CLABSIs in the hospital," she said.
"With such a large number of patients in the home, this is just something we haven't paid much attention to," she said.
The study recommends agencies implement formal training tracking CLASBI in the home care setting and offer staff more resources.
Between the lines: Many homes simply don't have a sterile-enough environment, Barbara McAneny, former American Medical Association president and New Mexico Oncology Hematology Consultants CEO told Axios.
"In an infusion center, practices and hospitals have developed standards for cleanliness and require processes to be followed to minimize these infections," McAneny said. "These nurses have not been taught that."
The bottom line: There's been a lot of fanfare and interest in what sort of care individuals can receive in the home for the comfort of patients, for cost-cutting and as a solution to staffing concerns.
But more needs to be done to ensure the same safety standards patient expect in a health care facility follows them home as well.
Editors note: This story has been updated with a quote from Johns Hopkins' Sara Keller about infection rates outside the hospital.
Go deeper