Drought, floods, wildfires: Climate change upends archaeology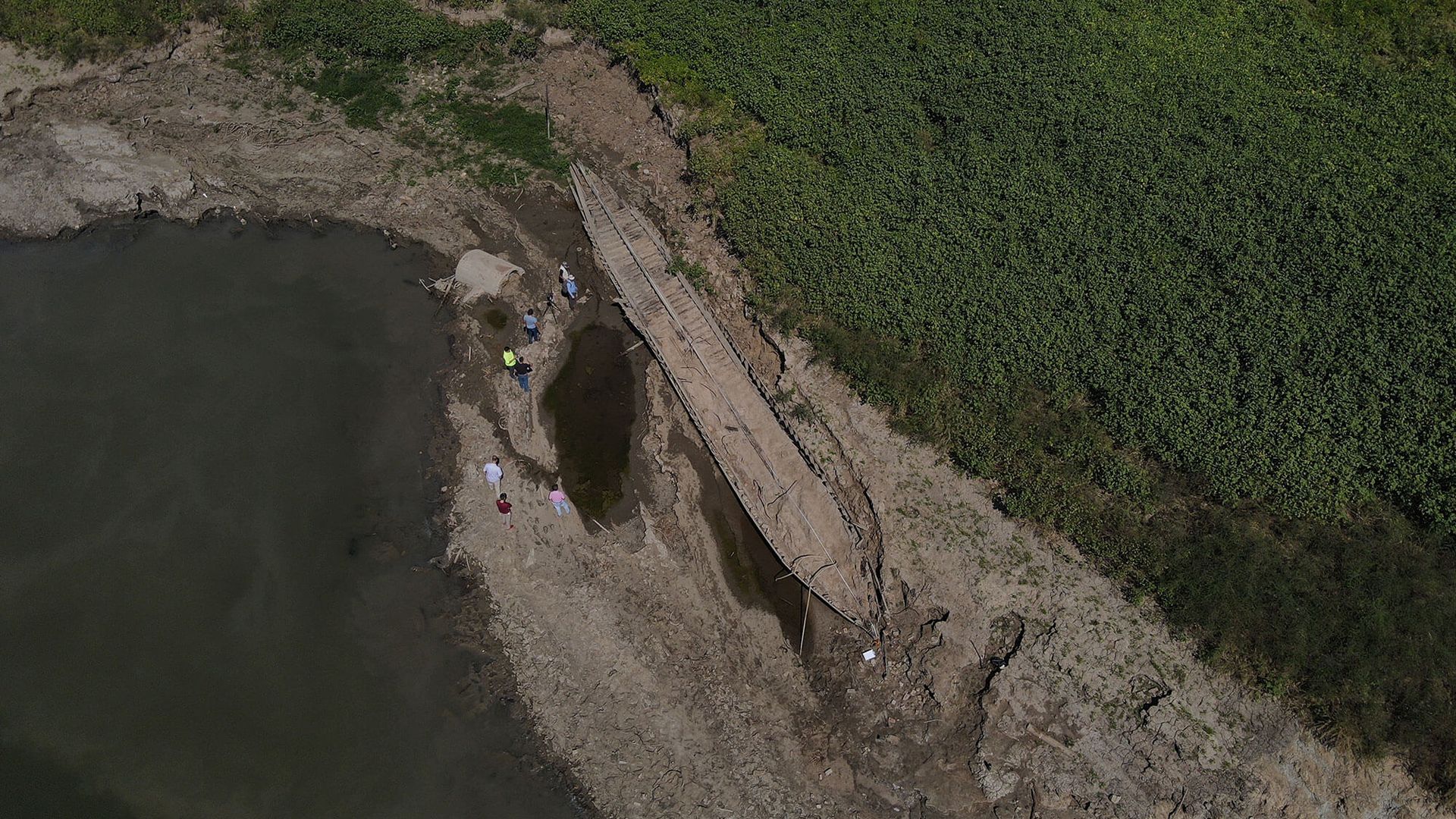 The job of the modern-day archaeologist is changing rapidly, as flooding, wildfires and other extreme weather-related curveballs damage or destroy excavation sites — and drought reveals long-hidden historic artifacts.
Why it matters: Important cultural treasures and historical records are at stake as heirlooms from the past are damaged or curiosity-seekers grab souvenirs.
"From Iran to Scotland, Florida to Rapa Nui and beyond, sites are currently being eroded at an increasing rate, often before scientists can record them and assess their value," according to a scholarly article in Antiquity magazine.
At the same time, drought and low water levels have uncovered everything from 113-million-year-old dinosaur tracks in Texas to World War II-era boats in California's Lake Shasta and the Nevada portion of Lake Mead.
Tourists who stumble on freshly unearthed relics are being asked to report them to authorities — and keep their distance.
Driving the news: As deadly storms pummel Northern California and record-shattering heat envelops Europe, archaeologists brace for more research sites to be washed away or degraded.
Inundation can harm relics, but worse still is the yo-yo action of being repeatedly submerged and exposed.
Artifacts can be damaged by many phenomena — coastal erosion, mudslides, shifting sands that bury ruins — depending on local topography.
"Archeological sites are rapidly disappearing due to the effects of climate change such as sea level rise, as well as storm surge and modern development," per the U.S. National Park Service, which conducts archaeological research in the areas it supervises.
Of note: Native American history is at stake in particular in California, where ancient villages and settlements are being washed into the sea.
"It's the coastal maritime heritage of dozens of tribes, and it's about to go away all at once," says Michael Newland, who leads the study of climate change for the Society for California Archaeology.
The growing prevalence of massive wildfires has also reshaped the practice of archaeology in California, with more scientists dedicating their time to post-fire cleanup, Newland tells Axios.
Meanwhile: Widespread drought is revealing previously buried treasure, as last summer's global bonanza of fresh finds proved.
Wondrous discoveries in 2022 included a "Spanish Stonehenge" of megalithic rocks, three 600-year-old Buddhist statues on the Yangtze River, and (perhaps less wondrously) dozens of explosives-laden German warships sunk in 1944 in the Danube.
What they're saying: "In all of those places, whether it's Lake Mead or the Rhine River in Germany, people are seeing things that haven't been seen in a generation or more," says Charles "Chip" McGimsey, Louisiana's state archaeologist.
"These are random opportunities for archaeologists," he told Axios. "You can't plan on a drought."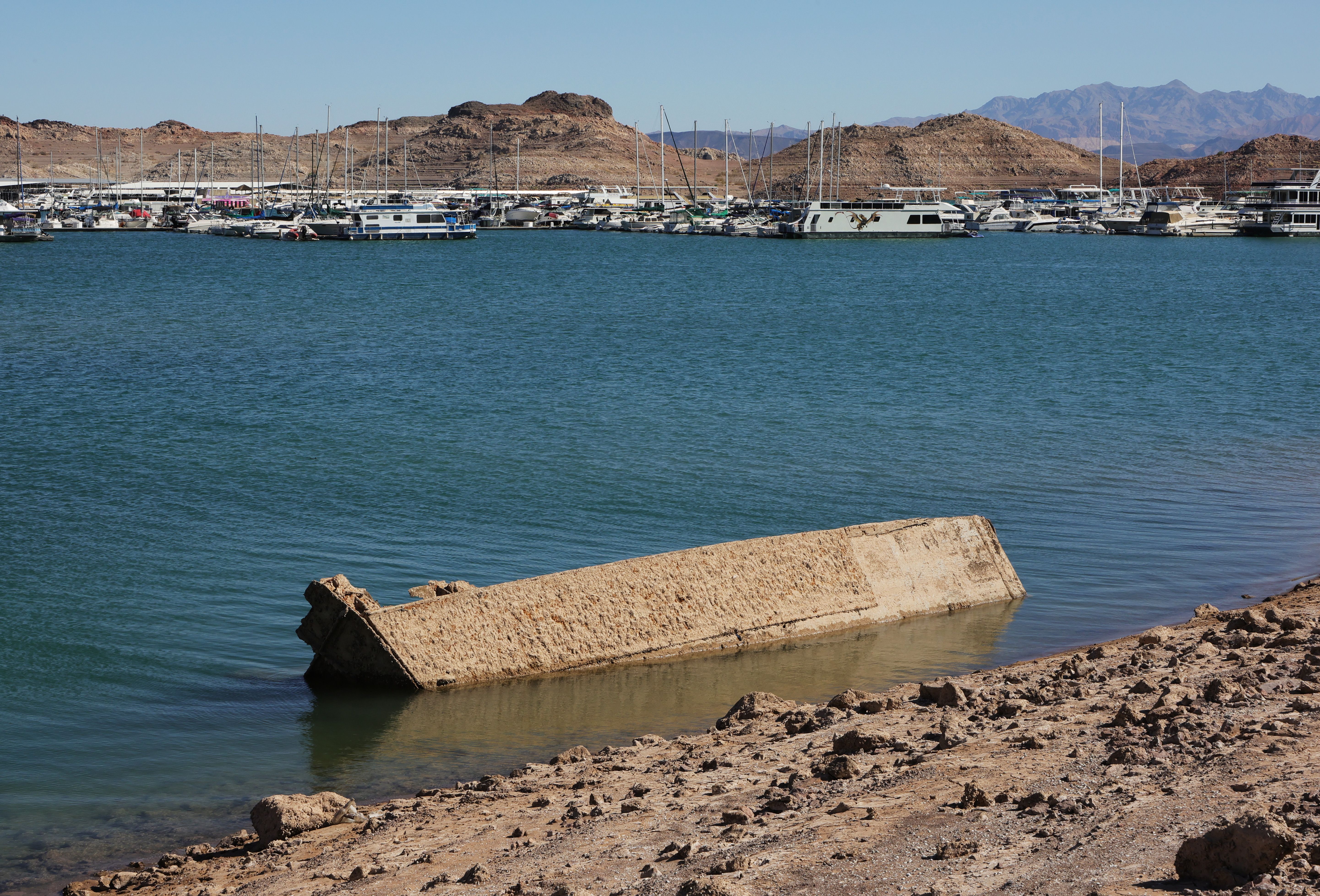 How it works: This fall in downtown Baton Rouge, Louisiana, a ferry called the S.S. Brookhill that sank in 1915 became a major tourist attraction after a treasure-hunter stumbled upon it while looking for trinkets in the Mississippi River.
As people flocked to see the skeleton of the 100-foot-long boat — which used to carry passengers and cargo between Baton Rouge and Port Allen, Louisiana — it thrust McGimsey and his colleagues into the spotlight.
"Once the word got out, we had hundreds of people a day coming down to see her," McGimsey told Axios. "There were times when I'd be down there at 2 o'clock in the afternoon, and there'd be 40 to 50 people."
Because his office is small — and typically occupied with the more quotidian work of checking out cemeteries and oil spills — "it wasn't possible for us to have someone there 24/7 monitoring things and answering folks' questions," he said.
Once the waters of the Mississippi started to rise from their historic lows, the Brookhill disappeared — and so did the visitors.
While the ferry wasn't that historically significant, "from a science and historical perspective, what we got was information on how she was built," McGimsey said.
Nonetheless, people started stealing pieces of the boat.
The bottom line: It's illegal to toy with a relic on state or federal land.
"Vandalism, graffiti and climbing on walls damage the resources," Mary Plumb of the National Park Service tells Axios.
"Moving objects and creating 'collector's piles,' which is where visitors pile up all the artifacts that they find into one place, destroy the original context of how the artifacts were arranged in the site, and thus information about the site is lost," Plumb adds.
Go deeper