Alex Jones' lawyer has license suspended after Sandy Hook records leak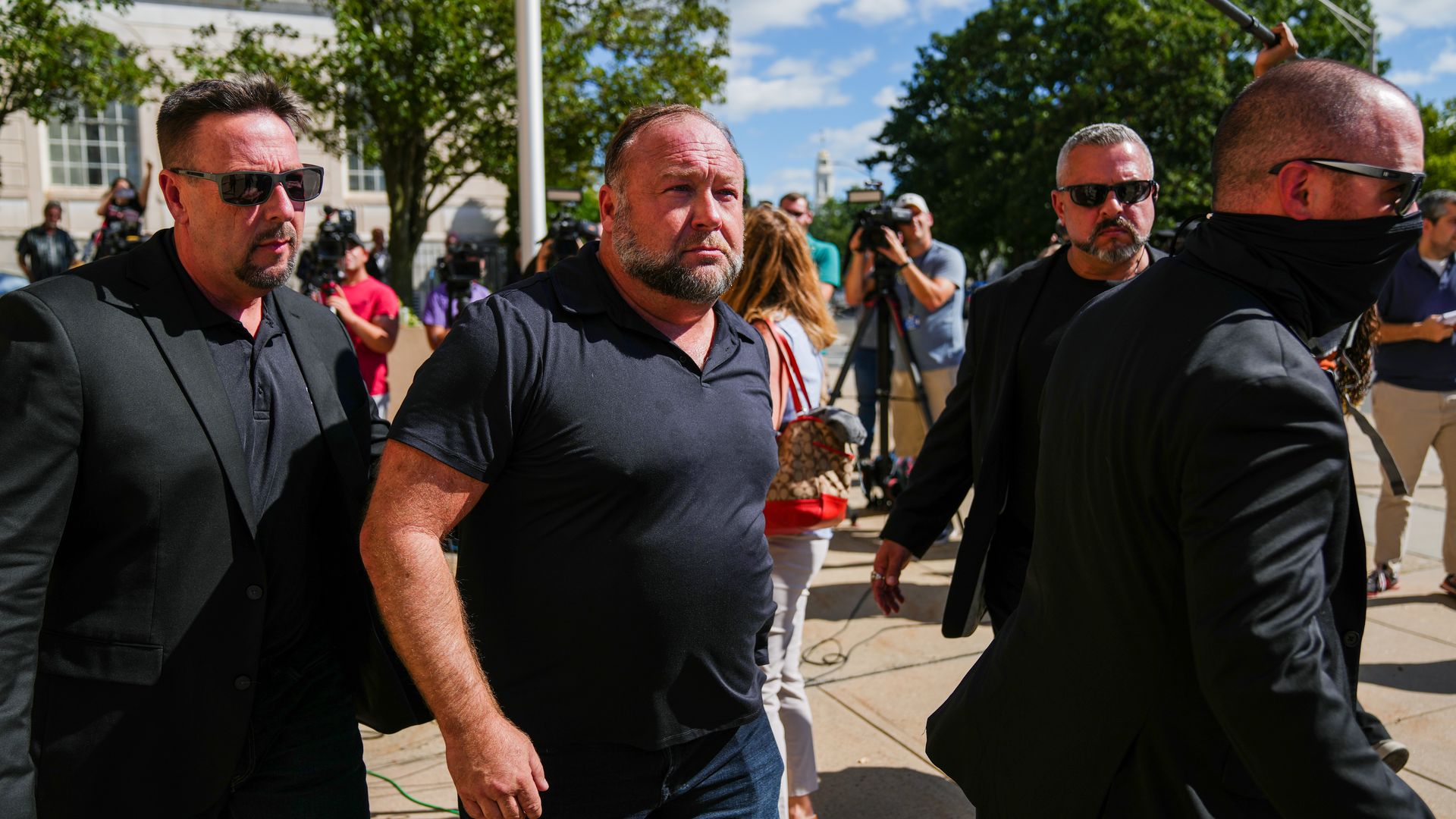 A Connecticut judge has suspended the law license of the attorney representing far-right conspiracy theorist Alex Jones in response to his allegedly improper handling of court documents in a Sandy Hook defamation case.
Why it matters: Attorney Norman Pattis improperly released court documents that included two years' worth of Jones' texts, several of the Sandy Hook families' medical records and other sensitive information, according to Judge Barbara Bellis.
Pattis has maintained that the records' release was an "inadvertent mistake," but Bellis wrote in a court order that he "failed to provide even the minimal amount of attention and care required when it came to handling the plaintiffs' sensitive discovery materials."
What she's saying: "At a basic level, attorneys must competently and appropriately handle the discovery of sensitive materials in civil cases," Bellis said. "Otherwise, our civil system, in which discovery of sensitive information is customary and routine, would simply collapse."
"We cannot expect our system of justice or out attorneys to be perfect but we can expect fundamental fairness and decency," Bellis wrote. "There was no fairness or decency in the treatment of the plaintiffs' most sensitive and personal information, and no excuse for [Pattis'] misconduct."
His license will be suspended for six months, per the court order.
Worth noting: Pattis, who is currently representing Proud Boys leader Joseph Biggs in his trial for seditious conspiracy charges, has told the judge he plans to appeal the suspension, CNN reports.
The big picture: Jones was accused of perjury after the lawyer representing Sandy Hook families obtained the records in question.
"12 days ago, your attorneys messed up and sent me an entire digital copy of your entire cell phone with every text message you've sent for the past two years ... and that is how I know you lied to me when you said you didn't have text messages about Sandy Hook," attorney Mark Bankston had said in court.
Go deeper