10 MLB umpires retire in historic exodus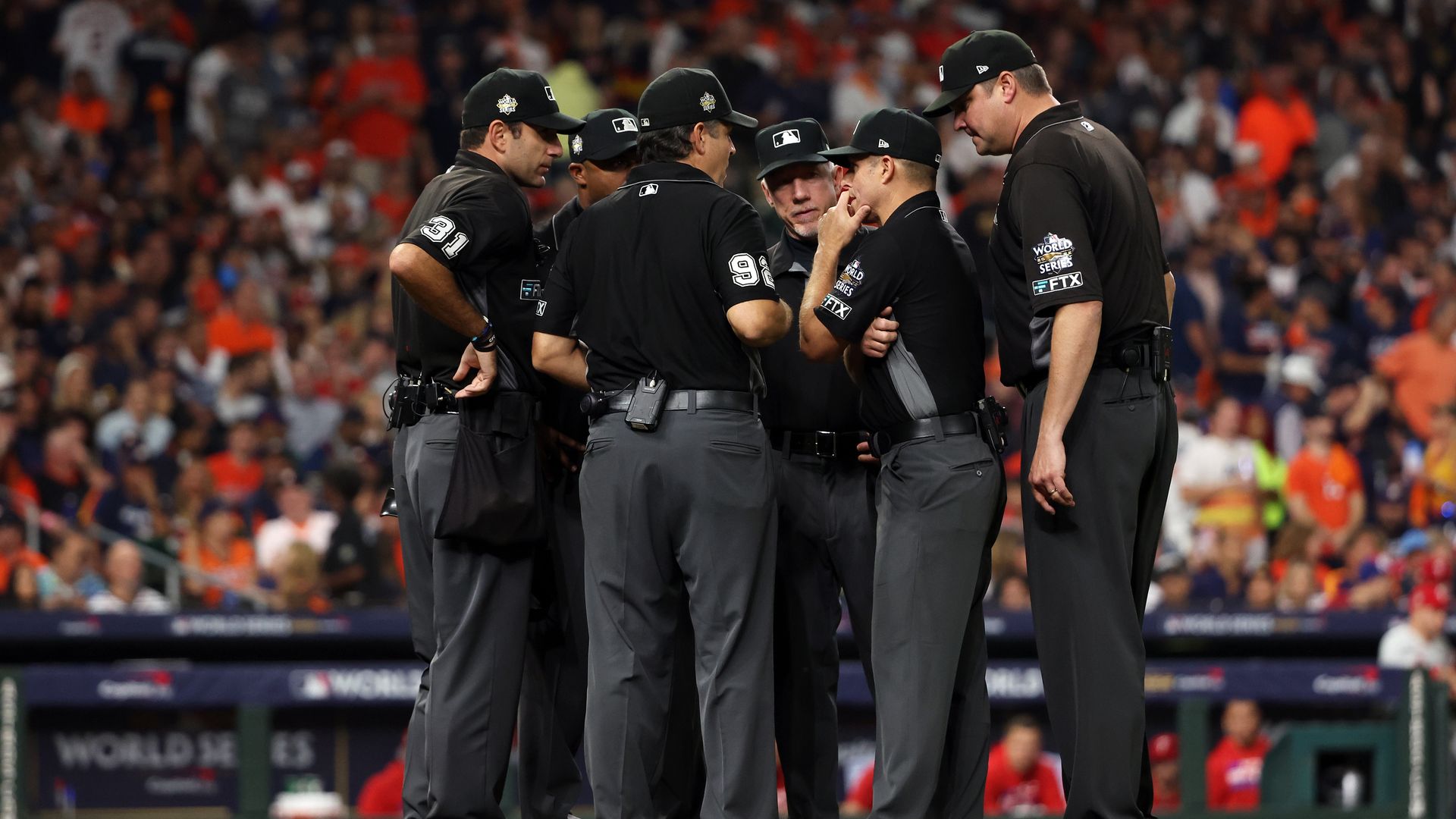 Ten Major League Baseball umpires, including seven crew chiefs, retired at the end of December — the largest turnover for the position since 1999, ESPN reports.
Why it matters: The 10 umps have worked over 200 combined MLB seasons and 16 World Series — professional experience that won't be easily replaced. MLB will promote their replacements from the minors this month.
The retiring crew chiefs:
Tom Hallion (29 years of MLB service time): He's been on the field in some capacity for seven no-hitters, which was the most among active umpires.
Ted Barrett (25 years): Worked five World Series, most among the group retiring. He was behind the plate for David Cone's perfect game in 1999 and Greg Maddux's 300th win in 2004.
Jerry Meals (24 years): He was behind the plate for Kerry Wood's 20-strikeout game in 1998.
Greg Gibson (23 years): He was behind the plate for Randy Johnson's perfect game in 2004; owns a Kentucky-based insurance company.
Jim Reynolds (22.5 years): There are costs to being an ump: In the last six years alone, he's had seven concussions because of foul tips.
Bill Welke (22.5 years): He and his brother Tim were paired on the same crew in 2005 and again from 2008 to 2010.
Sam Holbrook (21.5 years): He was the home plate umpire for Game 7 of the 2016 World Series, the day the Cubs broke their 108-year curse.
The backdrop: The coming seasons will be a challenge for umpires, as MLB continues to experiment with rule changes and robo-umps inch closer to calling big league games.
MLB will use a pitch timer in 2023 and it will be on home plate umpires to enforce it.
Meanwhile, base umpires will have to make sure the new shift rules are being followed.
Go deeper