How Uber surge prices explain the Fed's inflation miss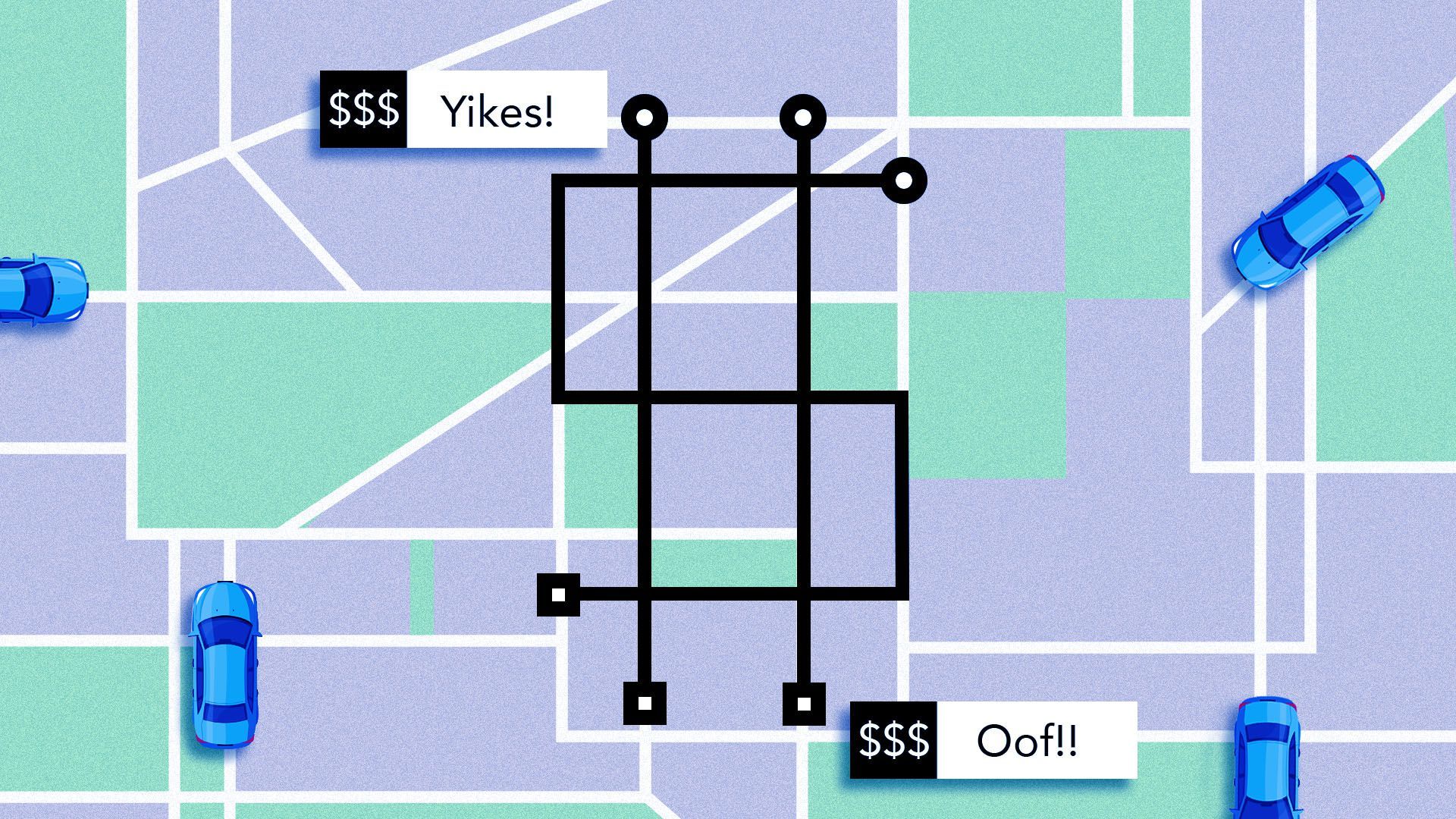 As inflation surged over the last two years, the Fed and leading private-sector forecasters were persistently behind the curve, seeing it as a temporary phenomenon that would eventually fade.
It hasn't. And a top Fed official has a new essay out this morning that takes a stab at explaining why. He has a useful metaphor connecting ride-sharing price spikes to align supply and demand.
Why it matters: If this economy-wide surge pricing story is correct, to bring inflation down the Fed may need to raise rates by even more than financial markets are currently pricing in.
In the essay, Minneapolis Fed president Neel Kashkari envisions raising the Fed's target rate by another full percentage point this year, to 5.4%. That's above what most of his Fed colleagues project and far higher than is currently priced into bond markets.
The details: Kashkari compares what happened in 2021 to what happens to pricing of an Uber or Lyft during a rainstorm, when demand surges faster than supply can keep up.
But what seems to have happened in the economy as a whole is that as demand for goods and services surged, companies were able to raise prices for their products by more than they raised pay for their workers.
What they're saying: "Prices soar," Kashkari writes. "Corporate profits climb. Income for drivers climbs, but not as much as prices. Real wages actually fall. Even though worker incomes are up, labor's share of income is down."
"Labor markets are tight, but capital is the constraint on supply," he writes.
"Inflation has soared, but it soared because of supply/demand dynamics — what I will call 'surge pricing inflation.'"
Between the lines: While this dynamic was playing out over the last two years, Fed and private-sector economists were using models focused on the pass-through of rising wages, and shifting inflation expectations.
In 2021 and 2022, in contrast to how it works in the models, rising nominal wages and higher inflation expectations were an effect of surge pricing-induced inflation, not a cause.
"From what I can tell, our models seem ill-equipped to handle a fundamentally different source of inflation, specifically, in this case, surge pricing inflation," Kashkari wrote.
The intrigue: The Fed's inflation outlook has started emphasizing the role of wage growth more in recent months, particularly the role that higher wages play in fueling higher prices for services.
Inflation in core services excluding housing is "really a function of the labor market," Fed chair Jerome Powell said at last month's news conference.
The bottom line: The Fed was caught off guard by the 2021 inflation surge, and to stop it from happening again, it's crucial to understand why.
Go deeper