Elevators of the future to employ AI and facial recognition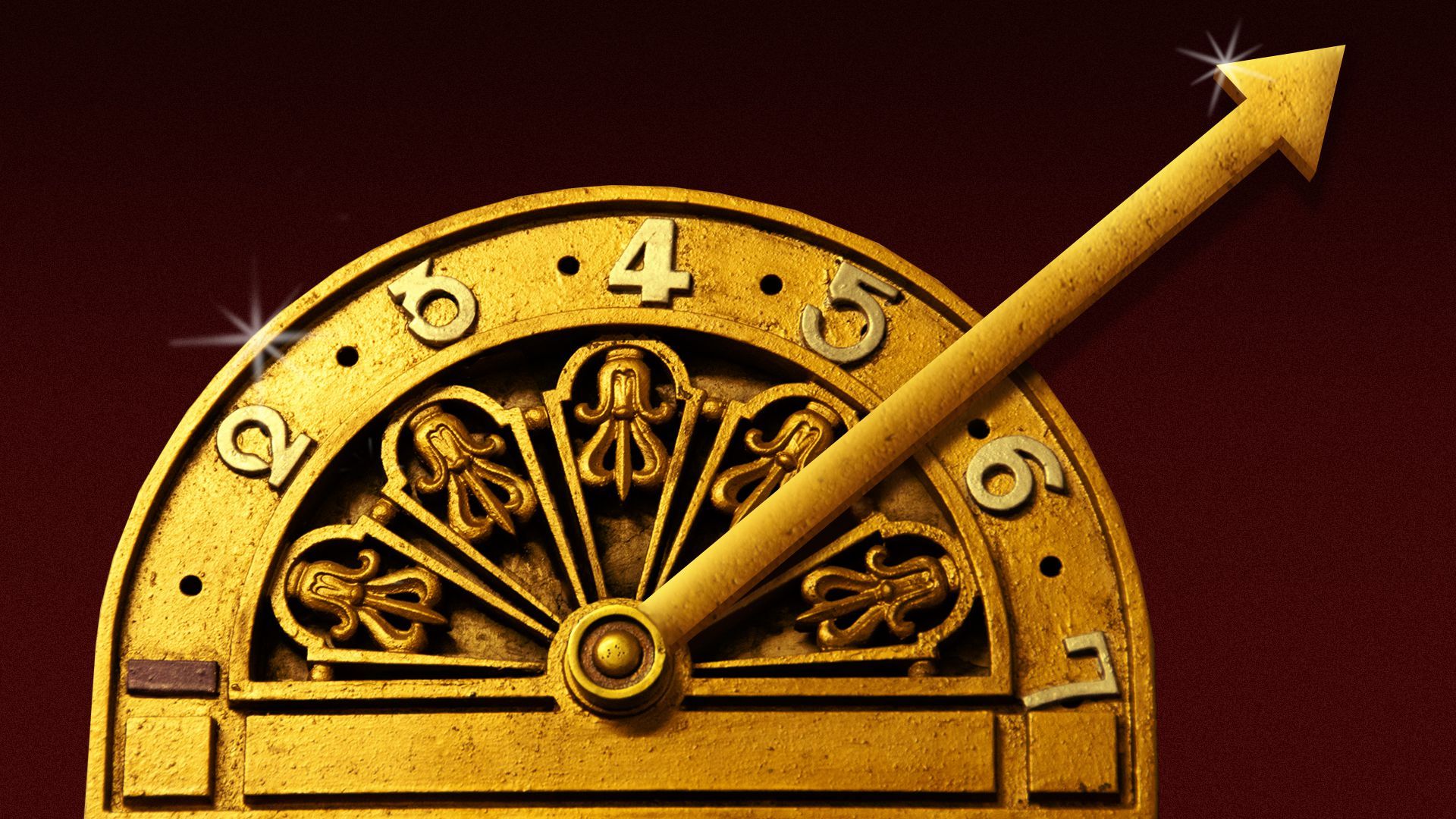 The latest breed of elevators can recognize your face, greet you by name, take you to your floor automatically — and even stop to let on a robot bearing a catering platter or hospital tray.
Why it matters: The widespread fear of elevators that hit during the pandemic served to turbo-charge new innovations, in what some are calling a "digital revolution."
New features make the ride safer, faster and more convenient, but come with a big price tag for building owners.
For developers who want to spend the cash, the sky's the limit: AI and facial recognition can push customized entertainment and advertisements on elevator screens to passengers who opt in.
Elevators that travel horizontally may be on the horizon, paving the way for new architectural innovations.
Driving the news: The race is on among the "big four" elevator manufacturers — Otis, Schindler, Kone and TK Elevator — to sell new or retrofitted high-tech elevators to property owners.
They're touting everything from modern-day must-haves (like two-way video calls) to convenient nice-to-haves (like apps that call cabs in advance).
Buzzwords in the business include "destination dispatch," a system letting riders select their floor while still in the lobby (for maximum efficiency), and "occupant apps," which are aimed at improving the rider experience.
The big four are planning for the day when cloud-connected elevators are an integral part of smart cities and smart buildings — coordinated with local transit schedules and, of course, rooftop air taxis.
What they're saying: "The evolutionary changes are now happening at a faster and faster clip," John Sarcona, senior manager of new installations at Schindler, tells Axios.
On the passenger side, you'll be able to use an app to call an elevator immediately, or schedule a ride in advance.
On the safety side, elevators loaded with sensors, cameras and digital screens can detect problems early and summon a technician.
Service robots will be able to call elevators as needed — to bring fresh towels to a hotel guest, for example.
How it works: With Schindler's ElevateMe app, you can scan a QR code near an elevator door and select your floor.
Otis' eCall app requires users to register with the building and obtain access privileges.
While an elevator-calling app caters to COVID-19 sensitivities, "it also lends itself, let's be honest, to the current generation," Sarcona said. "They just want to touch the world via their phone."
The intrigue: Part of the sales pitch is that smart elevators can turn a mundane ride into a seamless experience — or even immersive entertainment.
A camera or beacon that recognizes you can tell which floor you're supposed to go to — no need to touch a button — and play relevant content (from weather to personalized messages) on a screen.
"Now the lights in the cabin can become blue because we know it's your favorite color. Your favorite music can come on," says Jon Clarine, head of digital services at TK Elevator North America.
The systems work with wearables, too. "If you've got your hands full or you're coming in with two bags, you can automatically have that elevator called for you," Clarine says. "So there's a convenience factor to it."
Picture this: "If you're a very important person, we can invoke a VIP service which would drop everybody off on the ride, come to your floor, pick only you up and not pick anyone else up along the way, and take you directly to your office or suite," Clarine tells Axios.
Yes, but: "There may be some privacy or data that you have to give up to enjoy" this seamless experience, says Neil Green, chief digital officer at Otis.
As smart elevators grow more capable and pervasive, there's a lot that still needs to be figured out about how the data is used, who owns it and how it's shared, Green tells Axios.
The big picture: Elevator makers say high-tech options — like Otis' Gen3 and Gen360, introduced in 2021 — can turn the cabs from a costly conveyance to a profit center for landlords.
Advertising is only a fraction of the picture. Data from sensors and cameras will be monetizable in myriad ways.
"The more data we can collect — on humidity or noise in a building — does that become useful for a developer as he looks to market his building to potential customers?" asks Green.
What's next: Elevators that go horizontally as well as vertically may be on the horizon: TK Elevator's MULTI is being piloted in Germany and is slated for (eventual) installation in Atlanta.
Known as a "ropeless" elevator, the MULTI uses magnetic levitation technology and moves a bit like a Ferris wheel, says Clarine.
As skyscrapers grow taller and are built in weird shapes, the MULTI could be a "game changer" because it can lift people faster and in new directions.
"That vertical and horizontal movement opens up a lot of possibilities for overall urban transportation," Clarine tells Axios.
Go deeper