What's Next in 2023? AI, EVs, delivery robots and more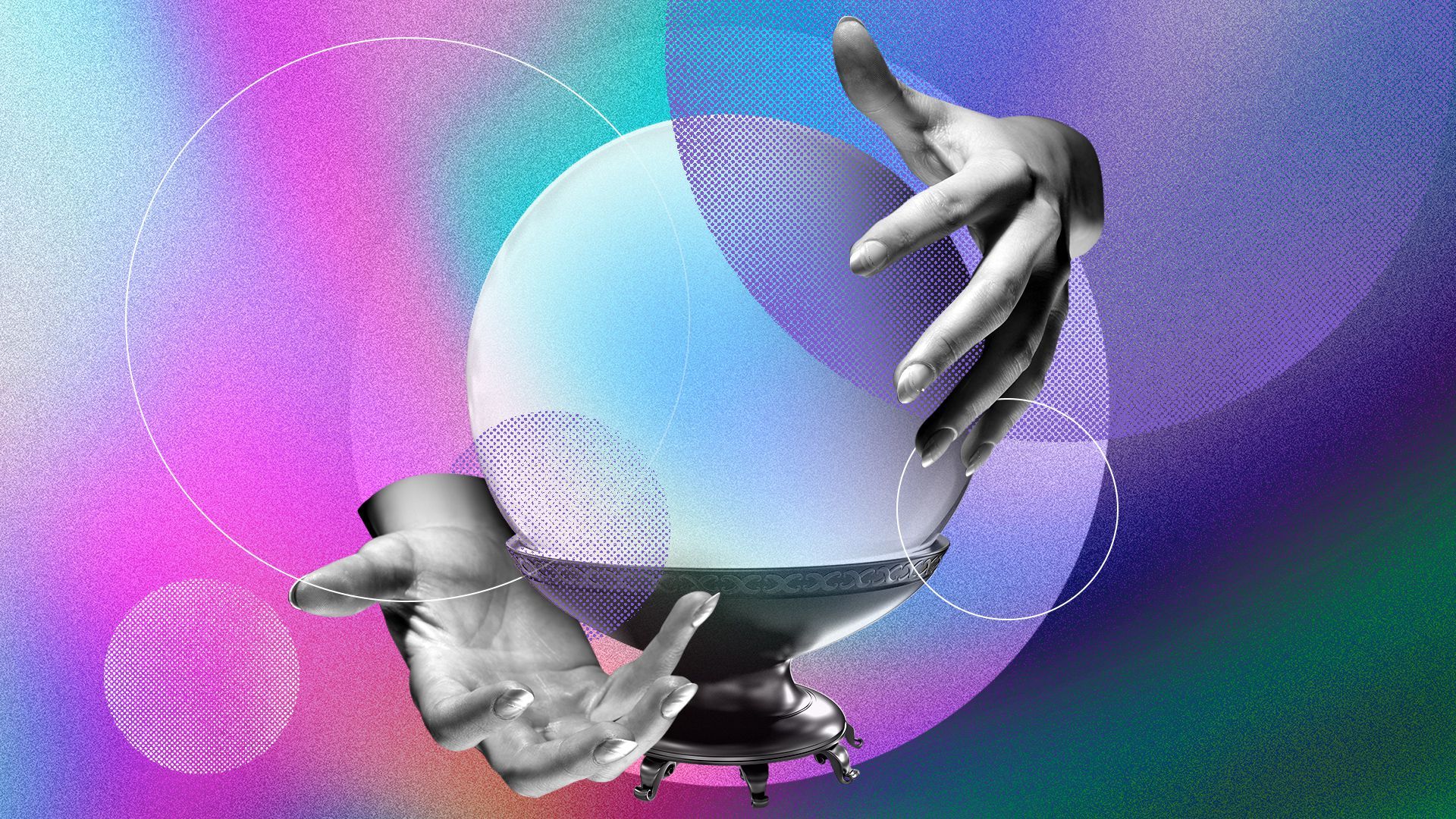 Smarter AI, electric cars for almost every budget, delivery robots — these are just some of the 2023 predictions from the Axios What's Next team.
1. AI pushes boundaries
AI-based creative platforms, such as Stable Diffusion and ChatGPT, will get even better at mimicking human art, writing and speech over the coming months, Alex Fitzpatrick writes.
Why it matters: These AIs — which spit out words or images based on a simple text prompt — are, on one hand, deeply impressive.
On the other, they raise all sorts of concerns — from copyright and free-use issues to questions about who's really responsible for their output.
The intrigue: "ChatGPT's ability to blur the line between human and machine authorship could wreak overnight havoc with norms across many disciplines, as people hand over the hard work of composing their thoughts to AI tools," Axios' Scott Rosenberg recently wrote.
They could also be a misinformation and propaganda nightmare, as they're able to quickly and easily generate convincing visuals and text in the style of almost anyone with an existing body of work to ape.
Yes, but: Some experts are concerned about what might happen if such AIs start feeding off one another's work, potentially leading to a kind of closed-loop creative death spiral.
2. An EV for every purse and purpose
Electric vehicles will truly go mainstream this year, Joann Muller writes.
Driving the news: Two big factors will drive U.S. EV sales higher in 2023:
Consumers will have myriad new options — at more affordable prices.
Charging stations will finally start showing up in places they're needed, making recharging less of a worry.
The big picture: Much of the EV momentum is being driven by the federal government, which is pouring billions of dollars into expanded tax credits for EV buyers, fleet owners and even manufacturers.
Plus, the government is doling out $7.5 billion to install fast chargers along major highways in every state.
What to watch: Automakers are ramping up EV production, including family SUVs like General Motors' $30,000 electric Chevrolet Equinox.
Other mainstream brands, such as Ford, Hyundai and Volkswagen, are increasing EV output too.
Expect Tesla to remain the EV leader, but its market share will plummet in 2023 as more players enter the market.
Reality check: While there will be more EV choices this year, they'll still account for only about 12% of total vehicle sales, according to J.D. Power's 2023 forecast.
3. Make-or-break time for delivery robots
The charming vision of a fleet of delivery droids trundling over sidewalks to deliver meals, groceries and medicine persists, Jennifer A. Kingson writes.
State of play: FedEx recently opted to scuttle development of its Roxo last-mile delivery robots, and Amazon did the same with Scout.
Yes, but: New deployments are announced seemingly every day, such as Uber Eats partnering with Cartken for food delivery in Miami, and Grubhub and Kiwibot expanding robot service on college campuses.
So it's possible that some smart people will figure out how to make this appealing service work.
4. (Some) workers take the power back
2023 could be the year of the worker — but only in certain industries, Alex writes.
Why it matters: Employers have long held most of the power in the employer-worker relationship. Now the pendulum is swinging in the other direction.
The question: How far will it go?
What's happening: Workers in transportation, food service, health care and other fields are organizing and advocating for better pay and other changes, fueled in part by a worker shortage giving them newfound leverage.
Yes, but: That shortage isn't universal. Layoffs have been rocking the tech and media industries — a phenomenon likely to continue.
What we're watching: Layoffs may stymie some organizing efforts if workers decide they're better off keeping their heads down — but the cutbacks could also convince survivors to fight for better job protection and severance benefits.
Meanwhile: The percentage of Americans working entirely or mostly from home has more or less stabilized at around 20%.
Most companies will probably set their remote and hybrid policies in stone this year, if they have not done so already.
What's next: We're keeping our eyes on various four-day workweek experiments — including one at a Twin Cities PR firm.
5. Beauty tech draws big bucks
With consumers snapping up $279 handheld facial cleansing massagers and $455 LED treatment devices that target zits and wrinkles, the race is on in the beauty business to devise new gadgets that cater to our vanity (and disposable income), Jennifer writes.
What's happening: Hair, skin and makeup brands are investing heavily in new augmented and virtual reality tools that let customers try on their products digitally.
Dyson, whose Supersonic hair dryers have cult followings, just announced an investment of about $600 million in beauty R&D, which will fund the opening of new research labs and the development of 20 new products over the next four years.
L'Oréal USA is sinking $140 million into an R&D center in New Jersey to "focus on beauty innovations across the spectrum of hair, skin and makeup categories," the company says.
The big picture: Everyone in the beauty biz wants to come up with the next Airwrap — another must-have favorite.
Go deeper