COVID patients overwhelm Chinese hospitals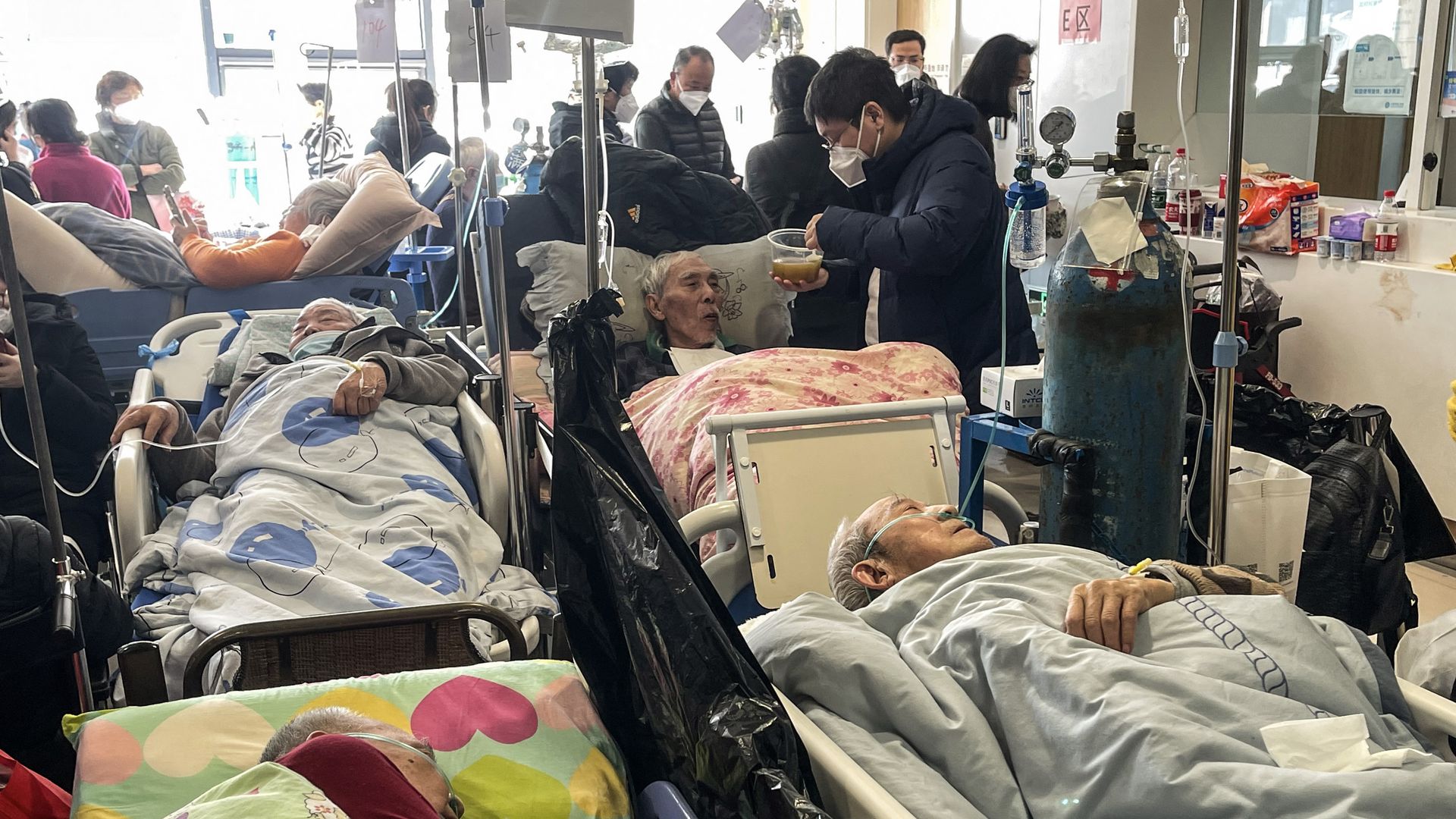 An enormous wave of COVID infections is straining China's medical facilities, as Chinese state media said authorities had implemented "a planned, science-based approach."
What's happening: Cases swept through China's cities over the holidays and may have now peaked but rural areas are starting to see a surge in infections.
Numerous countries have imposed travel restrictions on incoming Chinese travelers or are requiring COVID tests upon arrival — prompting China's Foreign Ministry to accuse foreign governments of "manipulat[ing] the COVID measures for political purposes."
The European Union has offered to send free COVID vaccines to China to help fight the outbreak.
China's manufacturing activity declined in December and its economy slumped.
State of play: China's top health authority stopped publishing daily COVID data last month but a leaked internal memo that estimated 250 million cases that month alone.
Chen Erzhen, a top administrator at Shanghai's Ruijin Hospital who also serves on the city's COVID advisory board, told Chinese state media that he estimates up to 70% of Shanghai — with a population of around 26 million — had been infected.
Taiwan's pandemic authorities said 28% of the more than 500 Chinese travelers who arrived in Taiwan on Jan. 1 tested positive.
The big picture: Clinging to the zero-COVID approach was not the most effective solution, Yanzhong Huang, senior fellow for global health at the Council on Foreign Relations, told Axios.
Chinese authorities spent an enormous amount of money trying to keep out the virus when that money would have been better spent on obtaining better vaccines and treatments and expanding intensive care units, Huang said.
Yes, but: It's far too soon to suggest Xi's power may be jeopardized or that China is in decline, as some Western commentators recently have.
"Xi very likely is going to muddle through the crisis," Huang said. "The virus will soon peak" and an economic recovery will follow, while the government is already redefining the narrative to deflect blame, he added.
"There is no clear sign that suggests his power has been undermined."
What to watch: Millions of people will soon be heading home for the Lunar New Year later this month, likely spreading COVID even further around the country — and most worryingly to rural areas with little health care infrastructure.
On Jan. 8, China will also end mandatory entry quarantine and open its borders to outsiders for the first time in almost three years.
Go deeper