Tornado outbreak underway across southern U.S., with 40 million at risk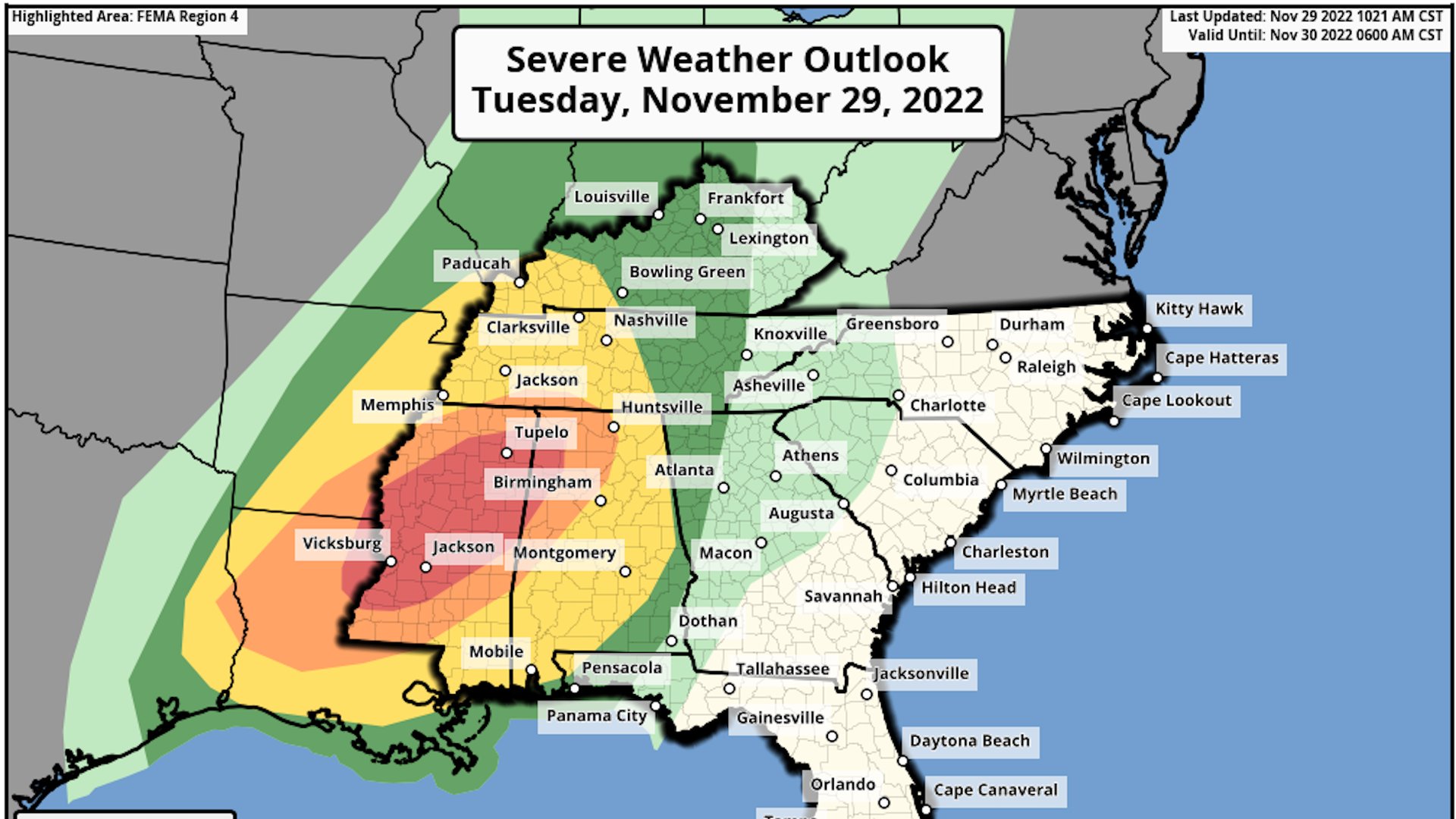 A significant outbreak of severe thunderstorms, including a "few strong tornadoes," is unfolding for the Mississippi Valley, mid-South and parts of the Southeast Tuesday into Tuesday night.
Threat level: The storm threat is highest — at "moderate risk" or a level 4 out of 5 on the National Weather Service's (NWS) scale — in Mississippi. About 40 million people across the South are at risk for severe weather from this event, per the National Weather Service.
The latest: In Mississippi, the Lowndes County Sheriff's Office told WTVA-TV that they've received reports of people trapped and structural damage from a suspected tornado approximately 13 miles north of Columbus, but could not yet confirm injuries. The trapped individuals were later reported as being freed.
In Louisiana, the NWS confirmed a tornado in Caldwell Parish caused structural damage approximately six miles southeast of Clarks, KNOE-TV reports.
The National Weather Service has extended its "Particularly Dangerous Situation" tornado watch for southeast Arkansas, northeast Louisiana and central Mississippi through 2 am CT. The watch was originally meant to expire at 7 pm CT.
The NWS noted the expectation of "several tornadoes and a few intense tornadoes likely" within the watch area as thunderstorms develop throughout the night.
The watch contains the text: "Scattered supercells will persist through early tonight, with a continued threat for a few strong tornadoes, damaging gusts, and large hail."
Other tornado watches, though without the heightened alert language, have been issued for portions of southeastern Mississippi and western Alabama, including Tuscaloosa, through 11 pm CT.
Multiple radar-confirmed and storm spotter-indicated tornadoes have been reported in Mississippi and Louisiana.
Nighttime tornadoes tend to be especially dangerous, because people can lack ways to get severe weather warnings, and owners of mobile homes may not have easy access to storm shelters.
The big picture: The Weather Service is highlighting the threat for tornadoes, very large hail and damaging straight-line winds for parts of Mississippi, Tennessee, Louisiana, Texas, Indiana, Missouri and Ohio.
The storms are developing in a region of warm, humid air flowing north from the Gulf of Mexico, ahead of a cold front and low-pressure area moving into the Plains and Midwest. The associated dip in the jet stream and upper-level winds are aiding in storm development and intensification.
Another front lifting north from Louisiana and Texas is also playing a role in triggering severe weather, including establishing strong winds that vary in speed and/or direction, known as wind shear.
Between the lines: Wind shear is a key ingredient for tornado formation, and the NWS notes that the tornado threat will be highest across Mississippi, possibly extending into surrounding states.
An online NWS discussion states: "Multiple rounds of severe thunderstorms -- some capable of long-tracked tornadoes with EF3+ damage potential — will be possible this afternoon into tonight over parts of the lower Mississippi Valley region and Mid-South."
About 5 million people are at the greatest risk of severe weather, in areas either at "enhanced" or "moderate" risk on the NWS' threat level scale.
Tornadoes of that intensity tend to cause the greatest damage and account for the most fatalities during the course of a year.
Cities that may see severe weather include: Memphis and Nashville in Tennessee, as well as Jackson and Hattiesburg, Mississippi, Alexandria, New Orleans and Baton Rouge, Louisiana, and Birmingham, Alabama.
Context: While tornado season traditionally runs during the spring and summer months, there is a fall tornado season in the Southeast, and in years like this one when a La Niña is present in the tropical Pacific Ocean, the South and Southeast can be prone to tornado outbreaks well into the winter.
Editor's note: This story and headline have been updated with additional developments.
Go deeper