Updated Oct 30, 2022 -

World
Everything we know about the Halloween crowd surge in South Korea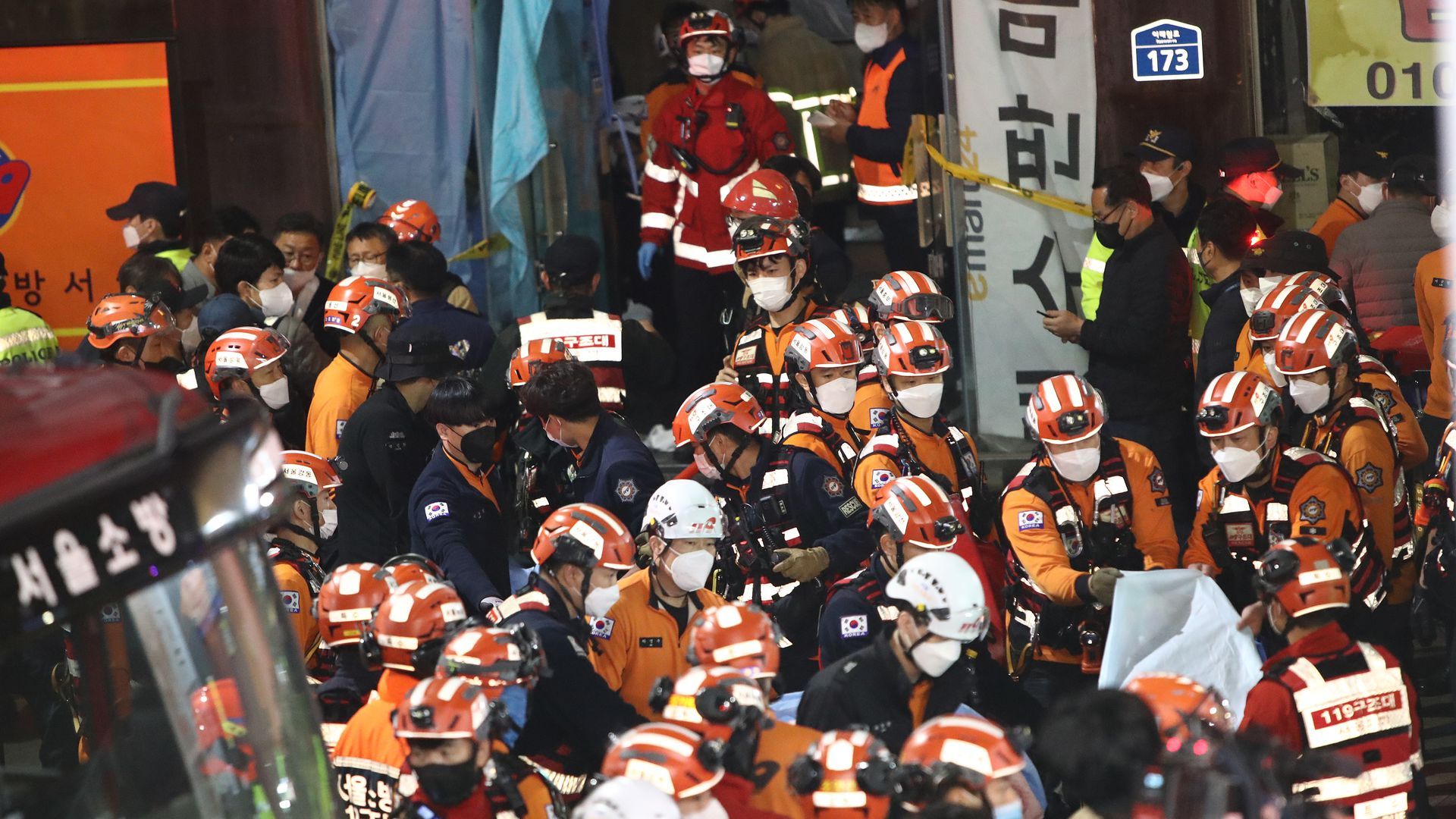 South Korean officials said Sunday evening that at least 153 people were killed and 133 more were injured during a Halloween event in Seoul, the Associated Press reports.
The big picture: The horrifying incident appears to be one of the deadliest disasters in South Korea since the Sewol ferry capsized in 2014 and 304 were killed.
How did the crowd surge happen?
The Halloween incident occurred on Saturday when a large crowd pushed forward on a small and narrow street during Halloween festivities, officials told AP. The death toll is expected to rise.
The surge reportedly happened near the Hamilton Hotel, which is a major party location in the city, per BBC News.
Fire authorities told Yonhap News Agency that people suffered from "cardiac arrest" in connection to a Halloween party.
At least 1,700 emergency workers and 140 vehicles from across South Korea were deployed to the streets to help injured people, according to AP.
Local media suggests at least 100,000 people gathered on the Itaewon streets for the Halloween events, AP reports.
What witnesses saw
A witness wrote on Twitter that the stampede happened when people "kept pushing down" the street, per NYT.
"People crushed under the crowd were crying and I thought I would ​be crushed to death too, breathing through a hole and crying for help," the witness said.
Other witnesses described an "elbow-to-elbow crowd" in which people "couldn't hear one another over the noise or call for help because of lack of a cell connection," per the Washington Post.
What's known about the fatalities and injuries?
Choi Seong-beom, chief of Seoul's Yongsan fire department, told AP the death toll may climb as emergency workers continue to bring people to hospitals.
A number of injured people remain in critical condition, he said.
Initial estimates of the number of injured persons numbered 150 as of Sunday morning, before the official count was lowered.
Most of the dead and injured are in their 20s, the New York Times reports.
The U.S. Embassy in Seoul confirmed in a statement Sunday that two U.S. citizens were among those killed in the crowd surge but did not provide details as to their identities, citing privacy reasons.
"I am deeply saddened by the loss of so many lives last night, to include two young Americans celebrating alongside their Korean friends and others from around the world," U.S. Ambassador to South Korea Philip Goldberg said in the statement.
Three South Korean military personnel were killed in the crowd surge and another four injured, CNN reported, citing a Korean defense ministry official.
Bodies were being sent to hospitals or a gym, where family members could identify them, Choi said.
What they're saying
South Korea's President Yoon Suk-yeol called for an emergency meeting over the incident, according to multiple reports.
"The top priority is to evacuate and save the victims. We should take them to urgent medical treatment as quickly as possible," Yoon said, per the New York Times.
Yoon activated an emergency management headquarters, ordered authorities to rapidly identify the victims and immediately begin an investigation into the cause of the incident, a spokesperson for the president said, according to CNN.
"Jill and I send our deepest condolences to the families who lost loved ones in Seoul," President Biden said in a statement Saturday.
"We grieve with the people of the Republic of Korea and send our best wishes for a quick recovery to all those who were injured," he added.
Have there been similar tragedies in the past?
There have been other deadly crushes such as what happened in South Korea. In October, at least 130 people died in a stampede at a soccer stadium in Indonesia, according to CBS Sports.
And in May, 31 people died in Nigeria after a crowd rushed to receive free items at a charity event, per Al Jazeera.
Go deeper