Voting snafu shines light on AP college football poll process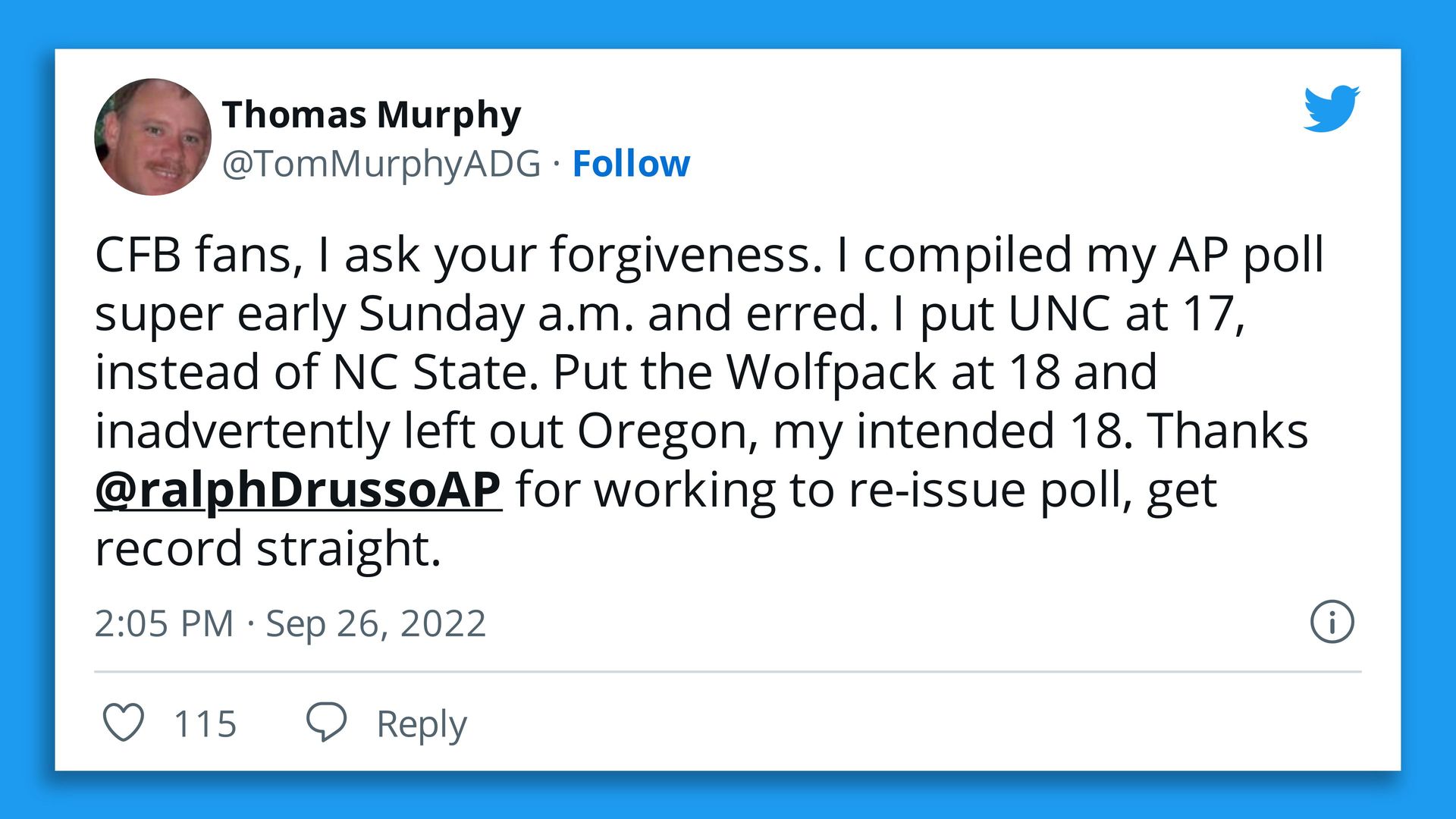 A voting snafu this week shed some light on a process most college football fans know little about: how AP voters submit their Top 25 polls, and how the AP tries to limit mistakes.
Driving the news: Thomas Murphy, one of 63 members of the media that submits votes for the weekly AP college football poll, made a mistake on his submission this week.
"I put UNC at 17, instead of NC State. Put the Wolfpack at 18 and inadvertently left out Oregon, my intended 18," he wrote on Twitter, asking fans for their forgiveness.
AP fixed the mistake and reissued the poll on Monday (it comes out on Sundays). No teams moved spots — the only difference was point totals for NC State and Oregon changed a bit.
Between the lines: AP's Ralph D. Russo took the opportunity to "give a little inside baseball to further explain what happened."
"The voting is automated and I can see the results as the votes come in. That allows me to spot possible mistakes. ... Usually, we catch [them], reach out to the voter and make a quick fix well before the poll is published."
"However, I'm also leery of influencing the way someone votes. Early this year, there was what I thought to be ... a mistake. When I reached out, the voter said, 'no, it was intentional.' So that's not great."
"The deal with Tom was, he had UNC at 17. ... I definitely thought it could have been a mistake but he did have NC State ranked ... so I figured, 'weird but ok.' Clearly, I should have been more aggressive."
"Anyway, glad we could get it fixed ... But that's the process. We want to avoid questioning the voters and potentially influencing their votes but we also want to help them out when possible."
Go deeper