Over 9K people died in traffic accidents in 2022's first quarter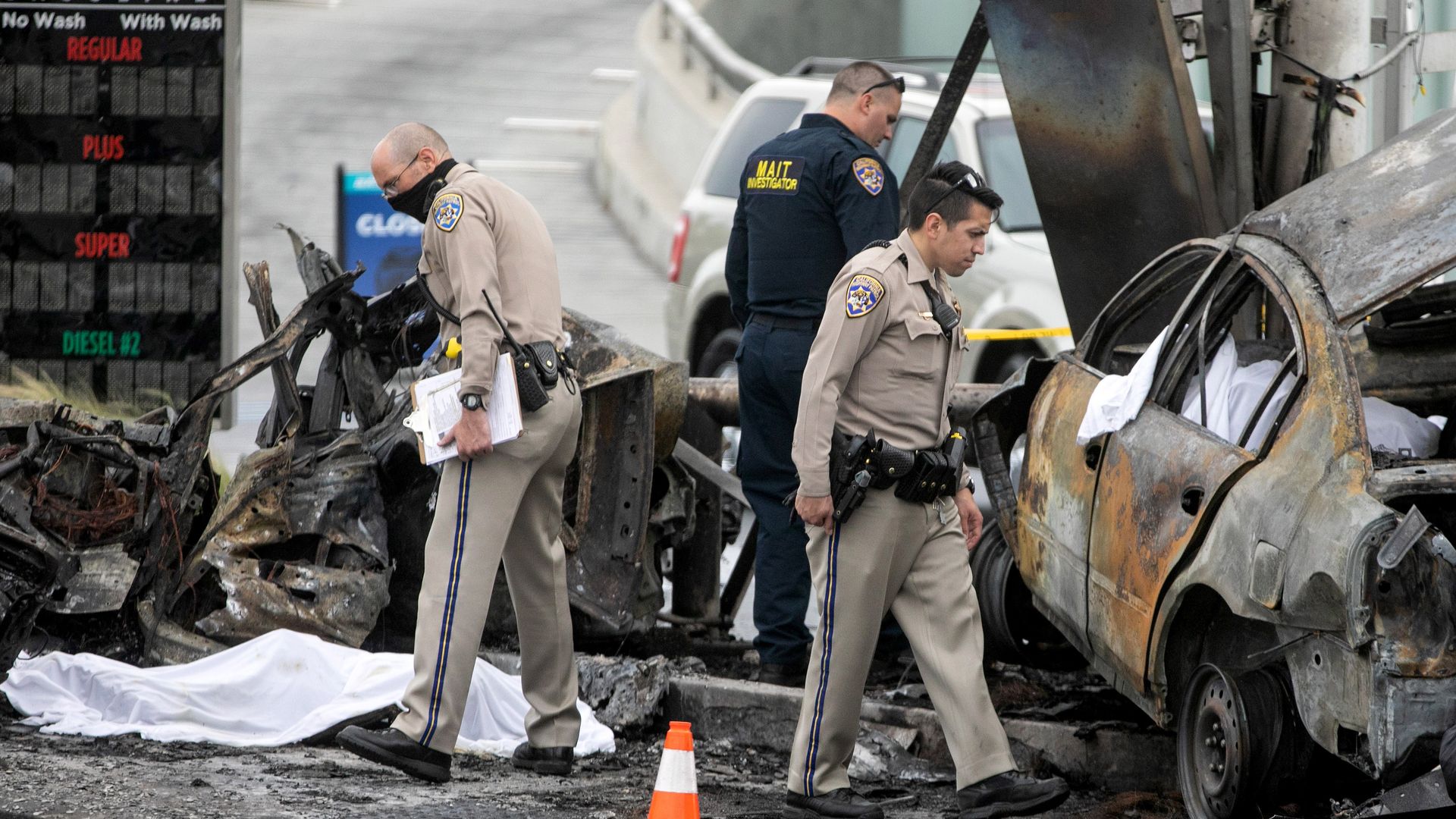 More than 9,500 people died in motor vehicle-related traffic crashes in the first quarter of 2022, a roughly 7% increase from the same period in 2021, according to preliminary estimates released by the National Highway Traffic Safety Administration Wednesday.
Why it matters: The new data suggests U.S. roads are becoming increasingly deadly and that the country is on pace to have yet another annual increase in traffic fatalities.
By the numbers: The 9,560 motor vehicle deaths also represented the highest number of first-quarter fatalities since 2002, the NHTSA said.
The fatality rate for the first quarter of 2022 increased to 1.27 fatalities per 100 million vehicle miles traveled, up from the projected rate of 1.25 fatalities per 100 million vehicle miles in the first quarter of 2021.
Though traffic deaths increased nationwide during the period, 19 states and Puerto Rico saw a decline in such deaths. The NHTSA said it is monitoring whether the decline was a result of actions taken by the states and Puerto Rico.
The country saw its highest number of traffic fatalities since 2005 last year. The 42,915 traffic fatalities in 2021 was a 10.5% increase from 2020, when 38,824 deaths were reported. 2020's recorded deaths represented a 7.2% increase from 2019.
What they're saying: "The overall numbers are still moving in the wrong direction," NHTSA administrator Steven Cliff said in a statement Wednesday. "Now is the time for all states to double down on traffic safety."
"Another new report of an increase in lives lost may feel a bit like Groundhog Day, but we must not become desensitized to the tragedy of roadway deaths," Jonathan Adkins, executive director of the Governors Highway Safety Association, also said in a statement.
The big picture: Paradoxically, traffic fatalities increased sharply throughout the coronavirus pandemic, even though fewer people were driving.
The Transportation Department released the federal government's first-ever National Roadway Safety Strategy in January. It called for better safety standards in vehicles, such as automatic emergency braking and pedestrian automatic emergency braking.
Go deeper: Pedestrian fatalities rose post-pandemic lockdown
Go deeper