Celsius called "Ponzi scheme" by ex-money manager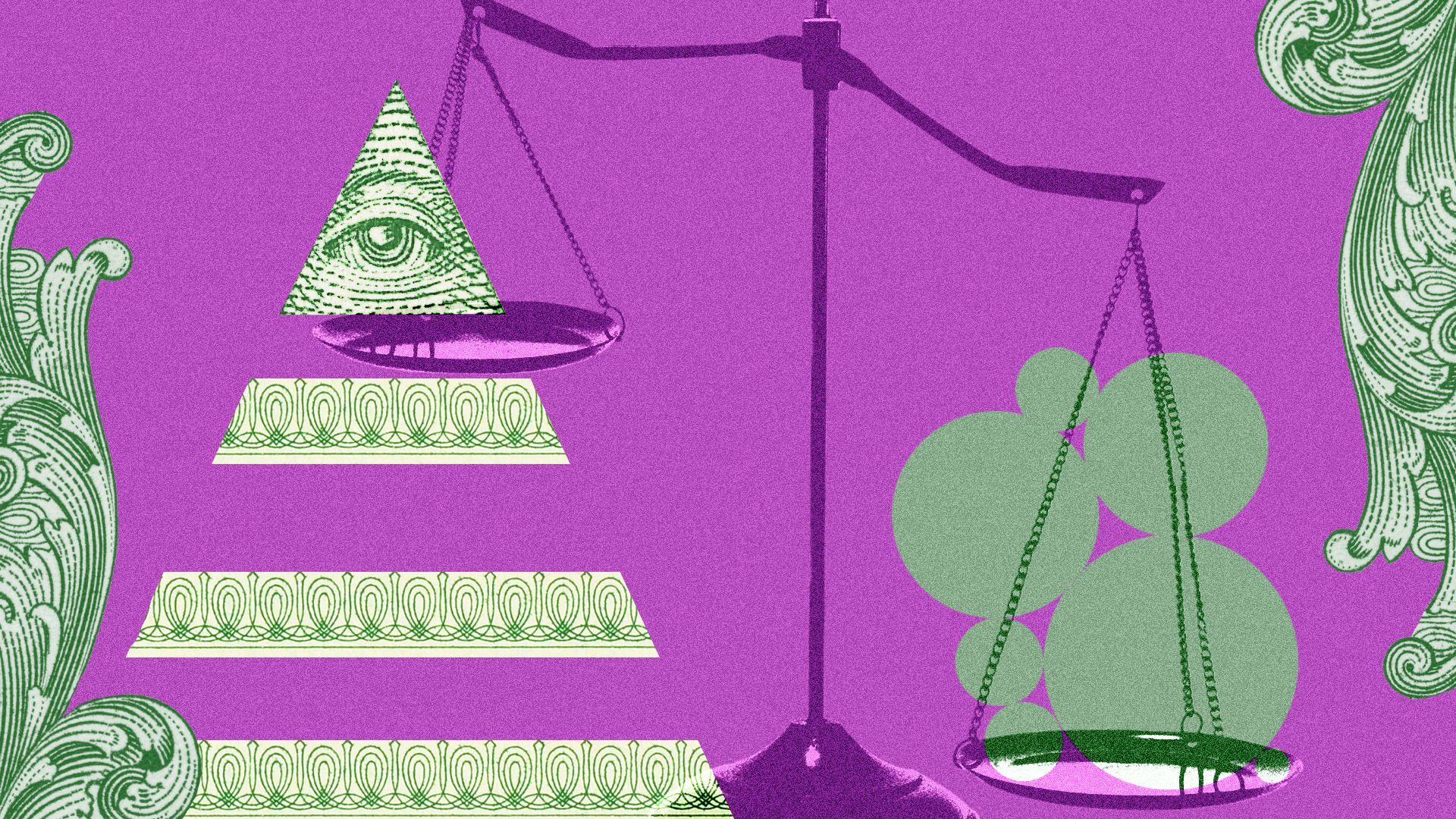 Celsius Network has been accused of fraud and running its business as a Ponzi scheme, according to a lawsuit filed against the crypto lender Thursday.
Driving the news: The suit was filed by staking software and crypto investment firm KeyFi, which previously worked with Celsius.
KeyFi CEO Jason Stone alleges the shop owes him "millions of dollars" after failing to honor a "handshake" agreement granting him profit shares of a range of investment strategies.
On-chain analysis conducted by research firm Arkham Intelligence appears to corroborate some of KeyFi's claims as it relates to how Celsius operates.
Why it matters: Celsius' draw was its uber-high yield-generating offers — 5% APY on bitcoin or as much as 10% on dollar-pegged stablecoins — attracting some 1.7 million users by the firms' account. Now in the wake of halted withdrawals, new allegations say the business operated as a Ponzi scheme.
Context: KeyFi was Celsius' investment manager from August 2020 to March 2021, managing "billions" for the embattled crypto lender via various DeFi strategies.
What they're saying: KeyFi's suit says that Celsius was using customers' digital asset deposits to "manipulate" markets, among other things.
Celsius "failed to carry through on promises that induced Plaintiff to undertake various trading strategies," it alleges.
The firms' profits depended on "them earning income above and beyond the amounts they need to pay to consumers for their deposits," the suit said.
Between the lines: Celsius engaged in high-risk, high return investment DeFi strategies using customer deposits that eventually came to a head, according to the suit, which may have led to the firm halting customer withdrawals.
What others are saying: "Based upon on-chain analytics, Celsius appears to have entrusted corporate funds worth around $530 million at the time of transfer to an apparent asset manager who engaged in high-risk leveraged crypto trading strategies," an Arkham Intelligence report published Friday said, referencing KeyFi's pseudonymous account "0xB1."
"These trading strategies resulted in apparent losses of $390 million when the asset manager returned capital, or $210 million at present prices, compared to the value of the crypto assets Celsius originally sent at the time of return."
Details: Celsius' reward token, CEL, that the firm claims customers earn as "interest" for holding their digital assets with them also appears to be in question.
Arkham's analysis of on-chain transactions of wallet addresses they've linked to Celsius suggests that the firm was purchasing hundreds of millions of dollars of its tokens to distribute, rather than collecting fees in CEL generated from institutional traders using the assets pool, as the firm claims in its whitepaper.
From July 2019 to March 2021, suspected Celsius wallet addresses withdrew over 75 million CEL from the exchange Liquid, worth $130 million at the time of withdrawal, the report said.
December 2021 onward, those addresses also withdrew around 80 million CEL from FTX — equivalent to 10% of the total CEL supply and worth $220 million at time of withdrawal.
"Since these withdrawals are not preceded by equivalent CEL deposits by Celsius, and because Celsius does not appear to use these exchanges for CEL custody, these withdrawals likely indicate CEL purchases," the report said.
Celsius did not respond to queries about the KeyFi suit or the Arkham report.
The intrigue: Given Celsius claims to own 335 million CEL, roughly half of CEL's total supply, the firm could have simply withdrawn from its own treasury to pay out customers, yet appeared to have been adding an additional cost to its business by buying customers' in-CEL yields, according to Arkham.
"One possible explanation is that Celsius purchases CEL rather than distributing it from the treasury in order to support the price of CEL by making it effectively deflationary," the report said. "Paying out CEL rewards from the treasury could flood the market and cause the token price to fall."
The bottom line: Buying more CEL would have the opposite effect, thus enriching the holders of those tokens, the largest of which is Celsius itself.
Go deeper