Voyager Digital's one-of-a-kind bankruptcy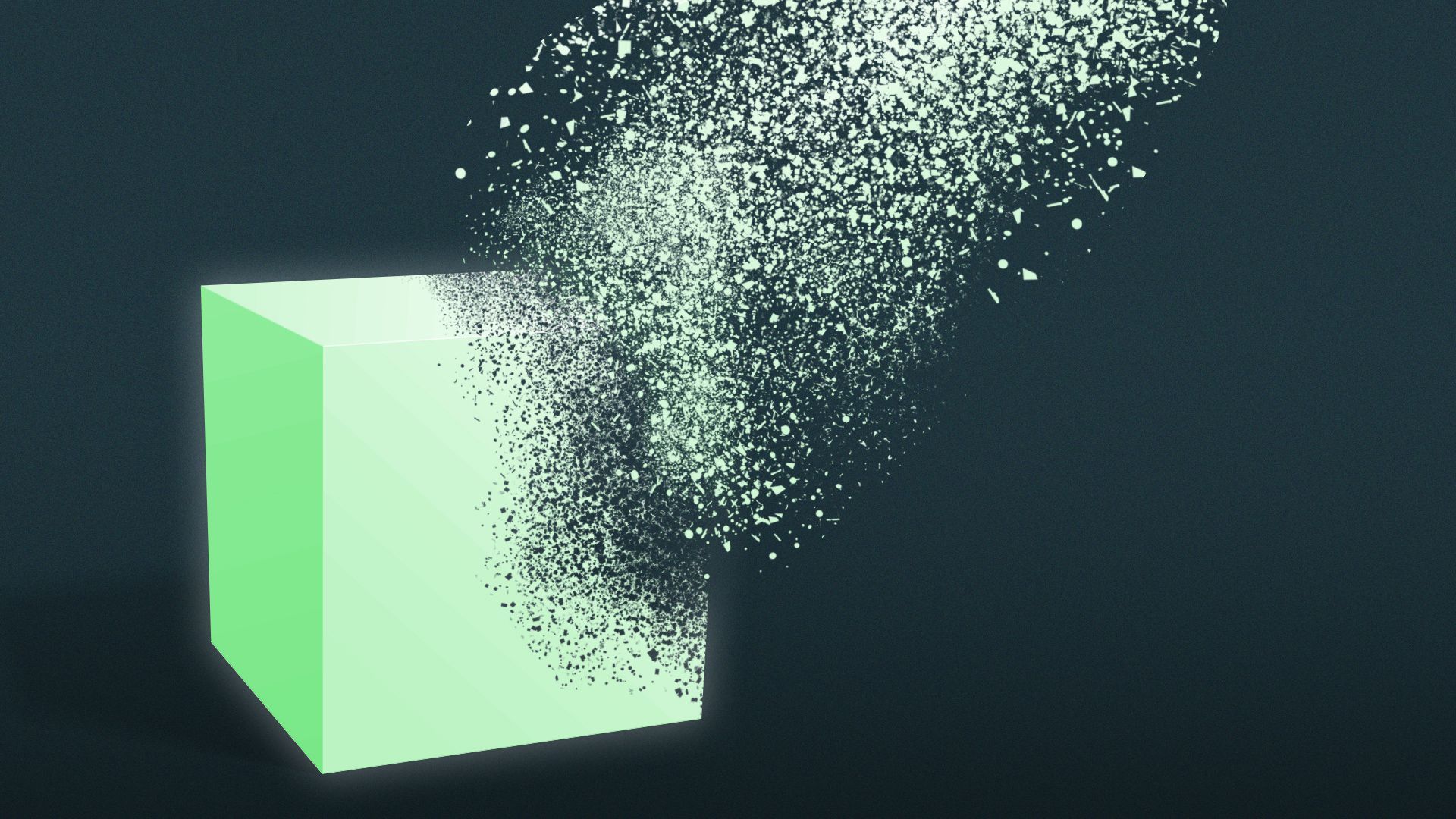 Voyager Digital filed for Chapter 11 bankruptcy protection on Tuesday, enclosing documents containing many revelations, not least of which being the way the Toronto-based crypto lender describes its own business.
Why it matters: That detail highlights the uniqueness of the current proceeding, one that will be watched keenly by regulators and investors as the firm embarks on a journey to untangle its books in the public eye, as a crypto shop.
Call it a "Frankenstein bankruptcy," Robert Honeywell, restructuring partner at K&L Gates, tells Axios.
Quick take: Bankruptcy filing forms are ill-suited for a crypto lender.
Voyager, unable tick of a description of its business from the listed choices—health care business, single-asset real estate, railroad operator, stockbroker, commodity broker, clearing bank—nay, checked off "none of the above."
It described its business as a brokerage.
Peculiar, because the type of bankruptcy proceeding for which it filed doesn't match the business described.
Between the lines: "If you look at the plan they filed, they're still trying to treat this like a broker/dealer bankruptcy, because they put customers in a different class of unsecured creditors," Honeywell of K&L Gates said.
"And everyone else is in other classes. In a broker/dealer bankruptcy, customers get priority for their "securities accounts" and everyone else gets what's left."
Honeywell is referencing what is called a SIPA liquidation.
Context: Voyager appears to be trying to stay in-line with regulator expectations.
Recall Coinbase in May had to soothe concerned customers about a potential bankruptcy after the SEC asked the company to update risk disclosures in filings to treat customers as "unsecured creditors."
That's how Voyager is treating customer accounts too.
The big picture: This will impact who — customers and other creditors — gets paid on their claims and in what order, both in this process and potentially others that follow in the crypto world.
What they're saying: CEO Stephen Ehrlich tweeted following the bankruptcy filing and a statement posted to Voyager's website that customers with crypto in their accounts will be recouped in some way via the reorganization.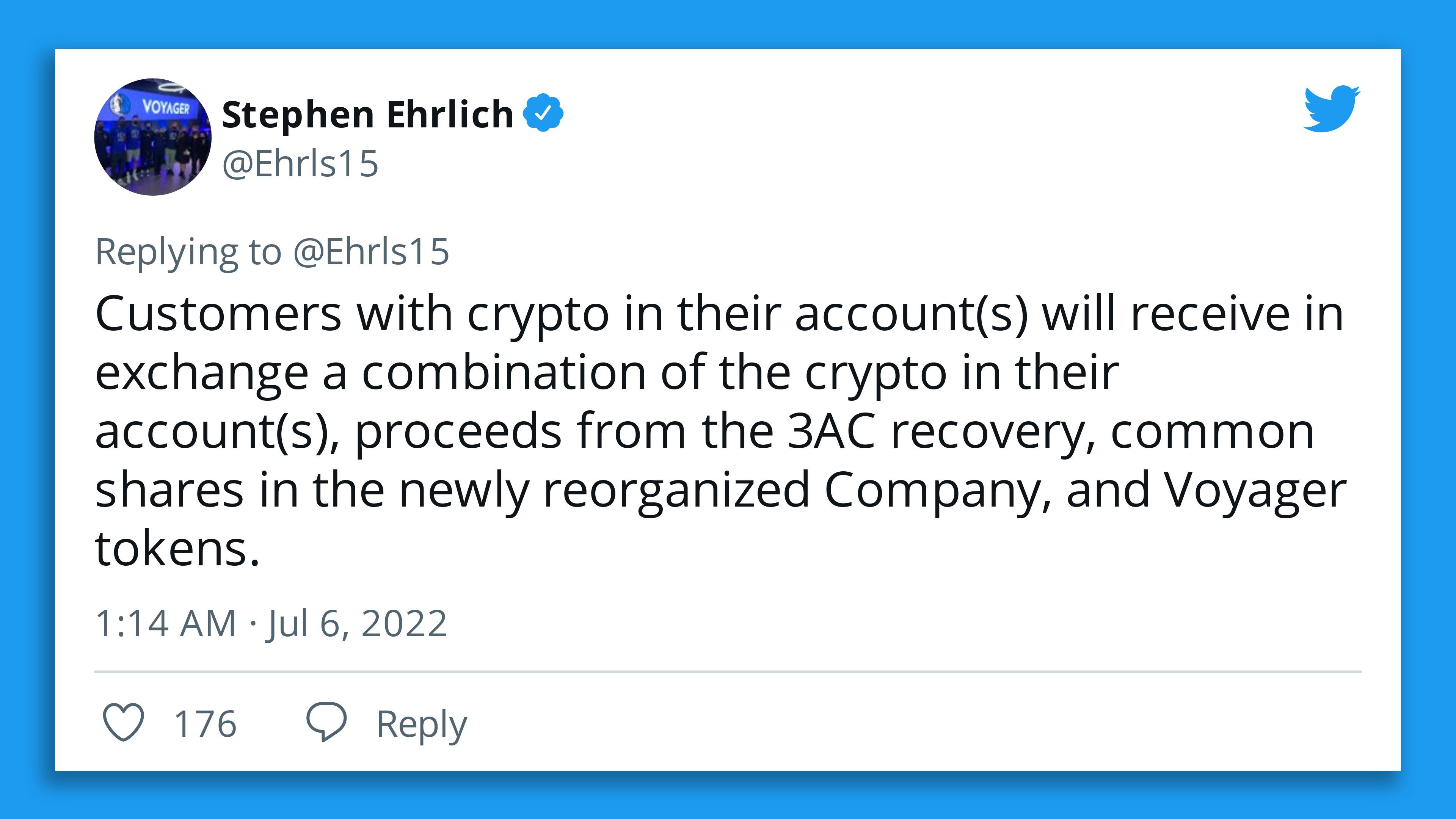 Yes, but: The current restructuring plan is subject to change. Voyager's filing reads:
In June, Voyager enlisted Moelis to gauge buyer appetite for their business or a cash injection and "several parties indicated interest in participating in a potential in-court transaction."
Voyager is calling its tentative plan a "stalking horse" proposal, in which Voyager will engage with third-party investors in sponsoring the plan or providing alternative financing for full or partial ownership of the reorganized company, according to filings.
That piece of it is noteworthy, too.
The intrigue: "They may want to spur other offers," Honeywell said. "They have decided to file right away, without a deal apparently with their main creditors, actually quite unusual."
Indeed, the bankruptcy filings indicate Voyager is still negotiating.
"The real question is even if they filed as a Chapter 11, will customers who have yield bearing accounts with Voyager say 'I'm not just a normal unsecured creditor, I'm a securities holder,' even though, no regulator has said they are that," Honeywell said.
A customer claiming to be a securities account holder, Honeywell speculates, would be moved to the front of the line of unsecured creditors.
"This is the untested proposition: Regulators have been hinting that [digital assets] are securities, but that won't be tested until someone claims they're a securities customer," he said.
Voyager Digital declined to comment.
What's next: Assuming the proposed restructuring plan stays intact, Voyager would have to provide a fresh estimate of what their creditors are owed and put it to a vote.
"If no one challenges and everyone votes in favor, it might just sail through," Honeywell said.
Our thought bubble: This crypto bankruptcy will also effectively test the so-called "Community." If they can all agree, the proposed plan could sail through the process. Infighting, however, will drag it out.
What we're watching: "Bankruptcies are highly contested battles and there is a whole industry of people who buy claims in order to fight in bankruptcy court," Honeywell said.
Go deeper