Voyager Digital customers feeling the pain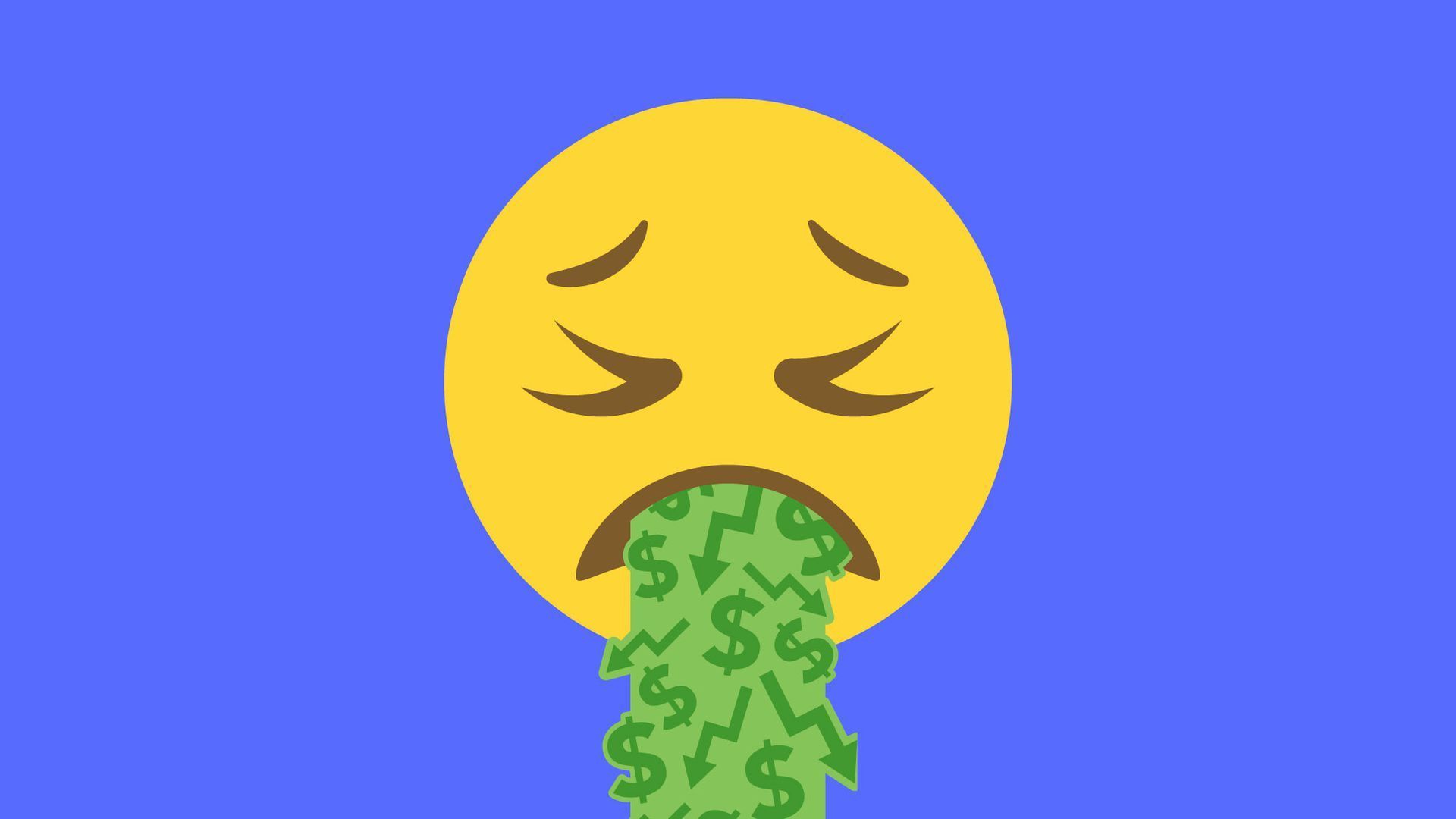 Voyager Digital's customers woke up to an email breaking the news of its bankruptcy filing: It would be a very long time, if at all, before they could access the crypto held in their accounts.
Why it matters: The crypto lender's customer growth spiked during the pandemic, jumping from 120,000 to over 3.5 million between 2020 and 2022, according to Voyager.
Details: The email said customers holding crypto in their accounts would be recouped post-bankruptcy proceedings with a mystery bag of shares in the reorganized Voyager, Voyager tokens, some mix of their crypto, plus whatever Voyager recoups from its 3AC loan. (And that's assuming creditors and the court agrees with the plan.)
"This morning was when I got that email — I got sick to my stomach for a while after that," Benjamin Mena, 38, of the D.C./Metro area tells Axios.
The big picture: Mena's story is one of many.
Mena estimates he has some $7,000 in ethereum, Cardano's ada, Solana's sol, Polkadot's native dot, as well as Avalanche's avax.
"I just want what I have in my account. If Voyager is no longer, what is their token going to do for me," Mena said.
Days following Voyager (and other services) halting withdrawals on its platform, the news of the bankruptcy proceeding to Mena meant certain loss.
"Whatever I'm going to get is going to be zero at the end of the day. Going through the courts? Sounds like they're betting on being able to get something out of 3AC," he said.
Flashback: Mena got another email on Feb. 12, 2020 that introduced him to Voyager. Circle Invest was saying that his account would be automatically converted into a Voyager account.
Voyager bought the stablecoin issuer's retail customers and Circle received a minority stake in Voyager Digital Canada.
He started out with Robinhood before eventually moving onto Coinbase because they had more listed tokens.
"Not your keys, not your wallet," Mena said.
"I actually got worried and bought a Ledger. By the time it arrived, people were already saying their transactions were not getting through. I bought June 28, delivered June 29."
Context: Voyager announced suspended withdrawals on July 1.
Ledger is a wallet for individuals to hold their crypto with their own keys.
The intrigue: "I looked at it as investing in stocks, but not investing in Voyager. I didn't think recurring eth purchases were at risk," said Mena. "The worst part was, even with withdrawals shut down, two of my deposits went through."
Mena also participated in yield-generating programs by holding a certain amount of crypto on the platform.
How it works: Customers who sign up for a Voyager account on the Voyager App can link their bank account or off-site cryptocurrency wallet to the platform to buy coins or transfer them.
Of note: Some Twitter users advised others to call their banks and call fraud on these transactions.
Mena is hesitant to do that. Plus, he's keeping his account linked just in case Voyager decides to resume withdrawals.
What others are saying: "Yeah, to be honest, I cried when I found out," Freddy, who goes by @freddyalbito98 on Twitter said in a message sent to Axios.
"For me it's not all about the money, it's also about the TIME lost in accruing it and now the added time of having to make it back."
Freddy had roughly $20,000 in bitcoin, ethereum, usdc, dot, ltc, algo, link and ftm, screenshots shared with Axios show. He also uses multiple platforms for crypto transactions including Coinbase and Metamask.
"I had enough warnings to get off, from good people. As well as a gut feeling that woke me in the middle of the night...twice... and each time I shrugged it off," James Dean, or Twitter handle @JamesDean_NC said.
"I feel horribly, but honestly I have no one to blame but myself."
Go deeper