Putin says his Ukraine operation has hardly even started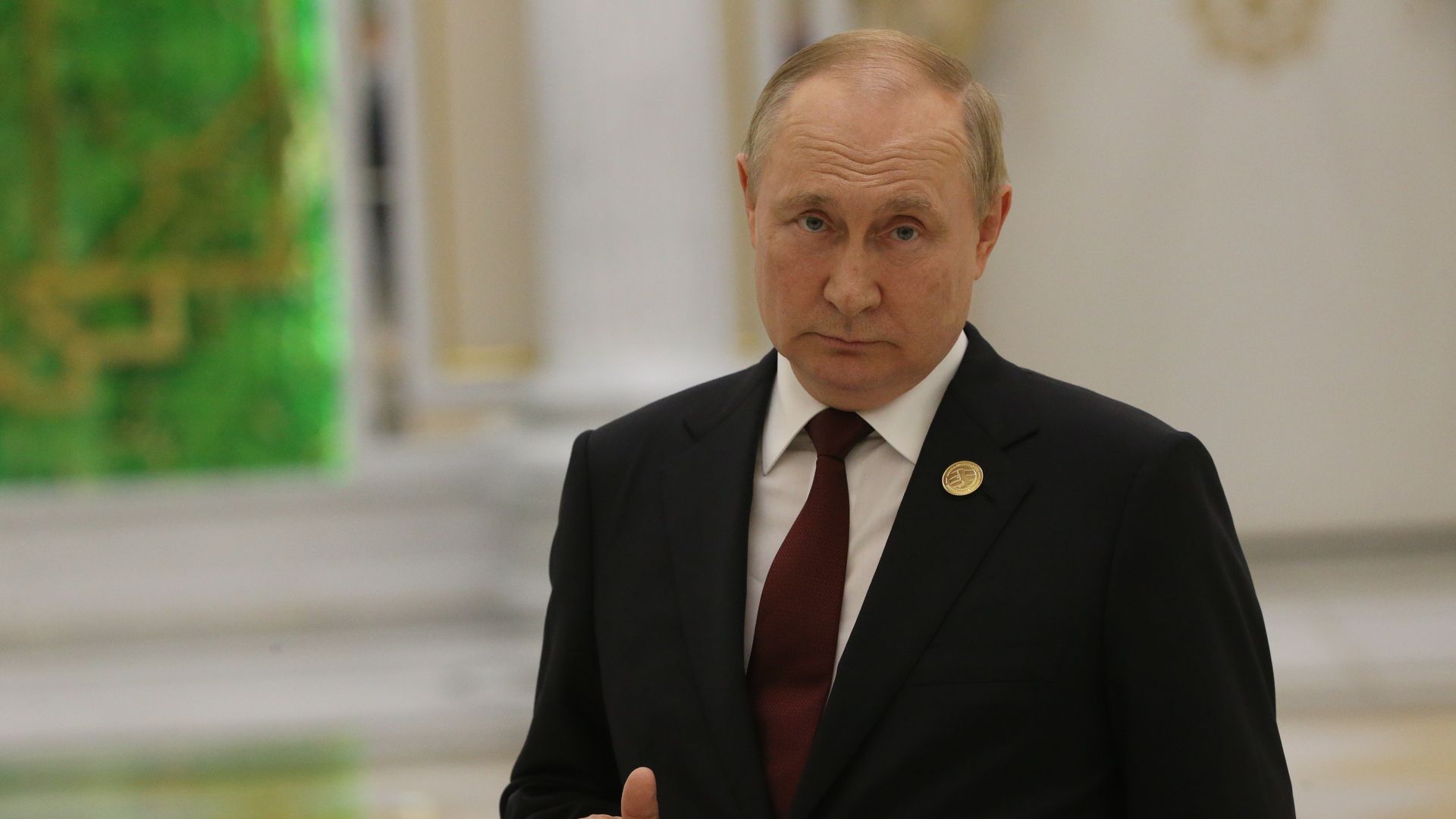 Russian President Vladimir Putin offered a warning Thursday to those hoping Russia will be defeated militarily in Ukraine: "Largely speaking, we haven't even yet started anything in earnest."
What he's saying: In a meeting with parliamentary leaders, Putin claimed western support for Ukraine would only prolong the war. Putin, who launched the war in February and has taken maximalist positions for any peace deal, said "the West wants to fight us until the last Ukrainian" because it wants to weaken Russia and "enforce its version of the global order."
State of play: Russia appears to be preparing for the next phase of its offensive in Ukraine's eastern borderlands as it completes the capture of Luhansk, one of two administrative regions of the broader Donbas region.
Roughly half of the other region, Donetsk, remains in Ukrainian hands. That's where the focus will now shift after Moscow's costly but effective offensive in Luhansk.
Russia has been shelling Ukrainian positions in Donetsk but has not announced any territorial gains in the four days since claiming control of Lysychansk, the last significant city in Luhansk that had remained in Ukrainian hands.
That could signal an operational pause as Russia's depleted forces prepare for the next phase.
Both sides have taken heavy losses in the Donbas, but Russia has had the advantage in manpower and, in particular, in artillery. Military analysts expect that balance to shift over time as Kyiv trains additional forces and integrates NATO-caliber weaponry.
The big picture: Moscow has declared its intention to "liberate" all of the Donbas region, much of which is now utterly destroyed.
However, Niko­lai Pa­tru­shev, the head of Russia's security council, this week reiterated Moscow's initial, broader objective to "demilitarize" all of Ukraine. The Biden administration does not believe Putin's ambitions are confined to the Donbas.
"We are hearing that they want to defeat us on the battlefield," Putin said Thursday. "Let them try."
Meanwhile, Ukraine has seen some success in its efforts to retake parts of the southern oblast of Kherson, which could become another major front as the war drags on.
Zoom in: Ukraine elected to abandon the cities of Severodonetsk and Lysychansk rather than wage the sort of prolonged defense seen in Mariupol — apparently seeking to delay and degrade Russia's forces without risking catastrophic losses.
President Volodymyr Zelensky said Wednesday that Kyiv was "finally" benefiting from the weaponry and ammunition sent by western partners.
HIMARS rocket launchers sent by the U.S. have allowed Ukraine to strike ammunition depots and command-and-control centers behind Russian lines. Ukraine also reclaimed the symbolically and strategically important Snake Island with the help of western weaponry.
What to watch: The pace at which new weaponry and troops are integrated into the fight will be key to Ukraine's efforts to stem its territorial losses and potentially launch a counteroffensive later this summer.
On the other side, Russia has not imposed mass conscription but has has reportedly been offering higher-than-normal pay packages for contract soldiers to fill its own ranks.
Go deeper