NATO ambassadors sign accession protocols for Finland, Sweden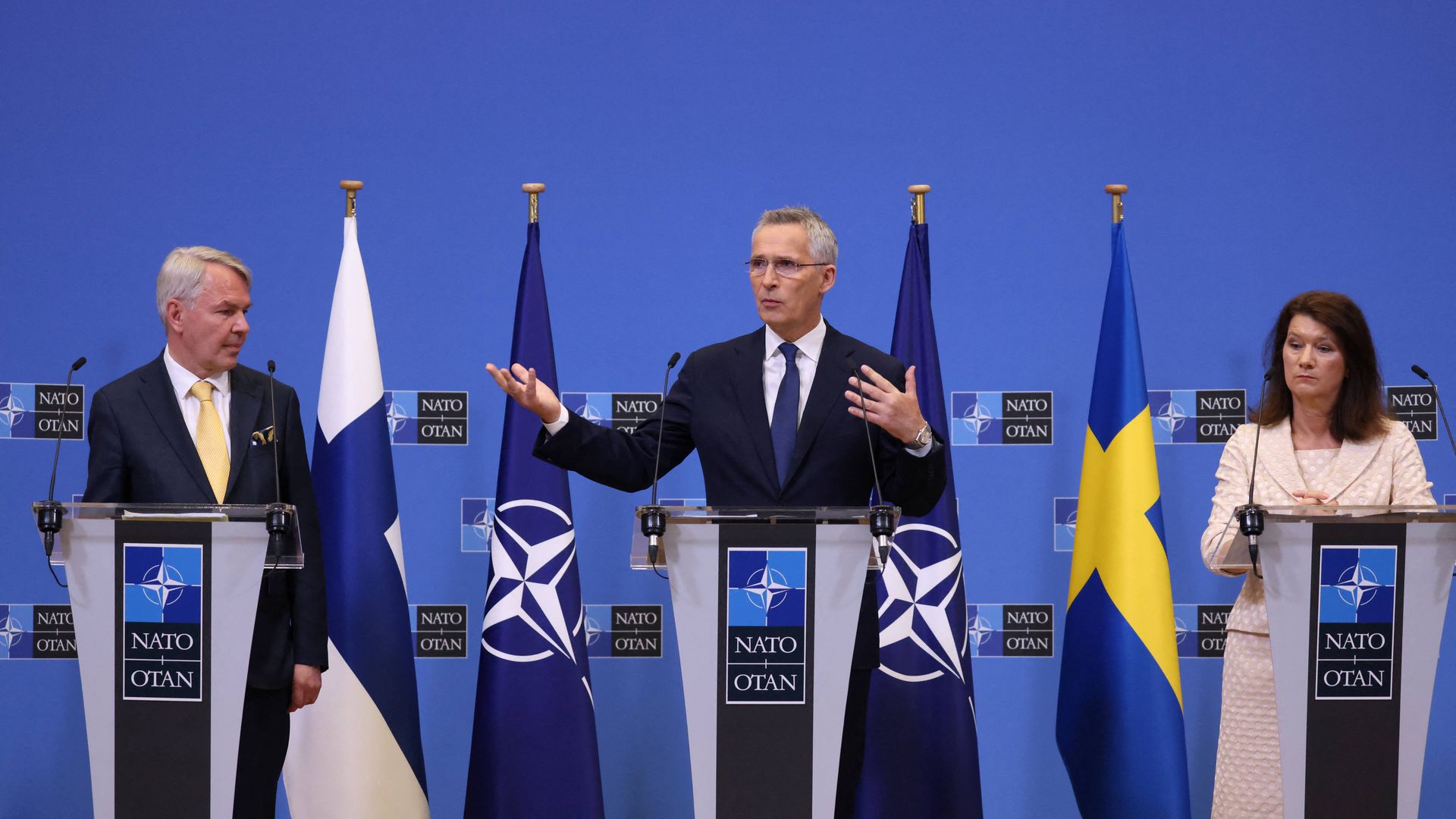 NATO ambassadors from the alliance's 30 member nations signed the accession protocols for Sweden and Finland on Tuesday, bringing the two Nordic nations a step closer to joining the alliance.
The big picture: Sweden and Finland were formally invited to join NATO last week after Turkey agreed to lift its objection, which had held up their bids.
Canada and Denmark on Tuesday became the first member countries to turn in their ratification documents, with Canadian Prime Minister Justin Trudeau saying in a statement that his country has "full confidence" in the two Nordic countries' "ability to integrate quickly and effectively into NATO and contribute to the Alliance's collective" defense.
All 30 member states must ratify the protocols, a process that could take a few months.
There also remains a possibility that Turkey's parliament could still refuse to ratify their accession, despite the memorandum signed last week, AP reported.
In the meantime, now that they've been officially invited into the fold, Sweden and Finland can attend all meetings of NATO ambassadors even if they don't yet have voting power.
What they're saying: "This is truly an historic moment. For Finland, for Sweden, for NATO, and for our shared security," NATO Secretary General Jens Stoltenberg said in a press release.
"With 32 nations around the table, we will be even stronger and our people will be even safer, as we face the biggest security crisis in decades," he added.
U.S. Secretary of State Tony Blinken echoed Stoltenberg later Tuesday, tweeting: "This is a historic day for Transatlantic Security. NATO's door remains open and we are #StrongerTogether."
Go deeper: Why NATO formed and why Finland and Sweden want to join the alliance
Editor's note: This story has been updated with additional details after Canada and Denmark ratified the protocols, and with Blinken's statement.
Go deeper