Biden awards Medal of Honor to four Vietnam War veterans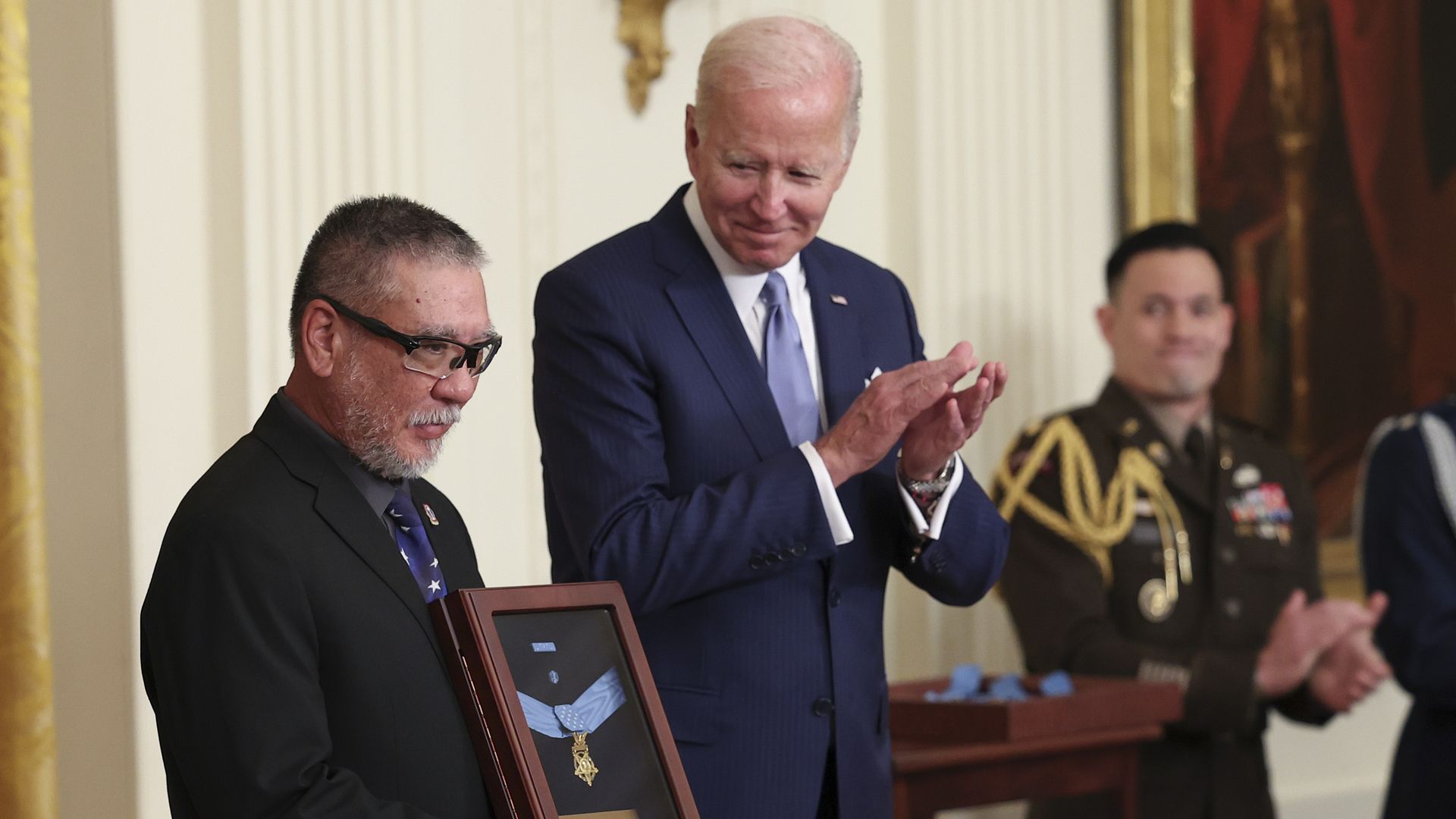 President Biden on Tuesday awarded the Medal of Honor to four veterans of the Vietnam War.
Driving the news: "Not every service member has received the full recognition they deserve," Biden said at the event on Tuesday. "Today, we're setting the record straight."
"They stood in the way of danger, risked everything, literally everything to defend our nation and our values," the president said of the recipients.
Details: Each of the MOH recipients has gone "above and beyond the call of duty" in protecting the United States.
Spc. 5 Dwight W. Birdwell rescued his wounded tank commander and fired back at enemy forces, refusing treatment for the wounds he sustained until he could evacuate other injured soldiers.
Spc. 5 Dennis M. Fujii rejected medical aid from another helicopter when his own medevac helicopter crashed. Instead, he worked to treat other wounded soldiers.
"Rather than risk the lives of his crew mates, Specialist Fujii waved off the helicopter, told them to depart, remaining behind as the only American on the battlefield," Biden said about one of the attempts to save Fujii's life.
Maj. John J. Duffy moved closer to enemy forces in order to call in airstrikes rather than be evacuated. He continued to avoid evacuation until all other evacuees made it onboard.
"When he was wounded again, he again refused evacuation," the president said. "He worked side by side to organize the defense of the base with the Vietnamese commander."
Staff Sgt. Edward N. Kaneshiro, who received the award posthumously, repelled an attack from the North Vietnamese with rifle fire and grenades, thereby allowing the rest of his unit to safely pull back.
Go deeper