Blinken: China poses "most serious, long-term challenge" to world order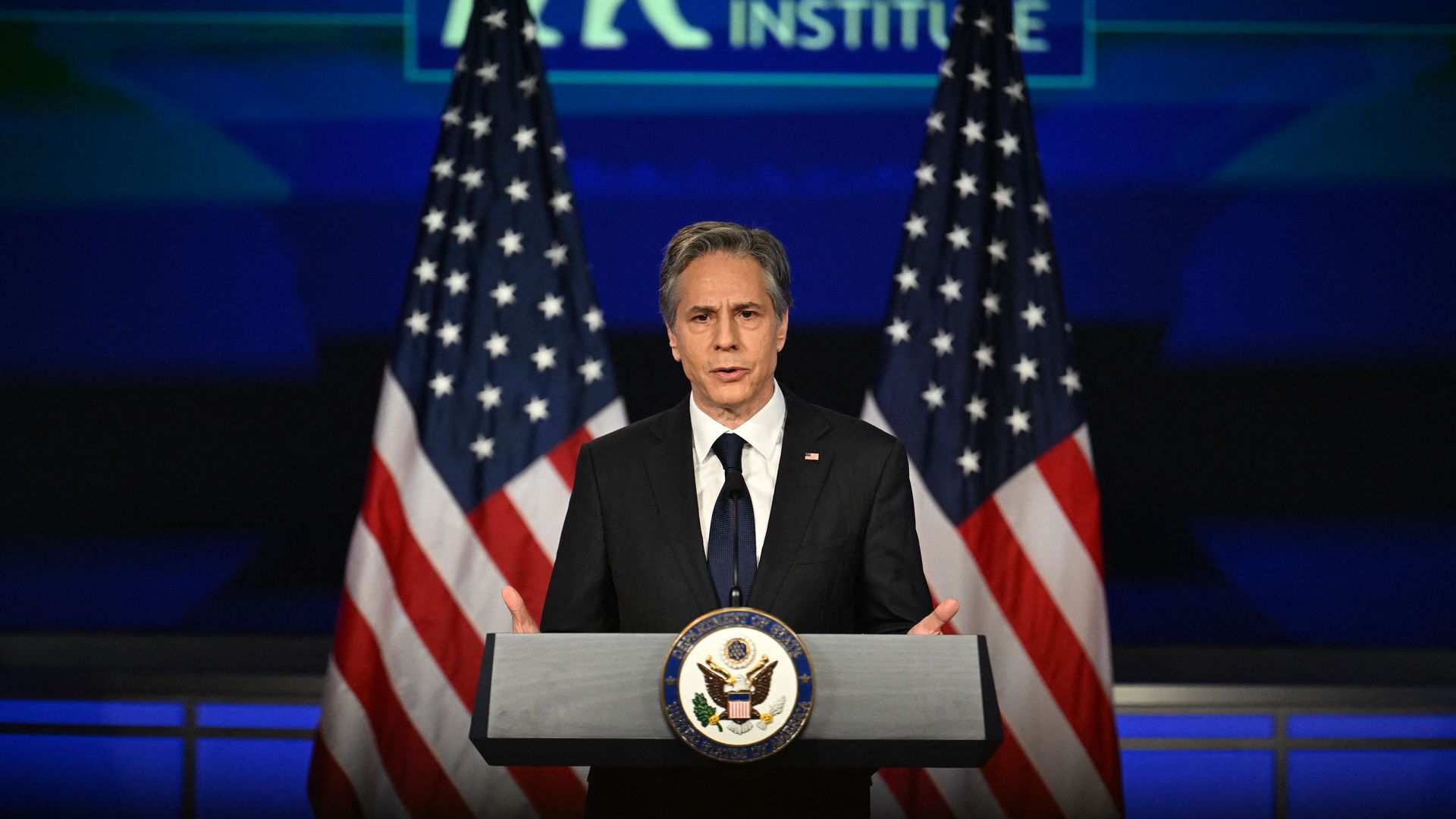 Secretary of State Antony Blinken warned in a speech Thursday that despite the current focus on Russia and the war in Ukraine, China poses the "most serious, long-term challenge" to the international order.
What he's saying: "China is the only country with both the intent to reshape the international order — and, increasingly, the economic, diplomatic, military and technological power to do it," Blinken said. The U.S., however, is "not looking for conflict or a new Cold War."
"Beijing's vision would move us away from the universal values that have sustained so much of the world's progress over the past 75 years," Blinken said.
"Under President Xi, the ruling Chinese Communist Party has become more repressive at home and more aggressive abroad."
"We cannot rely on Beijing to change its trajectory. So we will shape the strategic environment around Beijing to advance our vision for an open and inclusive international system."
The big picture: Blinken laid out the U.S. approach to China, including investing in domestic infrastructure, education and worker training, and research and innovation.
The Biden administration has sought to reengage with U.S. allies and partners, as well as international organizations, as it tries to "advance a shared vision for the future," Blinken said.
The secretary of state pointed to U.S. cooperation with G7 partners, and rejoining of the World Health Organization and UN Human Rights Council, as indicative of this approach.
Blinken also spoke of the asymmetrical access that Chinese companies have to the U.S., saying "this lack of reciprocity is unacceptable and it's unsustainable." Instead, the U.S. will "push back on market-distorting policies and practices" to even the playing field and ensure fair competition.
"We're sharpening our tools to safeguard our technological competitiveness," including new and stronger export controls, increased protections for academic research and improved cyber defenses, Blinken said.
Worth noting: Days after President Biden seemingly diverged from the U.S. policy of "strategic ambiguity" regarding Taiwan, Blinken stressed that U.S. policy "has not changed."
Blinken also slammed China's record on human rights, referring to the genocide and crimes against humanity being carried out against Uyghurs and other minorities in Xinjiang, the mistreatment of Tibetans, and the use of "anti-democratic measures" in Hong Kong.
"Beijing insists that these are somehow internal matters that others have no right to raise. That is wrong," he said.
In a repudiation of anti-Asian hate in the U.S., Blinken firmly stated that differences with China are between "governments and systems" and that Chinese nationals in the U.S., Chinese Americans and other Asian Americans have claims to the U.S. that are "equal to anyone else's."
"Mistreating someone of Chinese descent goes against everything we stand for as a country."
What to watch: Blinken expressed support for the creation of a China House at the State Department to "coordinate and implement our policy across issues and regions."
Our thought bubble via Axios' Bethany Allen-Ebrahimian: The speech makes clear that the Biden administration's China strategy will continue to echo many of the same points as the Trump administration.
During his seminal speech on U.S. policy toward China in 2018, then-Vice President Mike Pence defined the U.S.-China relationship as one driven by competition and confrontation.
Pence accused China of using its military, spies, economic power and propaganda prowess to undermine the U.S. around the world and influence its domestic politics.
Go deeper