U.S. seeks to "step up our game" and compete with China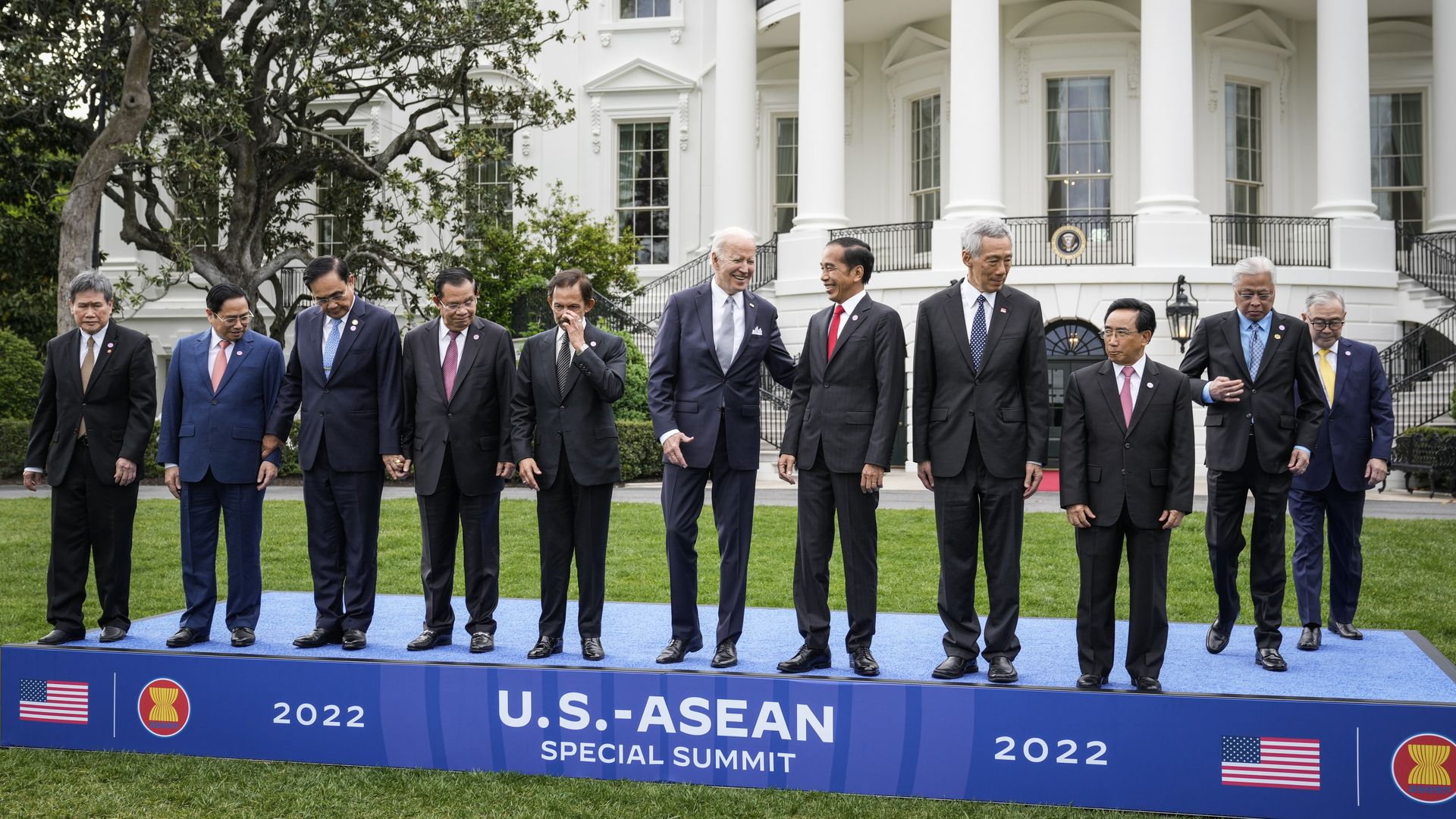 President Biden is hosting the leaders of eight countries in Southeast Asia on Thursday and Friday, underscoring the importance of the region by holding a summit with the Association of Southeast Asian Nations (ASEAN) at the White House for the first time.
Why it matters: Home to some of the world's fastest-growing economies and most contested waters, Southeast Asia is an epicenter of U.S.-China competition.
The White House announced $150 million in initiatives Thursday in areas including clean energy, maritime security and digital development.
It will also soon unveil a regional trade framework for the broader Indo-Pacific to set standards on things like labor practices and digital trade.
But many ASEAN countries will view that as an "all-pain, no-gain economic deal," notes James Crabtree of Foreign Policy. The Biden administration is unwilling to negotiate trade deals that offer countries deeper access to the U.S. market.
China, which has a free trade deal with ASEAN, surpassed U.S. trade with the region in 2009 and has since sprinted far ahead, while also promising billions in infrastructure investment.
What they're saying: Asked if China simply has more to offer ASEAN economically than the U.S., a senior administration official noted that China's economic growth and geographic proximity meant it was only natural that trade with ASEAN would increase.
But the official noted that the U.S. was still the largest source of foreign direct investment in most ASEAN countries, that U.S. firms were currently turning to the region to strengthen their supply chains, and that U.S.-ASEAN trade typically has "a much higher value add."
Still, the official said the summit and the accompanying announcements should be seen as a recognition that "we need to step up our game in Southeast Asia."
A Morning Consult poll out Thursday found that in two ASEAN countries, Indonesia and Singapore, views of trade with China and the U.S. are broadly positive and roughly equivalent.
The U.S. remains the primary security guarantor for the region, though China is attempting to challenge that (with limited success).
The Biden administration claims it's not trying to force countries in the region to choose between the U.S. and China, something they'd be loath to do.
Meanwhile, "China's unpopularity in the region has grown in the past year, and China's own domestic problems, stemming largely from its zero-COVID strategy, have hindered its normally robust regional diplomatic efforts," notes Joshua Kurlantzick of the Council on Foreign Relations.
Still, it's clear that the superpower that won't be in the room will still be looming over the proceedings.
Worth noting: While there was an empty chair at the summit for Myanmar, which has been suspended from ASEAN's high-level gatherings since the 2021 coup, human rights was not expected to be on the agenda.
The bloc includes a number of authoritarian states, including the current chair, Cambodia.
In sharp contrast to the Summit of the Americas — where plans to bar Cuba, Nicaragua and Venezuela have drawn boycott threats — there was never a question of uninviting them.
However, Biden did draw a rebuke from Cambodia by declining to hold a bilateral with Prime Minister Hun Sen. The White House says he'll have brief "private time" with each leader.
What to watch: Aside from Singapore, which has imposed sanctions on Moscow, most ASEAN countries have declined to take a firm stand over Russia's invasion of Ukraine. It will be worth watching whether the leader's statement released Friday makes any mention of the war.
Go deeper