Self-driving cars will need smarter roadways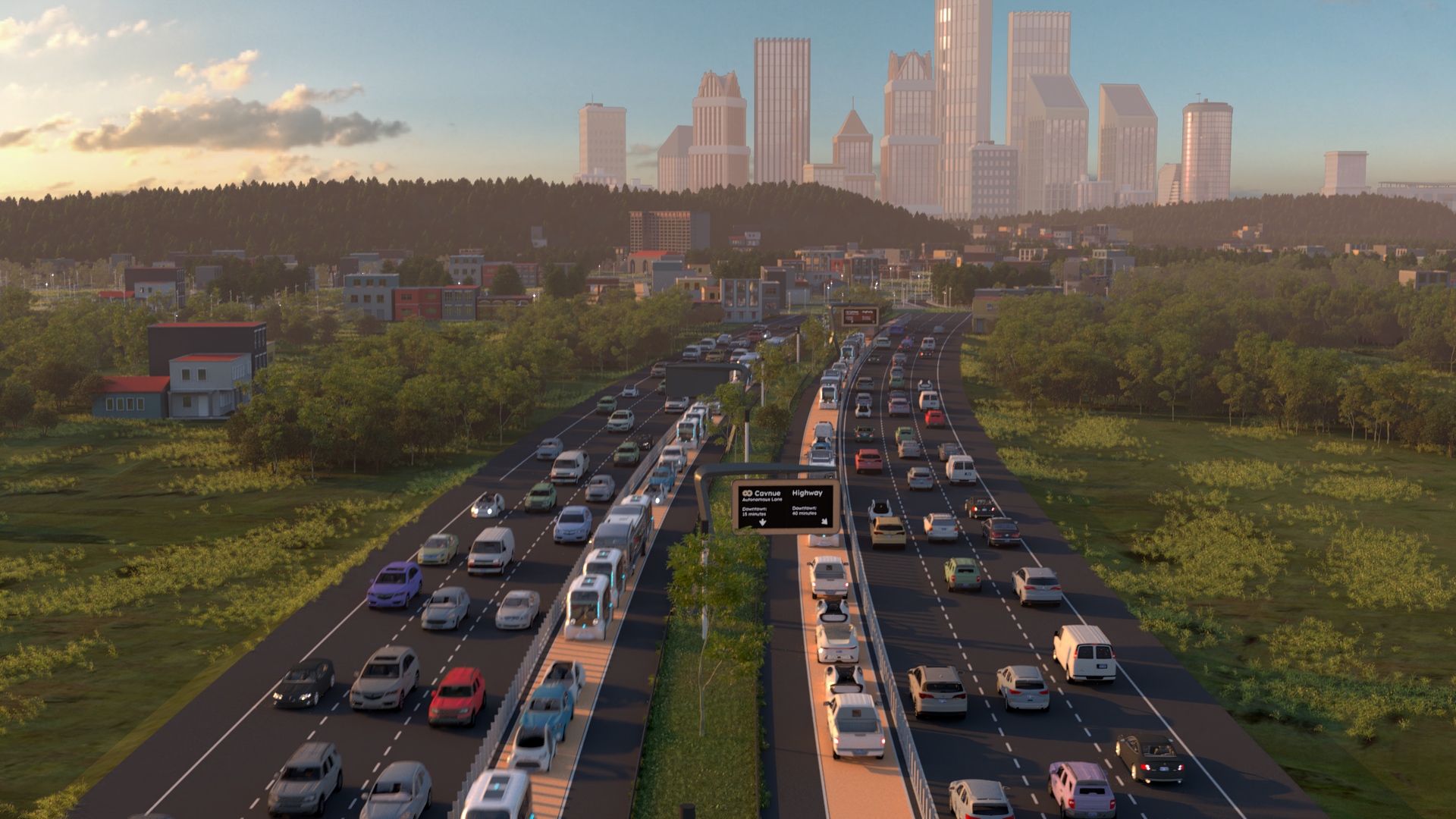 One way to speed the adoption of self-driving vehicles is to give them automated express lanes, where they can zip past regular traffic without having to tangle with human-driven cars.
Why it matters: For all the billions companies are spending to develop automated vehicles, very little has been done to prepare U.S. roadways for these advanced cars, trucks and buses. That's starting to change, as business and government leaders turn their attention to new digital infrastructure projects.
Driving the news: A startup company, Cavnue, just raised $130 million in Series A financing to build the nation's first network of connected and automated vehicle (CAV) corridors, starting in Michigan.
CAV corridors would have roadside sensors to communicate with modem-equipped vehicles, advising them of road conditions up ahead, such as deteriorating weather, road construction or even potholes that pop up during rush hour.
The company's investors all have an interest in the future of roadways. They include a high-tech infrastructure company (Sidewalk Infrastructure Partners), a global carmaker (Ford), a freight logistics provider (Landstar) and a global toll road operator (Globalvia's Openvia).
The big picture: There's more attention on smart roadways since Congress passed the bipartisan infrastructure deal last November, opening the door for more federal funding, Laura Chace, CEO of ITS America, tells Axios.
Companies are working on a variety of technologies, including systems that warn cars about pedestrians (and vice versa) or that use AI and predictive analytics to manage traffic more efficiently.
A Safe Streets and Roads for All program will fund road tech projects designed to reduce the nearly 40,000 traffic deaths that occur each year.
Cavnue is the first to focus on designing dedicated roadways for connected and automated vehicles, CEO Tyler Duvall tells Axios.
Unlike other infrastructure companies that operate private toll roads, Cavnue is partnering with state and local governments to deploy the systems.
Its first project, with the Michigan Department of Transportation, is a 25-mile segment of Interstate 94 near Detroit.
Initially, the CAV corridors would be available to a mixture of cars, but eventually they would be restricted to partly or fully automated vehicles.
Those with Level 2 hands-free assisted-driving systems, like Cadillac's Super Cruise or Ford's Blue Cruise, would allow drivers to take their hands off the wheel and their eyes off the road while traveling in that chute. (On today's highways, the systems require drivers to pay attention.)
In the future, fully autonomous cars, trucks and buses would travel at steady speeds in the CAV corridors without any human interaction.
The corridors would have "dynamic pricing," depending on the time of day or use case, and motorists would be billed monthly.
What they're saying: "We think [the CAV corridor] can only enhance and accelerate the benefit we'll get from these connected and automated vehicles on our roads," Chace says.
Go deeper