U.S. Ambassador to the UN vows to raise Uyghur's case with Chinese counterparts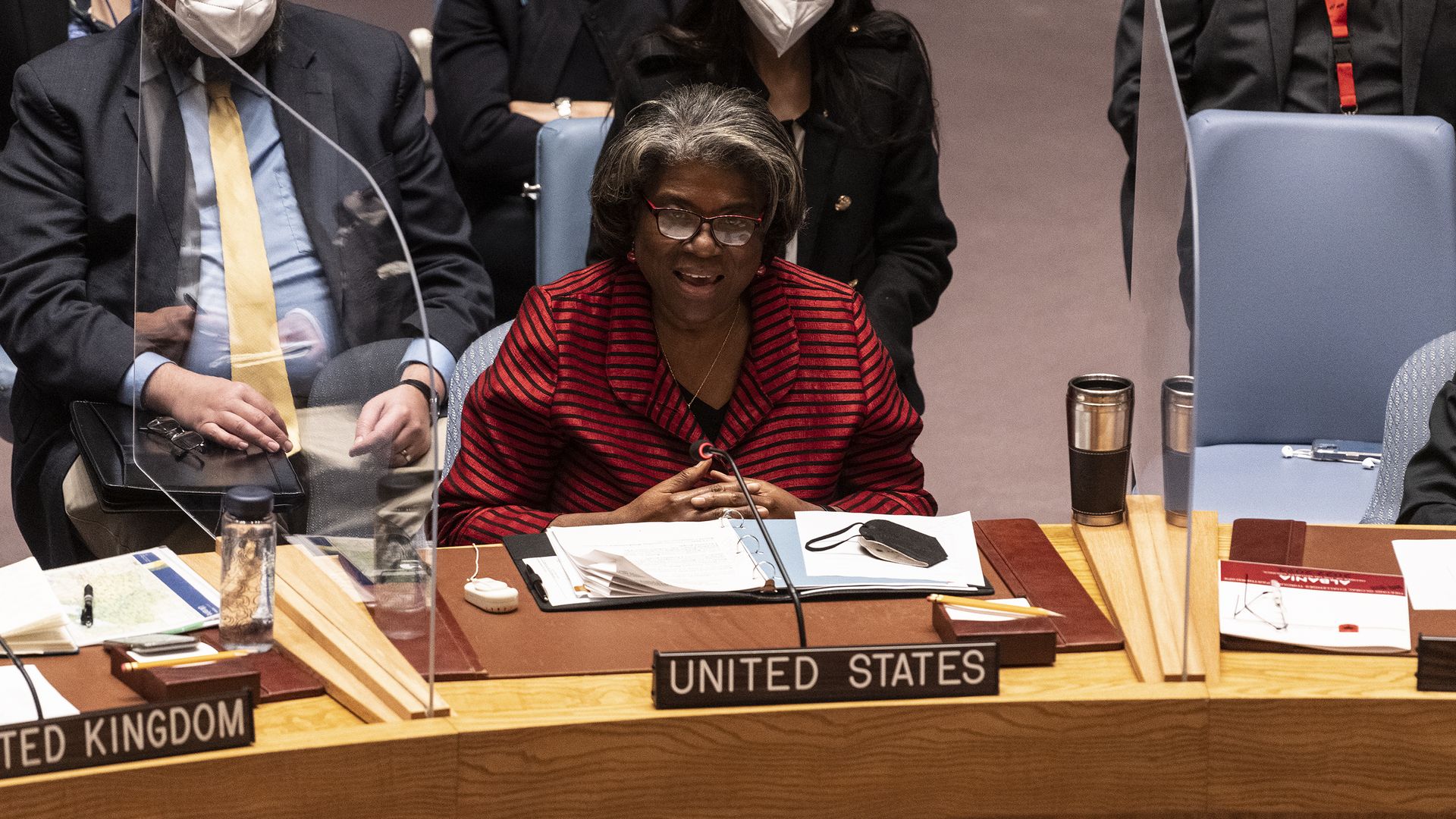 U.S. Ambassador to the United Nations Linda Thomas-Greenfield told the relatives of a Uyghur detained in Xinjiang that she will bring up the woman's detention with her Chinese counterparts.
Why it matters: Raising individual cases with Chinese authorities in some cases results in "proof of life" contact between the detainee and their family members outside China, and it communicates to Beijing that its actions in Xinjiang are under scrutiny.
Driving the news: UN High Commissioner for Human Rights Michelle Bachelet will be traveling to China and Xinjiang in May, in the first visit to China by the top UN human rights official since 2005.
Human rights activists are calling for her office to release its delayed report, promised in December, on Chinese government abuses in Xinjiang.
"We continue to press for the release of high commissioner Bachelet's report on human rights issues in Xinjiang," a spokesperson from Thomas-Greenfield's office told Axios. "We have urged the high commissioner to ask for truly unhindered and unfettered access while on her planned visit to China."
Details: Gulshan Abbas, a retired doctor, was detained in Xinjiang just days after her sister Rushan, a U.S. citizen, spoke on a panel at Hudson Institute in Washington in September 2018 about the Chinese government mistreatment of Uyghurs in Xinjiang.
In an April 20 phone call facilitated by Rep. Tom Suozzi (D-N.Y.), a commissioner on the Congressional-Executive Commission on China, Thomas-Greenfield told Rushan Abbas and several other relatives living in the U.S. that she would bring up Gulshan Abbas' case with her Chinese counterparts at the UN.
Thomas-Greenfield's office confirmed this conversation and told Axios, "We are increasing our efforts to combat this transnational repression and PRC actions to coerce Uyghur Americans into silence by wrongfully detaining their family members."
"We appreciate the attention of Congressman Suozzi and the ambassador for paying attention and calling on the Chinese government to release my sister. That's the only thing that gives me a hope that my sister will stay safe and we will secure her release someday," Rushan Abbas told Axios.
The big picture: "This particular case is very important symbolically because there are 30 U.S. citizens that are relatives of this women who is in prison," Suozzi, who is co-chair of the Congressional Uyghur Caucus, told Axios in a phone call.
"It's also a direct action taken in retaliation for the actions of the American Uyghurs who have been trying to highlight what's been happening to the Uyghurs."
Go deeper