Biden: "Radical" Supreme Court draft would threaten long-standing rights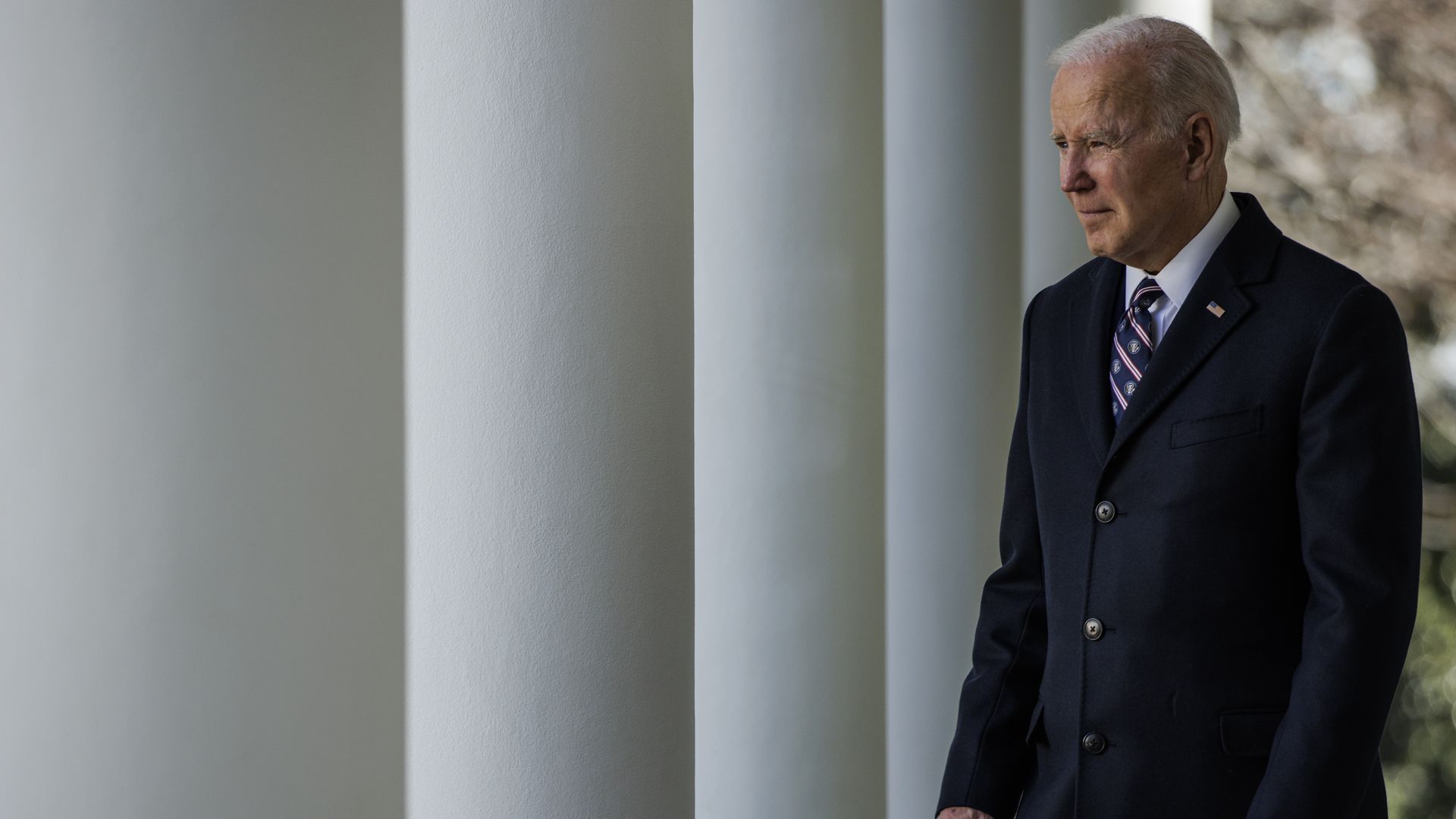 President Joe Biden said on Tuesday his administration "will be ready when any ruling is issued" after Politico posted a story reporting that the Supreme Court has voted to overturn Roe v. Wade.
The latest: Biden told reporters before boarding Air Force One that if the leaked document becomes the decision of the court, it will put into doubt other Supreme Court decisions that expanded the right to privacy.
"It would mean that every other decision related to the notion of privacy is thrown into question," Biden said, specifically referring to the decision in the 1965 case Griswold v. Connecticut, which determined that the right to privacy prevents states from making the use of contraception by married couples illegal.
"If the rationale of the decision as released were to be sustained, a whole range of rights are in question. And the idea that we're letting the states make those decisions would be a fundamental shift in what we've done," he added.
"If this decision holds, it's really quite a radical decision," he said.
The big picture: If the Supreme Court were to overturn its precedents, abortion access would no longer be federally protected and instead a patchwork of state laws would govern the procedure.
What they're saying: "If the Court does overturn Roe, it will fall on our nation's elected officials at all levels of government to protect a woman's right to choose. And it will fall on voters to elect pro-choice officials this November," Biden said in a statement.
"We do not know whether this draft is genuine, or whether it reflects the final decision of the Court. With that critical caveat, I want to be clear on three points about the cases before the Supreme Court," he added.
"[M]y administration argued strongly before the Court in defense of Roe v. Wade ... I believe that a woman's right to choose is fundamental, Roe has been the law of the land for almost fifty years, and basic fairness and the stability of our law demand that it not be overturned."
"At the federal level, we will need more pro-choice Senators and a pro-choice majority in the House to adopt legislation that codifies Roe, which I will work to pass and sign into law."
Vice President Kamala Harris said at an event Tuesday evening that "if the court overturns Roe v Wade, it will be a direct assault on freedom, on the fundamental rights of self-determination to which all Americans are entitled."
"At its core, Roe recognizes the fundamental right to privacy … When the right to privacy is attacked, anyone in our country may face a future where the government can interfere with personal decisions. Not just women, anyone."
"We are not going back," she added. "Let us fight for our country and for the principles upon which it was founded, and let us fight with everything we have got."
Barack and Michelle Obama issued their own statement Tuesday afternoon, saying the draft decision "simply forces folks to give up any constitutionally recognized interest in what happens to their body once they get pregnant."
"The consequences of this decision would be a blow not just to women, but to all of us who believe that in a free society, there are limits to how much the government can encroach on our personal lives," the statement added.
Worth noting: This is one of the few times that an official White House statement on abortion contains the word "abortion."
State of play: The House in September passed the Women's Health Protection Act, a bill that would codify the right to an abortion under federal law.
However, the legislation died in the Senate, where it did not have the necessary 60 votes.
Rep. Judy Chu (D-Calif.) first introduced the bill in Congress in 2013, and has continued to do so ever since. September marked the first time that WHPA passed a chamber of Congress.
What we're watching: A trio of abortion rights groups — Planned Parenthood Action Fund, NARAL Pro-Choice America and EMILY's List — on Monday announced that they plan to spend $150 million on the upcoming 2022 midterms "to ensure the election of reproductive freedom champions."
Their efforts will focus on electing officials "up and down the ballot, from state legislatures, to [attorneys general] and governors, to U.S. congressional races," the groups said.
The organization said they will focus on states such as Georgia, Nevada, Arizona, Michigan, Pennsylvania, New Hampshire, California, Kansas and Wisconsin.
Go deeper:
Editor's note: This article has been updated with new details throughout.
Go deeper